Original URL: https://www.theregister.co.uk/2007/12/18/old_school_jailbreak/
Bikini-clad pin-ups cover old school jailbreak
New Jersey lags do a Shawshank Redemption
Posted in Bootnotes, 18th December 2007 10:01 GMT
Two inmates of New Jersey's Union County jail last Saturday night pulled off a classic old school jailbreak with the help of a couple of dummies and some strategically-placed, bikini-clad pin-ups, CNN reports.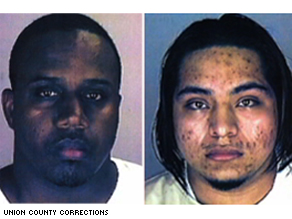 Otis Blunt, (pictured left), and Jose Espinosa (right) did a bunk from the facility's "most secure area" by simply removing cement blocks from the wall, squeezing through the resulting hole, jumping onto a rooftop below and scaling a 25ft fence.
To cover their tracks, they placed dummies in their beds and covered the hole in the wall with "magazine photos of women in bikinis", according to authorities.
County Prosecutor Theodore Romankow said: "I'm extremely disturbed that a jail with the capability of security it has would foster a breach of this nature."
In response to the incident, the powers that be "launched a review of security measures, and barred inmates from pinning up pictures from magazines on their cell walls".
For the record, 32-year-old Blunt was "awaiting trial on charges of robbery and weapons offenses", while alleged gang member Espinosa was "awaiting sentencing after pleading guilty to manslaughter in a 2005 drive-by shooting". ®
Bootnote
Thanks to Chris Winpenny for the tip-off.