Original URL: https://www.theregister.co.uk/2007/12/18/intel_preps_16gb_umpc_ssd/
Intel readies 16GB SSD for UMPCs
Smaller-capacity versions coming Q1 2008
Posted in The Channel, 18th December 2007 11:07 GMT
Chip giant Intel has begun sampling a solid-state drive (SSD) designed for handheld devices. The product's known in the trade as 'a stack of Flash chips'.
The Z-P140, as the module's known, connects to the host handheld via a parallel ATA link, but it doesn't follow any standard hard drive form-factor. Two versions are on offer: one 2GB in capacity, the other stretching to 4GB.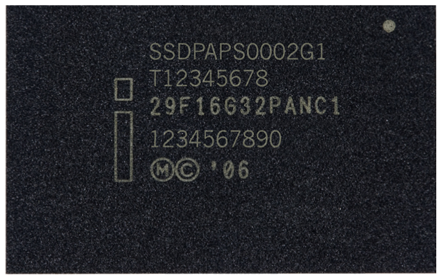 Intel's Z-P140 SSD: front...
Not exactly ground-breaking capacities if you think about the likes of the iPhone, the iPod Touch and even Asus' Eee PC, which is expected to go to 8GB very shortly.
So what's Intel aiming the Z-P140 at? Devices based on 'Menlow', it's upcoming UMPC and Mobile Internet Device (MID) platform, due to appear in May 2008. These devices are supposed to be able to run Windows Vista, but we wonder whether 4GB is going to be enough given the Microsoft OS' love of storage capacity.
And, indeed, keenness to write many, many temporary files, a feature not generally believed to be conducive to SSD longevity given the limits Flash places on the number of times a given memory cell can be written to.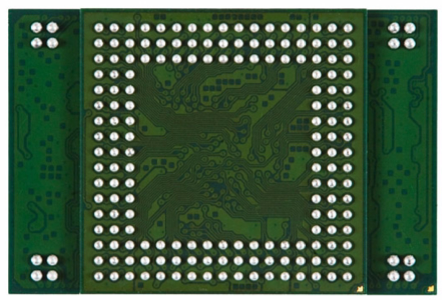 ...and back
However, while the announcement centred on the 2GB and 4GB versions, we confidently predict Intel will have 8GB and certainly 16GB Z-P140s out in due course.
Intel claimed both 0.6g parts deliver read speeds of up to 40MB/s and write speeds of up to 30MB/s. They consume a mere 300mW when operating and just 1.1mW when sleeping.
The 2GB version is due to go into mass production in Q1 2008, with the 4GB model following in "mid-2008".