Original URL: https://www.theregister.co.uk/2007/12/15/mind_the_gap_saturday_jiwai_twitter/
Jiwai.de or Twitter?
Variations on a meme
Posted in The Channel, 15th December 2007 08:02 GMT
Mind the Gap Saturday Mind the Gap Saturday is a feature every Saturday where Blognation China tells its readership the differences - the gap - in the tech, mobile and enterprise worlds between China and the Western World.
You thought Blogging was addictive, bad, or <fill in the blank here>? Get a load of microblogging. If blogging chained you to your Mac or PC, microblogging will chain you to your humble mobile phone.
But just how active is microblogging in the People's Republic? And how do people tweet along - do they use Twitter or a local equivalent? Find out more on this Mind the Gap Saturday.
C2C?
The PRC redefines another acronym - in this case, C2C. Nope, it's not customer to customer, it's Copy to China.
If you've been surfing around, you sometimes may have noticed that the Chinese web is full of stuff that looks like it was copied from the West. This phenomenon (C2C) is there because China's a big marketplace, and someone just has to get something "foreign" to 1.3 billion (well, at least to the wired 172 million and counting).
The potential customers - and the potential cash - all await He Who Comes First. It's probably not rocket science, then, that they all scramble for the gold. Lost in the gold rush is this thing called innovation. And that's why we have sites looking very similar to their American counterparts.
Tweeting to a familiar tune
However, Twitter and its local variant Jiwai.de look quite different. Let's start with a look at Twitter. The beat's always there - someone is updating something just about every last second.
If you're not Twittering along, you might start to wonder: Who the heck is interested in what I'm doing? Once you're Twittering along, though, there's no way out. I've used it both as a notification system and as a semi-propaganda machine: when the world seemed to go totally wrong this morning, I aired my complaints (in Chinese no less) about how bad the world has become. Those who subscribed received about two or three posts in traditional Chinese (apologies if you don't understand what I'm on about).
Twitter is useful in another way: It's great as a notification system. Suppose you've got your friends all Twittering along, and they're at the airport waiting for you. A quick tweet will let them know if your flight's delayed or not (you of course, text tweet before you board the plane), and they'll get the message - on their Macs (or PCs) or on their mobiles.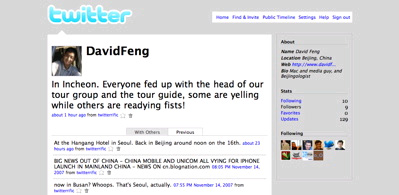 Twitter this, Twitter that
And then there's Jiwai.de
To most of us, Twitter is common currency. Everyone's tweeting along happily - even user groups and big celebrities. Mention Jiwai.de, though, and you go... what?
Meet the local Twitter, Jiwai.de. Hosted fully inside mainland China, fast, and all in Chinese, it's Twitter for 172 million. It's probably no wonder that it's been all the rage. It's both local (remember China's really a huge intranet at that) and it's in the local lingo.
And then there's the interface. Does Jiwai.de look like Twitter? It doesn't, actually. Much of Twitter is in sky-blue. Jiwai.de is more orange-y. And it has tabs - the stuff you don't see on Twitter.
Jiwai.de is big, but there are other players we'll touch in a later edition, like Fanfou. Jiwai.de made it big at the Chinese Blogger Conference in late 2007, when it supplied the IM stream for the entire event. In fact, before the blogger conf, yours truly had no idea whatsoever what Jiwai.de was.
By the way, the domain name is smart. "De" in Chinese is "of", but this time, they're using "de" as a bit of a "meaningless ending" - but one that every local uses (I know it's not easy to explain in the English tongue. Just know that a lot of folks speak that way in the PRC). So that's why, TLD-wise, it may look a bit German... it's actually not...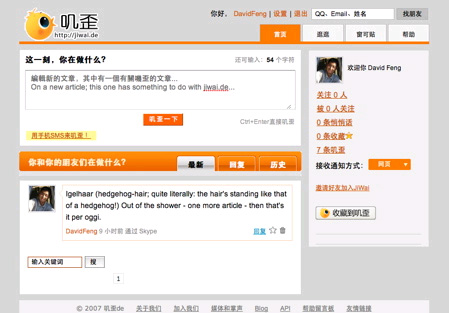 No ordinary Twitter ripoff?
Going local
Jiwai.de is no easy C2C rip-off Twitter. This site is fully local. Not sold on the idea? Let's take a look at some hard stats:
As I've mentioned in previous Mind the Gap Saturdays, Chinese IM people are mostly users of MSN/Windows Live Messenger and QQ. Jiwai.de seems to know those locals off by heart: supported IM protocols include not just QQ and MSN, but also GTalk, Skype (yes), Shuimu Community (a university community), Yahoo!, and even Facebook (although I've never really tried that with much success, and my Twitter app on Facebook broke not long ago)
There's a short code for mobile users: you can send your updates to a local number and be charged only CNY 0.10 (that's just over a US cent, and less than a penny in the UK) per message. Sweet, and cheap, given updates to Twitter cost 10 times that much (it has to go to the UK)
Here's a big sign that Jiwai.de is in the local game for the long run: there's an option to update your Jiwai.de notes onto Twitter. You read that right: your Jiwai.de updates now have a home on your Twitterfeeds too (and Twitter knows they're from Jiwai.de; there's a little "acknowledgement link" with every tweet. Sweet)
Attitudes in microblogging
How big is microblogging? Maybe not that big in China - remember, most of us here are a bit more reserved than the laowai lost in foreign lands. Views about microblogging are more on the side of "this invades my privacy", "I'm not the kind of guy to tell the World I just had cucumber for lunch", or "I'm so bored that I started microblogging".
In fact, yours truly got to see just how big microblogging is even in the expat community in Beijing. When the recent Blognation China launch party got underway, one of the first questions asked was: "Do you have a Twitter account?" Apart from yours truly, nary a hand went up. Maybe not the most scientific analysis - we did, after all, have about 16 people only - but it kind of shows how Twitter's doing in Beijing.
But there are a few celebrities made because they're tweeting along. Carol Lin from Taiwan is one. She has about 800 followers (that's a lot of people actually), and she's been approached by some companies to do a little promo. The tweets from the "Chairman Mao of the 21st Century", Chinese pioneer blogger Isaac Mao, is another one. His tweets have even hit the foreign press.
And yours truly? Hey, he doesn't mind the extra attention - but then again, he doesn't tweet for a living. As long as the tweeting-along minds its own gap between being something fun and being a privacy intruder, things will be fine.
Next on Mind the Gap Saturday: Just how close are Facebook and Xiaonei? Be sure to Mind the Gap again next time!
Copyright © 2007, Blognation.com.
This article first appeared on Blognation.