Original URL: https://www.theregister.co.uk/2007/12/13/dui_chain_gangs/
Drink-drive chain gang obliged to bury dead alcoholics
Don't mess with 'America's toughest sheriff'
Posted in Bootnotes, 13th December 2007 11:07 GMT
Our Arizona readers who are thinking of getting behind the wheel after a few liveners are advised not to do it in Maricopa County, where you could end up on a chain gang, dressed in pink and burying deceased alcoholics for your trouble.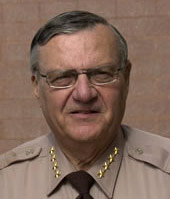 We kid you not: that's how Joe Arpaio (right), dubbed "America's toughest sheriff", deals with driving under the influence perps. According to the Telegraph, Arpaio obliges drink drive convicts to "perform burials at a local cemetery where many homeless alcoholics are buried" - if they're lucky.
We say lucky, because earlier this week Arpaio ordered his charges to "clean a busy Phoenix street wearing black and white striped trousers and pink shirts that read 'Sheriff DUI Chain Gang" on the back and 'Clean(ing) and Sober' on the front".
Mr Arpaio said: "Maybe this will warn people - knock it off, don't drink and drive. You'll end up in pink underwear on the chain gang."
The pink underwear in question is one of Arpaio's previous deterrents - issuing prison inmates with said smalls, presumably as a form of rehabilatory humiliation. He's also housed prisoners in tents, and the jailbirds seem keen not to spend too much time under canvas.
Michael McDaniel, who's serving a four months for "aggravated DUI and driving on a suspended license", admitted he'd volunteered for the chain gang to "get out of the jail tents". The 30-year-old said: "It's good to get out of the tents and be in the public. Hopefully it keeps someone from drinking and driving."
Of his chain gang uniform, McDaniel added: "I don't like the colour pink, but I can live with it."
And if all that doesn't deter you from incurring the wrath of Sheriff Joe, be warned that Maricopa County has no qualms about posting snaps of DUI detainees on its website. ®
Bootnote
Sheriff Joe's tough line on DUI is not without justification. The Telegraph notes that Arizona last year recorded "the sixth-highest number of alcohol-related deaths in the nation - 585 - up 15 per cent on the previous year".
Accordingly, the state in June "passed one of the toughest drink-driving laws in the country, requiring a breathalyser-style device be fitted to the cars of first-time offenders, increased fines, and a minimum of 45 days in jail for some DUI convictions".