Original URL: http://www.theregister.co.uk/2007/12/12/review_nokia_6500_slide/
Nokia 6500 Slide mobile phone
Nothing slippery about this one...
Posted in Personal Tech, 12th December 2007 12:05 GMT
Review With its recent 6500 Slide and Classic models, Nokia has introduced the most unlikely twins since Schwarzenegger and DeVito. Although they share the same model number and 3G capability, the 6500 Slide and 6500 Classic are very different devices both in looks and key features.
The Slide, with its brushed metal casing, much in the style of a slimmed-down N95, goes for an image-conscious audience. The handset also packs in a 3.2-megapixel camera, sporting high-quality Carl Zeiss optics and an autofocus system, easily outgunning the Classic's fairly basic 2.0-megapixel shooter.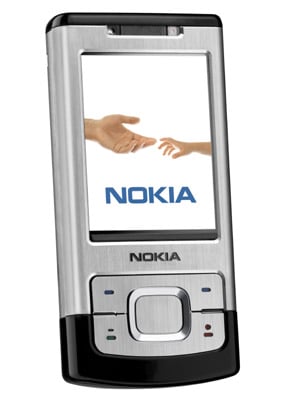 Nokia's 6500 Slide: aimed at the image-conscious
Video-wise, the Slide also trumps the Classic. It shoots 640 x 480 (VGA) quality video at 15 frames per second, has a face-to-face video-call facility – thanks to a secondary camera above the display - and a nifty TV-out option.
Both handsets are 3G and quad-band GSM phones, using the Nokia Series 40 user interface – which will be pretty familiar to anyone who's used a Nokia recently - and are capable of high-speed video and audio downloading, streaming and internet browsing.
Unlike the Classic, the 6500 Slide does not come with 1GB of built-in memory, shipping with a modest 20MB of onboard memory. However, this is complemented by MicroSD card expansion up to 4GB, providing a more flexible approach to storing music, video and images. Nokia supplies a 256MB card with the Slide, but users who want to make the most of the camera and music player might want to splash a few quid on a higher-capacity card.
With such key feature differences, the 6500 Slide and 6500 Classic are going to attract quite distinct admirers.
The Slide's brushed stainless steel casing immediately adds a bit of class. It's not the slimmest of sliderphones – measuring 96.5 x 46.5 x 16.4 mm and weighing a substantial 123g, but it still retains aesthetic attraction, unlike some of its predecessors that were about as ergonomically appealing as a pineapple. It sits comfortably in the hand both when as a phone and as a camera in landscape mode. The camera-like back is very minimalist-chic.
The Slide has a bright and large-enough 2.2in, 240 x 320, 16.7m-colour display - the 6500 Classic's is a smaller 2in, 240 x 320 unit. Under the display is a functional set of controls, with a five-way navigator, soft-menu keys and call/end buttons. The slider has a reassuringly smooth, well-sprung feeling, and the keypad is a no-fuss grid of large keys – again, smart and functional.
The Slide has a dedicated camera activation key on the side, as well as volume keys that take care of the zoom in camera mode. Socketry on the top panel includes a micro USB port, a charger socket plus a 2.5mm headphones jack. We'd have preferred to see Nokia's music phone-style 3.5mm headphones socket instead, making it easier to plug in any standard headphones, but at least the 2.5mm socket offers an easy route to upgrading with a cheap and widely available 2.5mm-to-3.5mm adapter. The Classic simply uses its sole micro USB port as both charger and headphone socket.
The previously mentioned TV-out facility uses the 2.5mm jack socket to hook up to a supplied video cable that plugs into the AV phono inputs on your TV.
Getting around the Slide's functionality is very straightforward, in regular Nokia S40 style. The default Active Standby screen provides quick access to some of the most used functions. There's a carousel of five user-configurable icons ranged on the top of the screen, plus additional function shortcut options for functions, or options for calendar/notes lined up onscreen. These can be easily configured to suit your tastes, as can the soft-menu keys and the quick access buttons set for messaging and calendar on the navigation D-pad.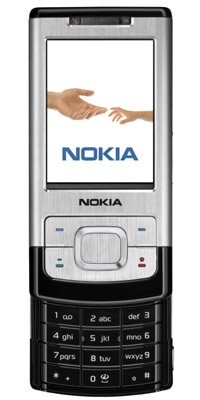 The slider's a smooth operator
Alternatively, you can plunge straight into the main menu from the D-pad. This is a grid of icons covering the main functions or settings headings - further clicks take you deeper into the menus. All familiar Nokia stuff, and easy to use.
The camera on the Slide will be a clincher for some buyers. There are other 3.2-megapixel cameraphones around, but the presence of Carl Zeiss optics – used by Nokia on its more upmarket photo mobiles such as the 5.0-megapixel N95 - marks the Slide up as something a bit more than standard snapper fare.
Imaging on the Slide is a far superior experience than the one offered by the 2.0-megapixel Classic. The set-up is much neater, with one-button access (open or closed) to open it up in landscape mode, so you hold the phone like a proper camera. The ergonomics of the size and control layout work well, making for non-fiddly access - it's also easy to slip between photo and video mode using the D-pad.
The Slide's autofocus system works well, and is quick enough to lock on to subjects. Even close-up shots can be kept nicely sharp with the automatic macro facility. Colour rendition is generally very good and natural, and the automatic white balance settings adapt well with changing conditions. You can also make setting adjustments for indoor or outdoor lighting conditions.
Pictures were suitably sharp for regular sized prints. Contrast and varying lighting conditions were well handled in our test shots. The flash, unusually, uses two powerful LEDs which usually worked well in dark conditions but can overpower close-up shots if not disabled.
The Slide supports PictBridge to make printing photos easier, while a few basic editing options are available in the phone too. Nokia is equipping the 6500s with an option to upload shots straight to a Flickr account, although this wasn't available on our review samples.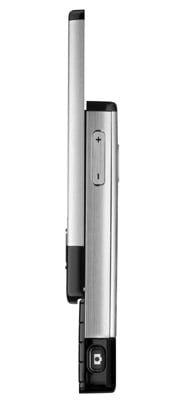 Not the slimmest of sliderphones
Video recording in maximum VGA quality and at 15 frames per second provides a reasonably good performance for a cameraphone, though not digital camcorder quality by a long stretch. You can play back video on the phone at up to 30 frames per second, so downloaded video clips or PC-transferred footage can look smooth (and good for the screen size) in landscape format.
With the TV cable attached you can view video clips and images at lower res, or even watch video calls as you're making them on your TV screen - a potential family pleaser. You can view or listen to other content too, such as games and music or use the web browser via the TV link. TV-out for mobiles is nothing new, of course, but it's still a welcome addition for this mid-range Nokia.
The music player on the Slide may get a lower billing than on the Classic, but it's essentially the same audio and video player, supporting MP3, MP4, AAC, eAAC+ and WMA audio file formats, and with the same interface. It's straightforward to use, with songs arranged in the usual sort of categories as regular MP3 players – artists, albums, genres and playlists, plus videos – and a simple to operate, if not particularly awe-inspiring, user interface.
To copy tracks to the phone (or memory card) you can plug the handset into a PC using the supplied USB cable. You can sync the player with your PC tunes using Nokia Audio Manager, included as part of the Nokia PC Suite software supplied on disc. This can also be used to sync calendar, contacts and notes via USB or Bluetooth. Alternatively, you can drag and drop tunes using the phone in data storage mode.
You can play songs through the speaker in the rear panel, which is surprisingly loud and not too bad – if, as usual for a mobile, bass-lite and prone to overdoing the tinny high-end. The supplied earphones are the usual OK sort but crunched bass a touch at higher volume. Try better quality earphones – or a Bluetooth set - to get a higher quality performance from this decent music player.
Unlike the Classic, the Slide includes an FM radio, which is a bonus.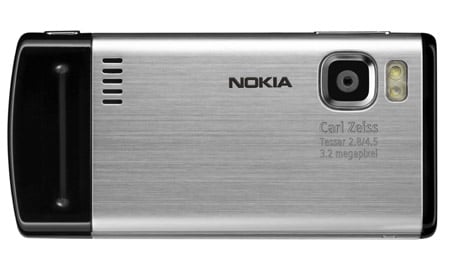 Better than your average snapper
Like the Classic, the Slide has Opera's Mini web browser as well as Nokia's own. This small-screen app optimises websites for mobile phone screens, and can speed up browsing considerably on some sites, displaying pages in scroll-down format. It may not be to everyone's taste, but it's another welcome option.
In addition, Nokia has included the Yahoo! Go mobile application as standard on the Slide. This Java app displays web-based Yahoo! services as widgets, including Flickr, maps and directions, plus pushed news and info updates which can be user-configured.
Other applications on the Slide include the now obligatory email client, which supports attachments, to go with the MMS and SMS text messaging. Instant messaging and Push-To-Talk communication are also supported. The regular Nokia organiser set-up is included, along with a convertor app, world clock, Bluetooth Presenter remote control function and Nokia's Sensor short-range Bluetooth social networking application. Five games are lined up too – Backgammon, Snake III, Golf Tour, Highroller Casino and Rally 3D – to help fill up your downtime.
The overall call performance of the Slide was excellent, with none of the problems you might anticipate from a full-metal jacket mobile. We were pleased with the excellent quality of the tone, volume and signal handling alike.
Battery life for the Slide is quoted by Nokia at up to six hours' talktime or up to 320 hours on standby – considerably longer than the 3.5 hours' talktime or nine days' standby quoted for the Classic. Real life usage always makes these optimum figures appear optimistic, of course, but the Slide doesn't gobble battery power excessively in normal use.
Verdict
Both the 6500 Slide and 6500 Classic offer different takes on what a sophisticated mobile should be. Get your hands on the Slide and you'll find it has plenty of appeal, both for its slick, brushed-metal looks and its tidy range of features, including that fine 3.2-megapixel camera. Sure, you could spend more cash and get a N95 smartphone with even more features, including a 5.0-megapixel camera, but in its own class and price range the 6500 Slide is one very attractive device. Expect to see it in plenty of hands real soon.