Original URL: https://www.theregister.co.uk/2007/12/06/review_via_michelin_x970t_satnav/
Via Michelin X970T satnav
Budget pricing still doesn't put this brand on the map
Posted in Science, 6th December 2007 12:02 GMT
Review Navigate with your Michelin sat nav as you wear out your Michelin tyres visiting destinations that you've read about in the Michelin restaurant guides. Will the new budget X970T put this brand on the sat nav map?
Most sat navs provide a list of points of interest (POIs) that will find you a petrol station easily enough, but sadly the restaurant POIs consist of long lists of fast-food outlets. We can't imagine travelling from A to B and making a stop-off at C to eat deli or Mexican - you're more likely to want to grab a sandwich or, if there's an hour spare, find a decent bistro or pub. You don't exactly have to hunt too hard to find a fast-food joint on Britain's high streets or highways, so the POIs on most sat nav units are less than essential, but we had high hopes for the X970T.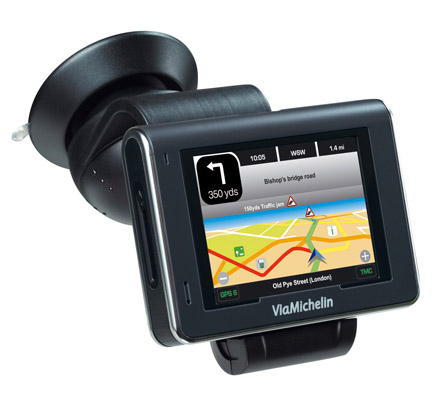 Via Michelin's X970T: wicked-looking windscreen mount
It's a conventional 3.5in unit with de facto standard SiRF Star III GPS chippery and a 300MHz Samsung CPU that runs on the relatively aged Windows CE 5.0 operating system. However, the styling is refined, and the casing looks smart and feels solidly built.
The windscreen mount also looks the part and attaches the sat nav unit securely, though it can only be attached to the windscreen and not to the dashboard.
Via Michelin refers to the device in the specification and describes it thus: "Car mounting system: rotating base with a unique design for mounting to the windscreen in a simple quarter turn." True enough, but the problem is that it only works on a flat surface, meaning that it takes up a chunk of your windscreen and reduces visibility.
The power button sits on the curved surface on the top edge, and there's an SD card slot on the left. The various connectors are out of sight on the bottom edge. All of the controls work through the touchscreen, which can often be a problem when you've only got three-and-a-half inches of screen space.
Via Michelin has got this aspect of the X970T sorted, though, as most of the menus only present three or four buttons, which are nice, chunky and hard to miss if you need to change your way while you've got a few seconds at a red light.
When it comes to postcode and addresses, Via Michelin has managed to squeeze all of the digits and letters on to a single screen and, as an additional aid, the software greys out buttons that you don't need.
The software let us down, however, when we wanted to enter a test destination: Bishop's Cleeve in Gloucestershire. The sat nav decided that no such place existed. Bishop's Auckland was suggested instead, 290 miles from where we wanted to go. When the unit was faced with a T-junction that was converted into a mini roundabout a year ago, the junction was completely ignored while the software told us about the next turn that was 200 metres up the road.
This was worrying, so we pulled over to try out the POIs to find out about good stuff happening locally. Here we hit another problem: a number of POIs are divided into two groups, Commercial POIs and Seasonal POIs. But in both cases, the list was blank as you have to download the POIs and map updates in advance from the Via Michelin website.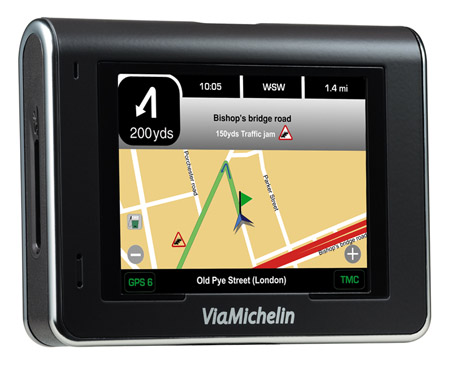 Nice map - but is it accurate?
Before you can get these updates you have to register the product, which in turn means you have to install the Via Michelin Navigation 7 software to generate a product identification code. Using the serial number from the barcode on the box would just be too simple, apparently - far better to install 6GB of software from the DVD. To add to the joy, the software is only compatible with 32-bit versions of Windows 2000, XP and Vista.
You can forget about 64-bit Vista or Mac OS X, but even though we were using 32-bit XP and able to install the software and USB drivers we never saw a product ID, and therefore couldn't register the sat nav unit. When we asked Via Michelin about this problem, we were told that "we may need to disable the firewall to let the software work".
A niggling one-off problem this may have been, but it could be an issue for Mac users, anyone running Windows 98 or - God forbid - anyone without a PC. Last time we looked, this wasn't a prerequisite to owning a sat nav.
To be fair, it isn't, and you can use the X970T straight out of the box. But then you just get the regular lists of Burger Kings, McDonalds, police stations and so on.
Verdict
The Via Michelin X970T carries an appropriately low price tag for a budget model, and it does pack a full set of European maps, but we're not too sure that it offers good value. The registration process is both annoying and unnecessary, and reduces the value of the X970T. But our biggest concern is over the accuracy of the mapping software. Perhaps a trip back to the drawing board is in order?