Original URL: https://www.theregister.co.uk/2007/12/05/robot_firefighters_in_london/
Robo-troubleshooters back up London fire brigade
Bob the Builder-style droid team scoff at fleshies' fears
Posted in Science, 5th December 2007 09:02 GMT
Perhaps somewhat tired of fighting humanity's wars in Iraq and Afghanistan, combat robots are now following the path trodden by many a retiring meatsack warrior: they are joining the fire brigade. However, just as in the military, the droids tend to get used for the most dangerous jobs.
In the case of the London fire brigade, this means searching recently/currently burning buildings, warehouses etc. for potentially explosive cylinders of acetylene gas. Acetylene, once heated in a fire, may explode at any time up to 24 hours later - even if the fire has been put out long before.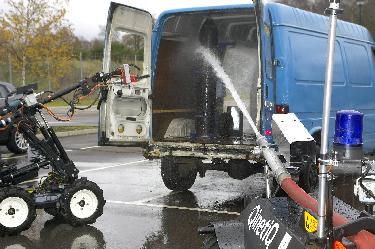 "Talon" and "Black Max" didn't seem to realise the van was not on fire.
It's possible to tell whether a given acetylene cylinder has cooled down to where it can safely be dealt with, but this involves getting close to it with a thermal imager. Human firefighters are understandably reluctant to do this; the fleshy firemen tend instead to simply cordon off a 200m hazard zone around any location suspected to contain heated acetylene bottles and wait with a cup of tea, perhaps for 24 hours or more, before going in.
This can - and does - cause nightmares when a hazard zone overlaps a railway line, as all traffic can be brought to a halt for long periods. The fire service left to itself would probably have taken some little time to do anything about prolonged acetylene-related delays, but UK railways-grid operator Network Rail was desperate to find a solution.
"We are very conscious of the fact that fires involving suspected or actual Acetylene gas cylinders have caused misery to passengers," said Derek Holmes of Network Rail. Apparently there were ten acetylene incidents which caused railway delays around London in the year up to June 2007. Each of these will have cost Network Rail five-figure sums for every hour they went on.
Enter the "Talon" military robot, which has already seen service in huge numbers as a bomb-disposal machine in the Wars On Stuff. Now fireproofed and kitted out with a thermal imaging camera, it can crawl about and search out any acetylene cylinders. If the gas bottles are at a dangerous temperature, the Talon's droid buddy "Black Max" - "similar in size and appearance to a quad bike", according to its operators - can squirt cooling water on it. Should the scene be obscured by debris or rubble, a third mini-digger robot, "Brokk 90", can clear it away.
The Bob the Builder-esque droid squad are available 24/7 and travel with their fleshy support staff in a special "response vehicle".
The team is provided in support of the London fire brigade by QinetiQ, the technology firm created by selling off large parts of the UK government defence-research apparatus in a controversial privatisation process. QinetiQ chiefs bought Foster-Miller, US makers of the Talon, in order to improve their revenue situation in the run-up to flotation.
The robot firemen have been on standby since September, according to the company, and have been called out six times. QinetiQ claims that the droids have already prevented 49 hours' worth of line closures.
"It has always been our intention to explore... ways of overcoming the disruption," said Val Shawcross, speaking for the London fire brigade.
"This innovative trial using equipment and people provided by QinetiQ, with the support of Network Rail, shows how determined we all are." ®