Original URL: https://www.theregister.co.uk/2007/12/05/dell_world_of_warcraft_notebook/
Dell punts $4450 World of Warcraft notebook
Christmas shopping... for the horde
Posted in The Channel, 5th December 2007 10:07 GMT
For the hardcore World of Warcraft fan who has everything (but regular access to fresh air and sunlight, of course): How about a WoW-themed gaming notebook?
Dell is punting a special edition of the XPS M1730 emblazoned with World of Warcraft artwork and a goodie bag of extras.
You'll need to dish out at least $4,450 for the system, which comes skinned in Horde or Alliance flavors to match the game's two opposing factions.

...as if a million mothers suddenly cried out in terror...
The computer has the same specs as a vanilla XPS M1730: 2.2GHz Intel Core 2 Duo processor, a pair of DX10 GeForce 8700M GT graphics chips and an Ageia mobile PhysX processor. The regular version starts at $2,999.
But the WoW edition comes with retail box copies of World of Warcraft the Burning Crusade expansion pack, and Warcraft III, along with strategy guides, a "making of" DVD, the audio soundtrack and a WoW backpack to tote it around.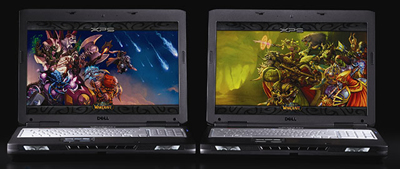 WTS [Warcraft Notebook] PST
[We should note that WoW doesn't support DX10 or a physics card, although there's always other games. In theory.]
A "special quest envelope" also ships separately that includes membership to take part in upcoming public beta tests and a pre-paid ticket to receive a custom action figure based on the actual World of Warcraft character you play.
If you were simply mulling the idea of permanent virginity before, now is your chance to really grab it by the horns.