Original URL: https://www.theregister.co.uk/2007/12/04/review_nokia_n81_smartphone/
Nokia N81 8GB smartphone
You wait ages for an 8GB Nokia then three come along at once
Posted in Personal Tech, 4th December 2007 13:02 GMT
Review Nokia followed up its first 8GB mobile, the music-centric N91, with a second one, the N95 8GB. And now here's a third: the music and gaming geared N81 8GB.
The N81 arrives at the same time as its more luxuriantly-equipped N95 stablemate, bringing a smidgen more choice at a lower price to the high-capacity music-mobile arena.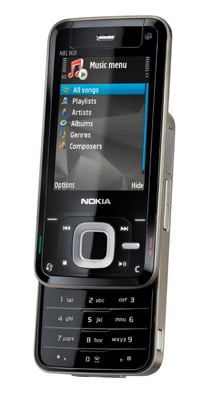 Nokia's N81: glossy but cheap-looking
Nokia is, unsurprisingly, focusing on the N81's music capabilities. As well as its headline storage capacity, and obligatory dedicated music controls, the N81 8GB is one of the first mobiles to support Nokia's Music Store over-the-air download service.
This handset is also one of the first geared up to handle Nokia's revamped N-Gage mobile gaming platform, with a mix of dedicated keys and front-panel buttons that double up as console-style controls.
The N81 is based on the Symbian 9.2 operating system, with Nokia's own S60 3.1 user interface. It's a quad-band GSM and 3G device, although HSDPA isn't included. Nokia has added 802.11b/g Wi-Fi, however, so users have the option of selecting this cost-effective and convenient route for downloading and surfing.
The N81 offers a more modest feature set than the N95: an average two-megapixel camera with flash sits on the back, and there's no GPS receiver in this model. There's also a more straightforward, one-way slider mechanism on this device, with music player controls arranged around the central navigation keypad rather than under a separate cover.
Still, the N81 is some pocketful for a sliderphone, weighing in at around 140g and measuring a less-than-slimline 102 x 50 x 17.9mm. The back and front are made from glossy plastic, which feels a little cheap, and was slippery in hand - particularly when paws were cold or wet. Dominating the front panel is large, bright 2.4in, 320 x 240, 16.7m-colour display.
Below this is the hub of the phone's navigation control surrounded by an array of keys: a couple of soft-menu controls, a main menu key and a clear key. Nokia has nudged the green and red call and end keys right to the edge of the casing, and made them sliver thin. This is presumably to accommodate the set of additional semi-hidden music player controls, squeezed into the space around the nav control, which light up when the music player starts playing.
An unlabelled silver key on the right of the panel takes you into a new multimedia carousel menu, pulling up icons for recently accessed content such as music, games, images and web links. It's something novel for a Nokia and points to further menu revamps in the future. It looks good on the display, but doesn't feel like an essential part of the menu architecture.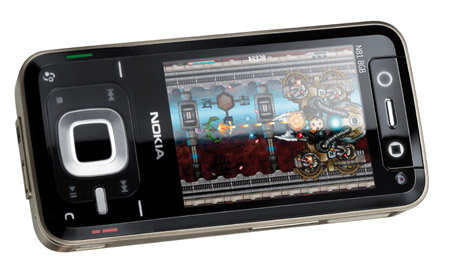 N-Gage reborn
Cramming all those buttons into such a small space on the keypad isn't as clever as it might sound. It's oh-so-easy to hit the wrong keys: a heavy-handed touch on the C key, for instance, and you can easily accidentally hit the adjacent Play button - not so good for those discreet text-messaging-in-a-meeting moments.
The shrunken call/end keys are too small for our large digits, while by contrast the prominence given to the multimedia key is odd. On the plus side, more functionality has been added to the music player controls, as you have the option to transform the central nav control into a touch-sensitive 'wheel' for iPod-style tune selection. This isn't set up out of the box – you have to select it from within the Settings menu. It's far from being as smooth or fast as an iPod, but can get you through menus more quickly than standard scrolling can.
Adding to the button count, above the display and flanking the earpiece, are two extra keys for gaming. The usefulness of these becomes clear when N-Gage games are played in landscape orientation. Our review sample had only three demos loaded, so we couldn't give N-Gage a full run out... we'll have to wait till the full N-Gage application and games portfolio is launched in later this month.
The springloaded slider is a welcome touch to the N81's exterior, and is effective in quickly locking and unlocking the keypad – handy too when using the music player. A 3.5mm headphone jack is present, allowing the average quality earphones bundled with the handset to be replaced with better ones.
Twin speakers on either side of the phone produce better quality sound than most un-plugged mobiles. The volume can be cranked up with little grating tinniness - although low-end bass is missing in action, as usual.
The music player really does deliver. Stick in some decent headphones and you'll appreciate how good. It supports a wide variety of regular digital file formats, along with cover art, and tracks are arranged in familiar MP3 player catagories, including podcasts. You can create playlists and shuffle tracks. Songs can be sync'd with Windows Media Player 11 on a PC or Nokia PC Suite - or you can drag and drop tracks.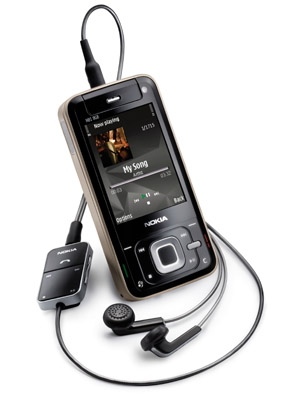 Average earphones - very good music player
The N81's support for the Nokia Music Store download service hasn't gone down well with some mobile network operators, as it offers an alternative to their own offerings. It's not the slickest of ways to buy music using a phone – there are too many pages to pass through before downloading - but it's early days. Users should be aware of additional data costs they might incur from their mobile networks if they're not on a flat-rate data plan. But you can choose to download via Wi-Fi if you have a hotspot of your own.
Don't fancy downloading? The N81 also has an FM radio built in. It also supports A2DP Bluetooth stereo, and it has a UPnP media streaming facility for transmitting tracks to a compatible hi-fi.
The N81 comes with a decent helping of 3G and smartphone features, and you can add further Symbian S60 applications. Video calling is present and correct, and there's a RealPlayer multimedia player for viewing downloaded or PC-transfered video content. This can look great in landscape mode. The camera on the Nokia N81 is, however, a pretty average affair.
The two-megapixel camera has dedicated on-button access and a user interface that's fairly intuitive. A reasonable set of tweaks can be made to the settings. But the pictures we took were patchy, and sometimes the colour rendition lurched from acceptable to disappointingly poor. The fixed-focus lens can produce decent snaps up to 5 x 7in in size, but close-up quality is limited and images are often soft.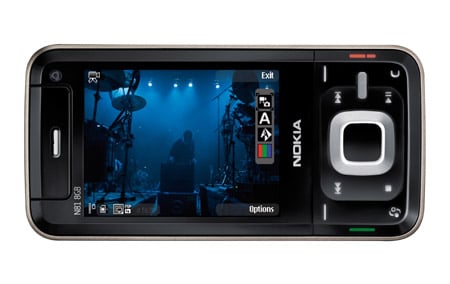 Still photography is OK, but video works better
Not, then, Nokia's best effort by a long way. Video capture is better than average for a cameraphone, recording in VGA quality (640 x 480) at 15 frames per second.
You can upload stills and video with a couple of clicks to Flickr and Vox, and then there's Nokia's Lifeblog application, which can automatically timeline texts, messages, notes, pics, videos and so on, and allow you to upload them to a blog or transfer them to your PC.
Although there's no GPS receiver, the N81 does come with Nokia Maps software, which can work with a Bluetooth GPS receiver if you have one. Web surfing is taken care of by the Nokia Web Browser, which works as swiftly as you'd expect on Wi-Fi and fairly smartly too on 3G. The device also supports email with attachments. As usual with Nokia S60 smartphones, you get a good selection of personal information apps, calendar, notes, calculator and PDF reader.
Nokia claims the N81 can run for up to 17 days on standby, with a talktime quoted at four hours on GSM and three hours on UMTS 3G networks. We found the battery to be a heavyweight contender in this respect, requiring infrequent recharges in regular usage. To make the most out of its music and gaming facilities, though – which presumably someone forking out for an 8GB phone will do - regular charging will be required. Music playback time is estimated at up to 11.5 hours, while thumb-tapping gamers can expect six hours' play from the battery pack. Call performance was excellent.
Verdict
If you're looking for plenty of track storage in a smartphone, the N81 is a lower-cost alternative to the N95 and, indeed, Apple's iPhone. It doesn't come with the same wealth of functionality as the N95 – no GPS and a lower quality camera than the N95's five-megapixel job. The design's slick but the plastic casing gives the N81 a cheap feel. And while the controls are cluttered and definitely not as ergonomic as they could be the music player performance is excellent.