Original URL: http://www.theregister.co.uk/2007/11/30/review_lg_ku990_viewty/
LG KU990 Viewty cameraphone
Give a phone a touchscreen and suddenly everyone's interested
Posted in Personal Tech, 30th November 2007 12:00 GMT
Review Touchscreen mobiles are destined to be a hot ticket for the foreseeable future, but with the touch-controlled KU990 Viewty from LG there's far more than screen-fingering novelty to tap your attention.
The Viewty - daft name, it has to be said - adopts the stylish look and feel of LG's Prada phone released earlier this year but ups the feature count. HSDPA 3G connectivity is included here, as well as a highly-specified five-megapixel camera, equipped with Schneider-Kreuznach optics, and offering manual focus and high-quality video capture at up to 120 frames per second.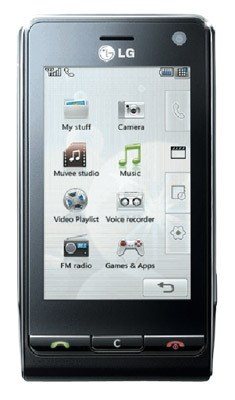 LG's KU990 Viewty: dominated by the 3in display
As you'd expect with any self-respecting high-end mobile, a music player and video player are included, and the 3G connectivity provides video calling - there's a secondary camera up front, above the display - support for high-speed downloading and a decent web browsing experience.
The KU990 is one of the first touchscreen phones that isn't powered by a smartphone operating system. LG's touch-operated user interface debuted on the Prada, and it's no surprise the design here echoes that device's classy minimalism.
This phone has larger dimensions than the compact Prada, measuring 103.5 x 54.4 x 14.8mm and weighing 112g. The front is dominated by the display – a 3in, 240 x 400, 262,144-colour LCD screen. There are three discreet keys lined up at the bottom - Call, Clear and End - blending in with the black casing.
There's some subtle chrome edging on the side of the Viewty. On one side is a sliding cover-protected charger and headphone socket. The other has a camera activation key that doubles up as the shutter control. There's also a touchscreen lock button – essential for such a device – and a three-way slider to flip the camera between still and video photography, and between recording and playback modes.
This digital camera styling is echoed by other details. The lens on the back of the phone looks the part, with a manual focus and zoom control jog ring around it, and a xenon flash. Surprisingly, there's no lens cover protection - we'd have expected one on a phone so clearly wanting to show off its camera credentials.
Still, LG has equipped the KU990 Viewty with some heavyweight camera functionality. It has a wide selection of settings and a camera-style user interface that utilises the touchscreen capabilities of the phone to view images, manipulate them and add effects after shooting.
The handset lends itself to holding the device in landscape mode for snapping. The touchscreen element enables quick access to camera settings and editing tools. There's plenty of those to play with – as well as autofocus and fully automatic settings, you can adjust contrast, exposure, white balance, ISO, colour tones and flash settings, including red-eye reduction. You can take multiple shots too, plus stitched-together panoramic pictures.
There's a macro mode, so you can take high-quality close-up shots in focus. Unusually for a mobile phone, LG has also added a manual focus option, controlled either by the jog wheel around the lens or an on-screen touch control.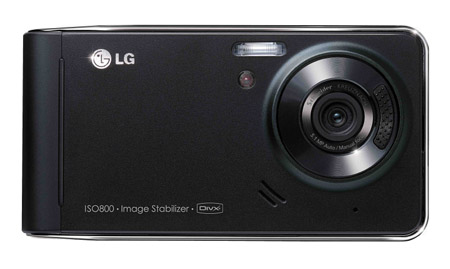 The camera looks the part
The jog dial positioning really didn't do it for us. While it echoes the focus ring of a camera, it's awkward to use when trying to hold the camera steady – particularly if you don't have long nails - and fingers are likely to wander in front of the lens if they're trying to zoom in when you're shooting video. A side/top-mounted rocker or jog wheel next to the shutter control would've been a far better option.
Still, the KU990's 5.0-megapixel CCD can produce excellent images of exceptional detail and clarity. Images can look fabulous – colours render accurately and richly, and there's plenty of scope for expressing your creativity.
At the same time, you have to be a bit careful when you're shooting, if you want to get the best results. There is a slight delay when pressing the shutter button from when the autofocus locks on to the point at which the image is captured. Even though the picture may look clear and in focus when you've hit the button, the result could end up blurred if there's slight movement. This is even more of an issue in poorer light conditions.
LG has added a digital image stabiliser option to compensate for this – tap the Lock key on the side to activate it – but it's worth taking the shutter lag into account before the electronic compensation gets to work.
Post-shooting, there are an unusually large variety of effects you can add, with the touchscreen aiding the speed and accuracy of tweaking colours, brightness, adding captions, writing on pics, morphing shots and so on.
The video capture facility on the KU990 is exceptional for a mobile phone. Images can be captured at a variety of resolutions, up to 640 x 480 (VGA), and there's an option to shoot at 320 x 240 (QVGA) at 120fps – enabling you to shoot and play back footage in slow motion at a higher quality than you'd get on many mobiles at normal speed.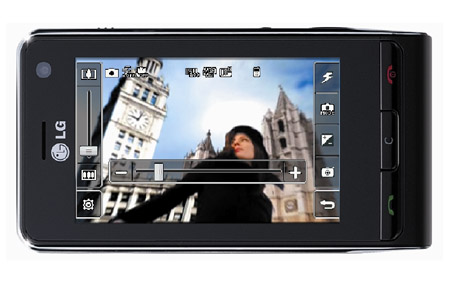 The photography UI could have come from a regular digicam
There's also a surprising range of in-phone video-editing options available too. Production models of the KU990 will have a YouTube application as part of a Google software package, enabling users to upload captured footage straight to the video-sharing site. Our review sample, alas, came without it.
The KU990 comes with around 90MB of user memory inside, although there's also a Micro SD expansion slot in the battery bay. Anyone thinking of stacking up the high res pics or video footage should invest in a memory card. It will also enable users to make the most of the music player functionality.
The jog ring around the lens does more than just help take pictures: it doubles up as a navigation aid in the menu system, enabling you to scroll up and down menus. It also facilitates quick zooming on web pages and pictures.
Even so, the KU990's user interface centres on the touchscreen. The UI has been designed to be primarily finger-operated rather than stylus dependent. LG does supply a stylus, but there's no slot for it in the phone itself.
You can move some elements on screen by dragging your finger – such as the clock on the standby screen, or you can drag images around in the gallery – but there isn't the same fluidity of movement you get with the iPhone, for instance. There's some vibration feedback whenever you press the screen and choose functions, giving that reassurance that buttons have been keyed properly - and preventing accidental and sometimes annoying double-pressing. However, this switches off when you change the phone's alert setting to vibrate only or to silent.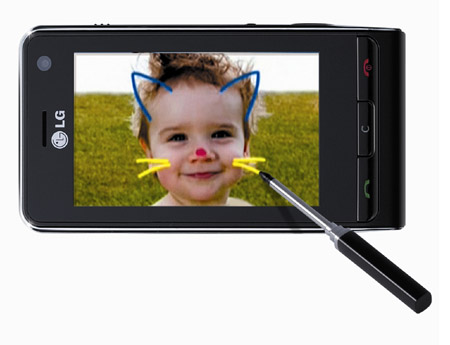 Nice stylus, but where do you stick it?
On the standby screen, you have four unlabelled icons ranged at the bottom of the display. These take you to the main menu - with four further unlabelled sub-menus - the phone's numeric pad, a list of messaging options and a contacts directory.
Despite no overt labelling, the sub-menu icons' functions are easy to guess. There are options for phone functionality, multimedia, the organiser, tools and browser, and one for settings. You'd be hard-pressed to get lost, as the next level of functions are clearly labelled.
Back at the standby screen, the KU990 also offers an alternative, standard menu layout for quick access to key features. Tap the standby screen and a strip of moving chevrons appear towards the bottom of the display. Another tap here and a three-by-three grid flows in from the side. This colourful grid is more like something you'd see on a standard mobile main menu – but if you want to get back to the more minimalist look, just tap the screen as before and the grid will slide off the page again.
The menu system doesn't take much getting used to at all, but it's not all plain sailing. Users may initially have a job working out when the scroll bar at the side of the screen can and can't be used, for example. For some menu options and applications you need to use the jog wheel on the back of the phone to scroll through menus rather than moving your finger on the screen. Unless you're an instruction book junkie, you won't necessarily know which to use and when.
Although there's an element of this trial and error exploration with any new phone, some functions where the scrolling isn't integrated fully – like text message writing – can be frustrating. And the positioning of the finger-controlled jog wheel on the back of the phone makes it less ergonomically agreeable than a side-mounted thumb-wheel alternative.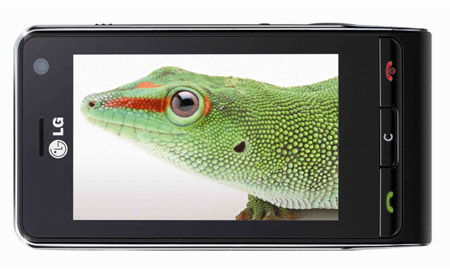 A good platform for video playback
Speaking of messaging, LG has delivered several text input options, including handwriting recognition, a virtual Qwerty keyboard and a regular phone texting numberpad. Handwriting recognition ranks among those love-it-or-hate-it features, but with practice it seemed successful with our (admittedly poor) scrawl.
The Qwerty keyboard worked pleasingly too after we'd got into the swing of it. The letters are pretty small but enlarge when you tap them, kind of iPhone-fashion, so you can see that you've connected with the correct key. In addition to text and MMS messaging, the Viewty does email. Attachments can be viewed on the superb, fast-operating Picsel-sourced document viewer.
The KU990 has a very capable music player inside that offers decent quality playback and a good looking and straightforward user interface. Shame about the lack of a standard headphone socket, but stereo Bluetooth is ready to use if you have a pair of wireless headphones. You can listen to music through the speaker, but it's as limited as mobile speakers usually are. The handset has an FM radio too.
There's some good quality video player functionality on this device too. The KU990 supports DivX video playback - DivX converter software is supplied on a CD. The large screen is a good platform for playing movies or video clips from a card or copied over from a computer. There's a TV-out mode too, but you'll need to buy the cables separately.
The web browser on the KU990 does a pretty good job. It can optimise full web pages for display on a mobile screen, enabling you to scroll down the page in portrait or landscape mode. You can also see an overview of the page and select a portion to zoom into. The jog dial on the lens can be used to zoom in and out of pages quickly. The scroll bar issue can crop up here too, but generally you can get a pretty good - but not desktop-like - web experience.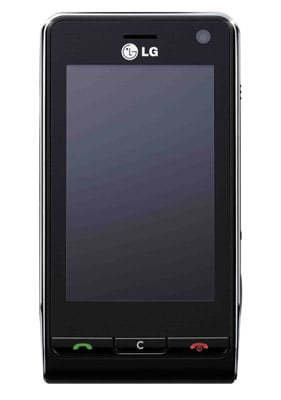 Packed with features - and 90MB of memory
The KU990's other features include a regular selection of organiser applications – memos calendars and suchlike - plus currency converter, calculator and world clock features. There's also a good-looking touchscreen shoot-'em-up game, Space Commando.
With all the headline-grabbing stuff going on with the touchscreen and camera, it'd be easy to miss out the phone functionality. Here LG hits the right buttons. The virtual keypad and contacts list are easy to negotiate, and the call performance is perfectly good - we had no problems making or taking calls.
It's no surprise that the battery life on a phone that offers 3G and a large display isn't the best we've seen from a handset. You should be thinking about refuelling every two days if you're making regular use of the add-on features. More frugal usage will extend that – LG quotes battery life at up to 454 hours on standby or 5.9 hours of talktime on a full charge.
Verdict
There's plenty to be admired about the KU990. On looks alone it will wow many would-be buyers, but the imaging functionality in this device offers an unusually rich variety of shooting and editing options in-phone, both with its five-megapixel stills capability and 120fps video shooting trickery.
LG might have considered adding a Wi-Fi connectivity option to aid fast video uploads as well as browsing, but HSDPA will take care of most users' connectivity requirements. There are a few usage quibbles – the focus ring, and the consistency of touchscreen scrolling, for instance – but this high-end cameraphone certainly delivers an impressive performance.