Original URL: http://www.theregister.co.uk/2007/11/29/review_solwise_dmp1120w/
Solwise DMP-1120w UPnP/DLNA network media player
Apple TV wannabe?
Posted in Personal Tech, 29th November 2007 14:35 GMT
Review From the Apple TV to D-Link's Media Lounge and Netgear's Wireless Digital Media Player there is currently no shortage of ways of getting PC-held content onto a TV screen and home audio system without wires. As with most things in life, while some of these products are of a truly fine vintage others prove to be merely vin ordinaire.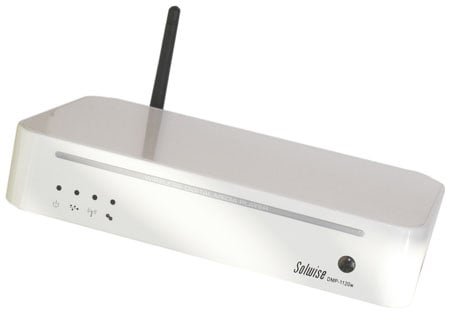 Solwise's DMP-1120w: links PC to TV, wirelessly
From those makers of home networking and sundry VoIP kit, Solwise, comes the DMP-1120w wireless UPnP/DLNA digital media player - a name that may have those not fluent in the acronyms of modern technology scratching their heads in puzzlement - is, alas, drawn from the latter keg.
The basic specification is nothing to get too wild about. There's no HD output and since the DMP-1120w has no hard drive, your PC, Mac or NAS box will have to be switched on continuously in order to get the most out of it. The box is unable to grab content off your machine on its own, which means that in order for it to work all your media will have to be logged in to Windows Media Player 11 or you'll need to install a Digital Living Network Alliance (DLNA) complaint media server app such as TVersity or Media Tomb.
The DLNA media server option at least means you can use the DMP-1120w with a Mac or a Linux box as well as Windows XP and Vista. In addition to WMP 11 on a PC, we tried it out with Elgato's EyeConnect software on a MacBook Pro.
Niggling problems abounded from the off. Set-up should be straightforward: plug the box into the TV and follow the on-screen instructions and... well, for some reason it just didn't want to talk to our wireless router. It turns out the router was working on channel 13 and the Solwise box wouldn't acknowledge, or select, a channel above 11. Changing the router's broadcast channel really shouldn't be necessary to set up a media player like this, but in this case it was. At no point in our test did the Ethernet or wireless activity lights on the box so much as flicker to let us know a signal was being received, which didn't make matters any easier.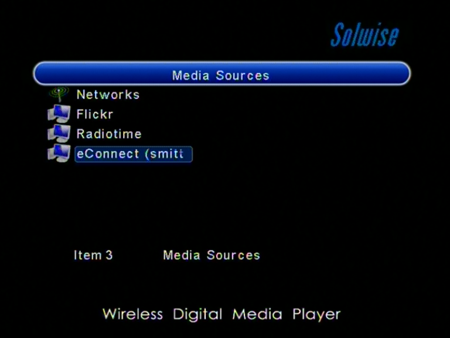 The UI's pretty basic
Having got a network signal we then had no sign of our laptop PC as a "Media Source". So we tried messing about with all the usual settings - firewall, WMP 11's media sharing options and the like - but still no joy. After some serious head-scratching we tried as an act of final desperation plugging an Ethernet cable into our PC from the router and suddenly we had media. Universal Plug and Play, our left foot!
Switching to the Mac, we had much the same experience. With EyeConnect's DLNA server up and running, the DMP-1120w took an age to spot it over a wireless network. Connection made - eventually - we started listening to music and watching photo slide shows. And then the connection dropped. One minute the DMP-1120w could see the server, the next minute it couldn't. EyeConnect was running, but Solwise's box couldn't see it. It came back - eventually...


Ambitions to be an Apple TV?
Now, we're happy to acknowledge that the user manual does say that running both the PC-router and DMP-router links wirelessly may cause signal congestion and delay when watching video, but having to hard-wire and part of PC-router-DMP part of the link shouldn't be a precondition for the system working at all, which it seems to be for reasons that frankly escape us. Duff wireless unit in the review sample, perhaps?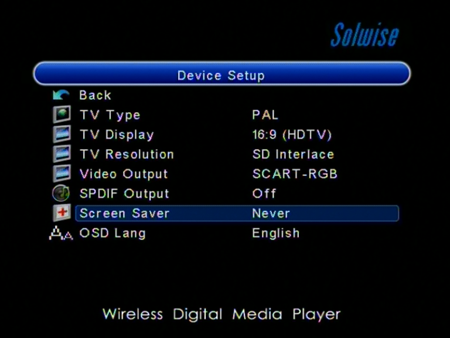 Will connect to an HD TV, but the output's SD only
Having added our iTunes music library to Windows Media Player we were more than a little alarmed to find that when they were called up on the TV screen all our albums now had fully alphabetised according to filename track listings, despite reading correctly in the WMP library.
To be fair, TVersity made an even bigger hash of sorting the media on our test PC. Adding the opportunity to access web-based content to take your mind off your now probably rather chaotic, and in our case partly missing, media library really isn't much of a trade off. There's no YouTube access, but the DMP-1120w will connect to Flikr and to internet radio station database Radiotime - though our favourite statiom, California's Radio Paradise, was missing from the list.
Given time and patience it may be possible to find a free media server application that the Solwise is happy to work with - EyeConnect costs 36 quid - but we can't help but think that this should be Solwise's job, not the consumer's.
EyeConnect made a better stab of things: our iTunes library, complete with playlists, came up on the TV screen, with the songs correctly listed by track number. No album art, mind...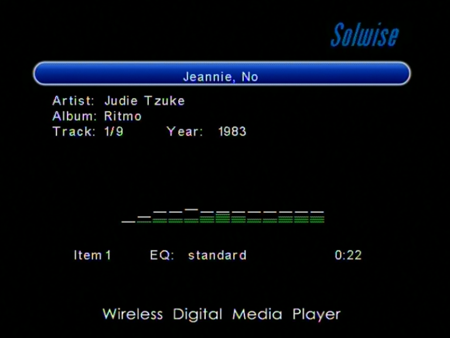 Look, ma, no album art...
The manual lists supported video formats as MPEGs 1-4, Motion JPEG, DivX and XVid. Well, maybe in an ideal world they are but how do you actually add MPEG 4 files to the media library of WMP when WMP won't recognise them as playable media in the first place? When we tried playing an MPEG 4 file off an SD card all we got was a flashing pink and green TV screen which meant that AVI files were the only ones we actually managed to get to work at the end of the day. DivX downloads should have no problems, though.
For a machine that needs Windows Media Player to drive it, the fact it won't play WMV files seemed just a little strange to us. We suspect it may also rule out access to some rather large collections of 18-rated video as WMV seems to be the preferred format of said... so we are told.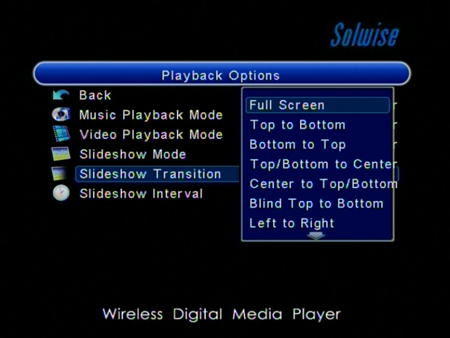 Pick your preferred transitions...
Next, we tested the DMP-1120w's photographic abilities. JPEG images that looked just fine on our laptop screen appeared on our test Samsung LCD TV with a truly terrible colour balance, especially those shot under artificial light with strong colours in them. Incidentally, JPEG is the only image format the box supports. But at least you can turn off most off the clunky slide-transition effects and just fade from one to the next.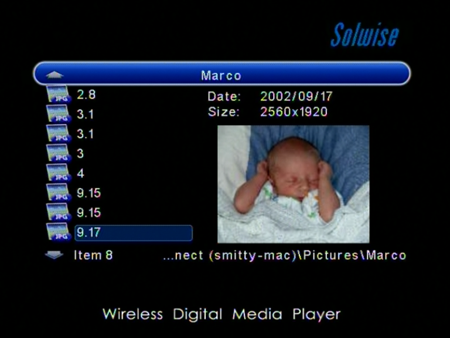 ...and peruse your pics
Upsides? The ability to play media directly from SD, Memory Stick or CompactFlash (CF) cards is handy. We couldn't get the review unit to accept a 4GB CF card, but the principle's sound. While this might sound like an alternative to keeping your computer switched on, flipping cards and and out really isn't a good idea. Fortunately, the DMP-1120w has a USB port too, so you can hook it up to an external hard drive.
But if you do, you're back to tracks being listed alpabetically by filename rather than by artist, title, genre or whatever. You can make things easier for yourself by organising albums into folders, and the Solwise box does have a Folder-based navigation option. But the default is to list the drive's music, movies and photos in three long lists.
Still, unlike the irritatingly HD-only - well, ignoring hacks - Apple TV, the DMP-1120w is happy to work with standard-definition TVs, via component- and composite-video ports and a Europe-friendly Scart connector. It has stereo audio RCA jacks too and a digital optical audio output.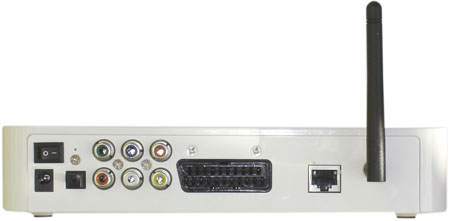 No HDMI, but it does have Scart
And the UI isn't as bad as some we've seen. It's basic, and not as neat and tidy as the Apple TV's - it's certainly not as smooth and responsive - but it works, and with music at least relies on metadata rather than file and folder names for ordering - though we suspect having a smart DLNA server app goes a long way here. EyeConnect was clearly clever enough to present the files using the metadata when WMP 11 wasn't.
Verdict
The Solwise DMP-1120w will only set you back 42 per cent the cost of a 40GB Apple TV box, but you won't be getting anything like 42 per cent as good a system. Still, if the extra £116 for the Apple rig is too much, you're a DivX buff, or you don't mind keeping your computer on all the time, the DMP-1120w is a cheap, frill-free way to get your content onto your telly.