Original URL: http://www.theregister.co.uk/2007/11/28/review_amd_radeon_hd_3870/
AMD ATI Radeon HD 3870 graphics chip
Watch out, GeForce 8800 GT
Posted in Personal Tech, 28th November 2007 11:10 GMT
Review AMD's ATI Radeon HD 2900 XT wasn't a bad graphics chip but it spent too long in development and failed to take the fight to Nvidia's GeForce 8800 series. But after a quick die-shrink from 80nm to 55nm, the Radeon HD 2900 XT has been reborn as the Radeon HD 3870.
The new fabrication process is a good start but it doesn't guarantee success as Nvidia has just introduced a 65nm process for the new 8800 GT and will presumably be using it for future GeForce 8-series GPUs. The point is that Nvidia got its design for the 8800 pretty much on the money while AMD appeared to make a pig's ear of the 2900.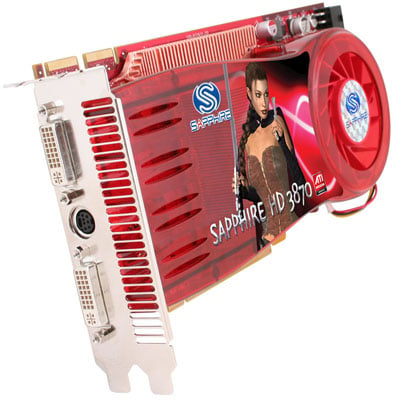 Sapphire's HD 3870: two-slotter
As part of the new makeover, AMD has adopted a numbering system that ditches the old Pro and XT suffixes so the new mainstream part is called the 3850 while this high-end part is the 3870.
Internally, the 3870 is near-identical to the 2900 XT, although the reduction in core size has allowed AMD to add the UVD (Unified Video Decoder) video-processing core that was part and parcel of the 2600.
The other tweak is support for DirectX 10.1 and Shader Model 4.1, which are scheduled to be part of Windows Vista Service Pack 1, due - fingers crossed - early next year. As things stand, Vista and DirectX 10 have made very little impact on gamers so a point release may sound like a minor update but a few hours in the company of AMD's Richard Huddy will persuade you otherwise. Huddy spends his time liasing with games developers and learning what they want from hardware, and the way he tells it DirectX 10 is a bit of a mess and many of the ports of DirectX 9 games to DirectX 10 only add to the problem as they have been done poorly and kill performance.
DirectX 10.1 will sort out a number of the problems thanks to the addition of Global Illumination and, in particular, Deferred Rendering, which will allow the simultaneous use of HDR and anti-aliasing. At present you can have one or the other but not both.
As many of us are waiting for Vista SP1 before we contemplate installing the OS on our PCs the idea of a graphics card that supports DirectX 10.1 is quite appealing. We will have no idea whether the new API makes a significant difference until decent DX 10.1 games come to market in, what, 2009?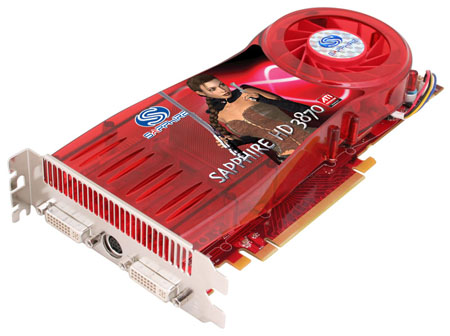 Cool runner
AMD makes it clear that 3870 is very similar to 2900 XT and that HD 3850 is merely clocked slightly lower than its big brother, but the power draw figures are quite dramatic. AMD's figures show that the 2900 XT draws 220W at peak load while the 3870 draws 105W and the 3850 is just below the one hundred mark at 95W. As you'll see in our testing, the figures we measured were slightly lower than that: 180W for the HD 2900 XT, 90W for the 3870 and a GeForce 8800 GT drawing 110W.
Despite the similarity between the 3850 and the 3870 the two cards use quite different form factors. The 3870 is a double-slot design that vents air through the mounting bracket as per the X850, X1800, X1900 and HD 2900, while the 3850 is a single-slot card that keeps the hot air inside the case much like an X1950 Pro or, indeed, an 8800 GT.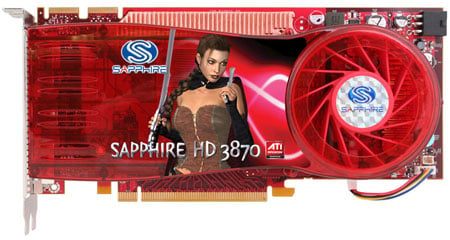 Ready for four-card CrossFire X...
The most obvious technical difference between the two models is that 3870 has 512MB of GDDR 4 memory and 3850 uses 256MB of cheaper, slower GDDR 3.
The 3000 series chips employ a PCI Express (PCIe) 2.0 interface which is handy if you have an Intel X38 motherboard. However, the extra bandwidth of the new interface won't yield any immediate advantage. Think in terms of removing a potential bottleneck in performance and then lift your sights to the prospect of CrossFire X in January when we will have the prospect of up to four graphics cards working on the same image. It sounds like it might be marvellous but we'll reserve judgement until we've seen the thing in action.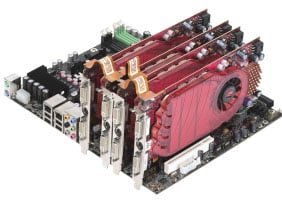 ...but you won't see it until early 2008
Intriguingly, both the 3850 and 3870 use a single six-pin power connector to supply extra power despite the fact that PCIe 2.0 can deliver 150W through the graphics slot. However, most graphics cards will look for an extra power connector, so you need a six-pin power connector even if it isn't strictly necessary.
How They Compare
| | | | |
| --- | --- | --- | --- |
| | HD 3870 | HD 3850 | HD 2900 XT |
| Transistors | 666m | 666m | 700m |
| Process | 55nm | 55nm | 80nm |
| Stream Processors | 320 | 320 | 320 |
| Core Clock | 775MHz | 670MHz | 740Mhz |
| Memory Clock | 2.25GHz | 1.66GHz | 1.65GHz |
| PCIe Version | 2.0 | 2.0 | 1.1 |
| UVD | Yes | Yes | No |
The 2900 XT didn't have a UVD because the core was too large to allow the inclusion of unnecessary extras, so your PC had to decode HD-DVD and Blu-ray movies with brute force courtesy of your CPU. With the 55nm die-shrink AMD has freed up a stack of space and reduced the cooling requirements to such an extent that the 3870 runs as quietly as the benchmark GeForce 8800 GT so a noisy processor cooler would be a real intrusion during movie playback. Enter stage left the UVD, although movie buffs should note that the new graphics chip employs the same HD audio processor as the 2900 so it's HDMI 1.1 rather than 1.3, which kisses off the prospect of Dolby TrueHD and DTS Master HD.
We tested a Sapphire HD 3870 on an MSI X38 Diamond motherboard with an Intel 45nm Core 2 Extreme QX9650 'Penryn' processor and 2GB of OCZ DDR3-1333 memory running on Windows XP SP2.
The contest was a little unfair as we were using a PowerColor HD 2900 XT with 1GB of GDDR 4 memory instead of the more usual 512MB, but broadly speaking the 3870 and the 2900 XT had similar performance. The difference in noise levels and heat output was quite astonishing, however, as the 2900 was horrible and offensive while the 3870 was cool, calm and collected.
Crysis Results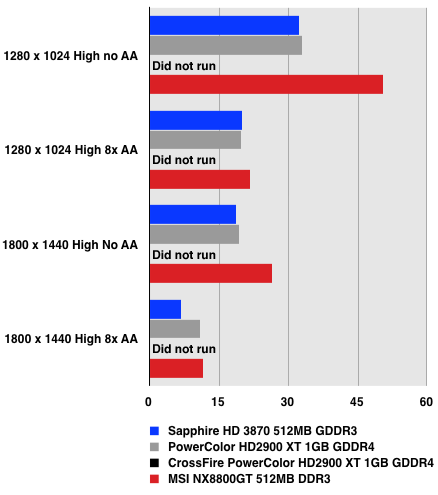 Results in average frames per second
Longer bars are better
As we had a pair of the PowerColors we ran them in CrossFire to get an idea how we expect the 3870 to scale. Although we patched the drivers with a hotfix for Crysis, we found that CrossFire performance in the new game was lower than a single graphics card so it's clear that the drivers need some work. In 3DMark06 and FEAR: Extraction Point the performance of the two cards in CrossFire was epic.
3DMark06 Results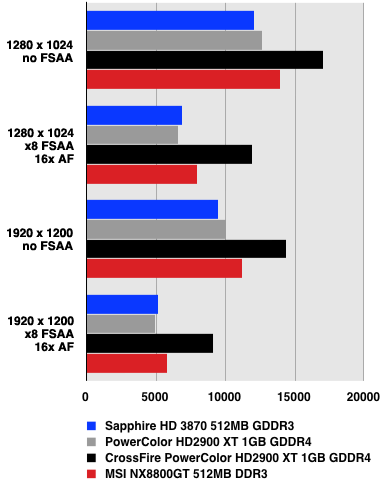 Longer bars are better
FEAR: Extraction Point Results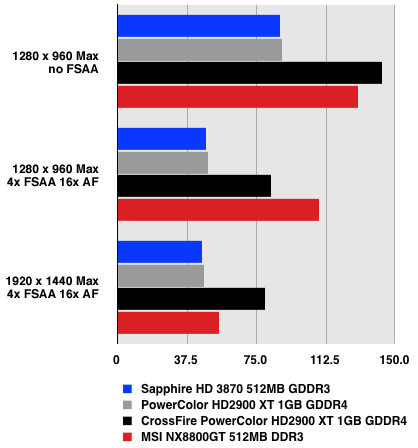 Results in average frames per second
Longer bars are better
For comparison, we used an MSI GeForce 8800GT which consistently beat the 3870. The figures are a little confused as we used different screen resolutions for Crysis. However, the 8800GT was running at a higher resolution than the Sapphire 3870 and it still returned higher frame rates. You pay £30 more for the MSI 8800GT than you do for the Sapphire HD 3870, and Sapphire chucks in a moderate bundle of software to make the deal even more appealing. There's Cyberlink DVD Suite for producing DVDs, CyberLink PowerDVD 7 for watching them, and a voucher for Valve's Black Box which consists of Half-life 2 Episode 2, Portal and Team Fortress 2.
Verdict
The ATI Radeon HD 3870 is a decent package at a very fair price but the fact remains that AMD's latest and greatest graphics card can't quite take the fight to Nvidia's GeForce 8800 GT. Perhaps it's a good thing that AMD has produced a graphics chip that is relevant to the guy in the street without any pretension of being the fastest chip in the world. Either way, we're very glad to draw a veil over the hot and noisy Radeon HD 2900 XT.