Original URL: https://www.theregister.co.uk/2007/11/23/nokia_patent_20070259702/
Nokia cranks up twisty-turny phone design
Crank-based handset
Posted in Personal Tech, 23rd November 2007 11:29 GMT
A Nokia application to the US Patent and Trademark Office has revealed its work on a handset that's operated by cranks - no, not grumpy office-worker types - and which looks suspiciously like the troubled Sidekick Slide.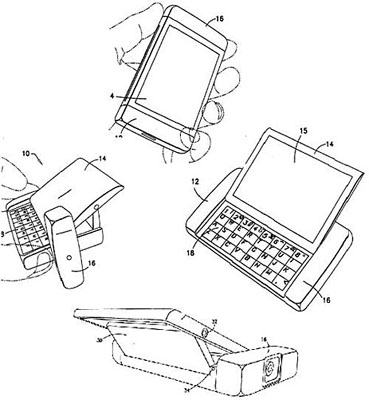 Nokia cranks things up a notch
The handset looks about the size of the iPhone, but Nokia's device hides a Qwerty keyboard under its touchscreen. However, a strange crank on a 180° pivotal axis at the bottom of the phone is used to slide the hinged display upwards to reveal the keyboard, instead of simply pushing the screen up with your thumbs.
Nokia's application, which was filed in May 2006 but updated earlier this month, explains how the crank doesn't move freely, but rather 'clicks' into two pre-set positions. The first slides the screen up to reveal the keyboard, but it can also be used to activate the phone's video camera. A second turn activates a photo camera.
Very little else is said about the handset's possible features. However, Nokia has let slip that it'll also combine wireless communication, games and a computer, of sorts.
It sounds pretty crank crazy to us, but we still can't wait to see a working model.