Original URL: http://www.theregister.co.uk/2007/11/20/review_nokia_6110_navigator/
Nokia 6110 Navigator GPS phone
Gets you from A to B without going via L, O, S or T
Posted in Personal Tech, 20th November 2007 14:28 GMT
Review Nokia has decided satellite navigation is where it's at. The Finnish phone giant released its first GPS-enabled mobiles this year, and is promising a whole heap more for 2008. And its multi-billion dollar purchase of map supplier Navteq leaves no doubt how seriously Nokia is taking sat nav.
The pertinently-monikered 6110 Navigator isn't Nokia's first GPS-enabled phone, but it is the first to be explicitly designed for and sold on its sat nav capabilities. The N95 and E90 offer GPS as one of many other features, but with the 6110 you get a full-blown voice-guided sat nav system. It leaves behind the Nokia Maps over-the-air mapping solution of the N95 and E90, instead utilising Route 66 software.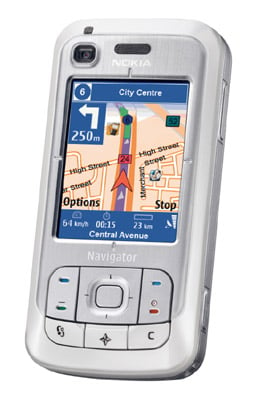 The Nokia 6110: sat nav special
The 6110 is a quad-band GSM/GPRS/Edge slider phone with HSDPA 3G, so it's capable of downloading, streaming and internet surfing at speeds of up to 3.6Mb/s. It's a smartphone too, based on the Symbian S60 Third Edition Feature Pack 1 platform, so it delivers a healthy spread of functionality along with the flexibility to add more software. There's no Wi-Fi on this device, however, which some might pine for.
There's a standard-issue two-megapixel camera in the back of the phone, with a sliding lens cover that protects and activates the camera. Video calling is part of the 3G deal, with a secondary camera poking above the display. This lovely, bright 2.2in, 320 x 240 display can show up to 16m colours, and provides plenty of detail for close-up map reading and website browsing. It's pretty fine for eyeballing video content and snaps on screen too.
Multimedia playback is taken care of with a multi-format music player and RealPlayer video player, plus an FM radio. A Micro SD card slot is on the side of the phone - Nokia supplies the 6110 with a 512MB storage card loaded with the Route 66 navigation software.
UK mobile users can enjoy maps and navigation software for the whole of the UK and Ireland. There's still plenty of room on the card for jamming in tunes, pics and videos, so you're not obliged to elbow the sat nav card when you want to indulge in some multimedia fun.
The 6110 isn't svelte, though. Its dimensions, at 101 x 49 x 20mm and 125g, are similar to the N95 - although the 6110 is more rounded, with a slightly cumbersome feel. The overall aesthetic isn't really a patch on the N95's angular elegance.
The 6110 has a regular slidephone arrangement, with decently large keys and a sensible, functional layout. Under the display is the handset's main five-way navigation and scroll control, flanked by the usual soft-menu keys and call/end buttons. There's the standard squiggle-marked Menu key, next to which is a larger button marked with a compass icon - this is the navigator key that runs the on-board GPS system.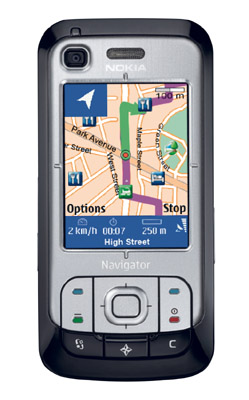 Extensive route planning options
In a few seconds you're propelled into the sat nav software. The sensitivity of the GPS receiver - mounted at the rear of the earpiece - is good: better than the N95 for locking on quickly. It can locate your position in less than 30 seconds if satellite reception is sufficient, though you may sometimes have to wait for several minutes.
Once up and running, with your location displayed, there's an extensive set of search criteria and route-planning options. With all the mapping and navigation on the card, network coverage doesn't hinder the sat nav performance, as it could with Nokia Maps.
Thousands of points of interest – covering entertainment, historical locations, businesses, railway stations, banks, petrol stations, car parks and many more – are stored and easily accessible by search. You can scan through addresses by postcode or tapping in partial details, search across all categories with an immensely useful Free text option and choose your own landmarks for future reference. And - top marks for integration - you can feed in addresses straight from your phone's contacts list. Clever and slick.
The phone performs searches and route calculations in moments, and there are options at every stage to make navigation less painful. Voice navigation instructions fairly boom out of the powerful speaker on the back of the phone, cutting sharply through any in-car din. On-screen instructions are presented on 2D or 3D maps, and it has a pedestrian mode for on-foot guidance without worrying about one-way systems.
More Route 66 maps covering other countries can be added, and you can sign up for additional services too – such as live traffic updates, safety camera alerts, weather reports and Lonely Planet travel guides.
Another neat extra is the ability to send screenshots of some navigation maps as MMS messages or emails to any other mobile phone user - very useful if someone's struggling to find you when you're both out and about, or for arranging meetings. You can also send them short-range via Bluetooth.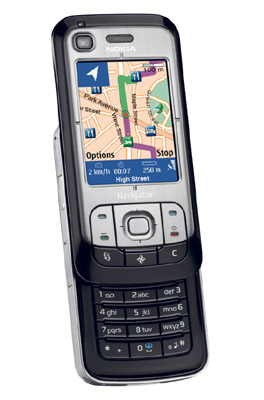 A functional key layout
Similarly, you can send step-by-step navigation instructions in written form via texts, MMS or email. Longer routes will require multiple text messages, so it's usually cheaper to send an MMS.
We made extensive use of the 6110's sat nav functionality and were very impressed with the system. One serious issue, though, is battery life. The GPS system eats through the battery, so we'd suggest investing using a car charger for longer journeys. It's easy to leave GPS running in the background too, so be careful exiting the application properly to save on juice.
Aside from the sat nav system, the 6110 puts in a solid, assured smartphone performance. The menu navigation controls will be familiar to any Nokia S60 user. The standby page has quick access icons ranged across the top, and the main menu button delivers you into a pack of application and folder icons arranged in grid formation - this can be altered into a carousel-style presentation. Clicking on these takes you into applications or folders with more sub-menu options.
With 3G and HSDPA giving respectable download speeds, surfing using the Nokia Browser is a decent experience. It uses Mini Map overviews of pages to help you find your way around, and can tailor views of pages to be optimised for a mobile screen. You can also store RSS links. Downloads of audio and video content are zippy – mere seconds for full-length music tracks from mobile network portals.
Imaging is not one of the 6110's strongest suits. The camera can be launched into action by slipping open the sturdy lens cover, or by clicking a dedicated camera button on the side. Despite the lens protection, this isn't one of Nokia's finer snappers, two megapixels being ground-floor standard on mid-range handsets at this end of 2007.
The camera has a flash, and can shoot in landscape mode, framing shots like a regular digital camera. However, its controls are limited, with no autofocus or macro mode meaning close-up shots can be hit or miss. The camera can nonetheless produce decent images in good lighting conditions, with some fine detailing and contrast on mid-range shots. You can adjust exposure and white balance, and edit shots in camera afterwards.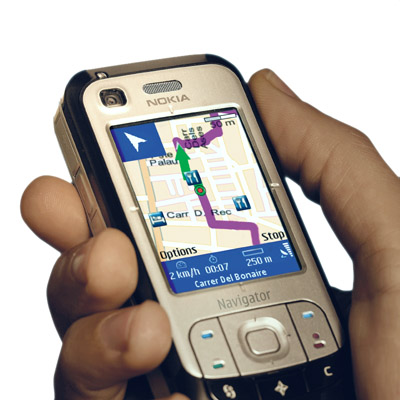 Slightly cumbersome
The 6110 can shoot video too. This is better than average for a mobile phone, but with a maximum resolution of 320 x 240 pixels it's not going to replace your camcorder just yet.
The music player is easy to operate, although there's no additional external controls like those on the N95. The interface is straightforward to use, and playback is of good quality. The speakers on the back can really crank up the volume, giving a better account of themselves than most mobile speakers, although it's still light on bass.
Supplied earphones are average, so you may prefer to use your own with a 2.5mm-to-3.5mm jack adaptor. A2DP Bluetooth support gives you the option of using wireless headphones or speakers.
The Symbian platform means you can tailor the handset's array of apps to match your requirements, using Nokia or third-party applications. Nokia supplies decent organiser functionality out of the box - there's calendar, notes, convertor and calculator features. Push email is supported too, and attachments can be viewed using Quickoffice applications and Adobe Reader software.
On top of regular voice-controlled dialling features, the Nokia 6110 sports a clever Message Reader function, accessed from a shortcut button, which will read out aloud all your text messages and emails. You can synchronise contacts and calendars with Microsoft Outlook and Lotus Notes on a PC using supplied Nokia PC Suite syncing software and supplied USB cable. Users can also drag and drop files – including DRM-free tracks from iTunes – via USB.
GPS functionality can slash battery life considerably. We found it to give us around 3-4 hours of instructions before conking out – not bad if you're aware that this is happening and aren't caught short by leaving it on in the background accidentally. In normal usage, the 6110 keeps going for around four days between charges, though functions such as the music and player also take a bite out of battery life. Nokia claims the 6110 has a maximum talktime of up to 3.5 hours and standby of 265 hours in 3G coverage. Call quality on the 6110 is top class, with no complaints about holding on to network coverage or audio performance.
Verdict
Battery life notwithstanding, Nokia's 6110 Navigator is an impressive attempt to replace TomTom-like gadgets with a mobile phone for which GPS is a key feature not a gimmicky add-on.