Original URL: http://www.theregister.co.uk/2007/11/19/sun_storage_sc07/
Sun's top brains salivate over storage kit and code
Fishworks eyed as cure to disk stank
Posted in The Channel, 19th November 2007 02:38 GMT
SC07 Sun's hardware chief John "I don't comment on unannounced products" Fowler has storage on the brain.
The longtime Sun exec recently took over the company's storage business, adding tape and disk to his responsibilities as server chief. Fowler, during an interview here at Supercomputing, confessed to having an unfulfilled passion for storage gear - one that he can now satisfy in tandem with Sun co-founder Andy Bechtolsheim, who we're told is also consumed by the byte saving bug.
It will take more than enthusiasm to turn Sun into a compelling storage vendor. A number of executives have tried and failed to raise the status of Sun's storage gear over the past few years. It seems that customers simply prefer to look elsewhere when buying disk to connect to Sun's SPARC and x86 servers. Much of the lack of enthusiasm for Sun's storage kit has stemmed from its reliance on partners rather than in-house hardware and software for a large swath of its lineup.
Now, however, Sun has started releasing a number of homegrown products that it sees as game changers.
The most recent in-house arrival is the StorageTek 5800 box, which barrels into the Content Addressable Storage (CAS) market.
"This box is about really long-term preservation of information," Fowler said. "Regardless of disk failures, we can maintain data integrity for a very long period."
Sun has spent years talking about this system under the "Honeycomb" code-name. The system took so long to design and ship due to a drawn out prototyping process and extensive testing, according to Fowler.
Now Sun has a unit which relies on metadata and a slick query engine to store and sort fixed files such as medical images or chunky media content. Over the coming months, Sun will open source the software behind the CAS box.
"Some people will want different IOPS (input/output operations per second) to disk ratios," Fowler said. "As an open source project, people will be able to adapt the software to different kinds of hardware to meet these varying needs."
The Honeycomb box joins the X4500 as two of Sun's bespoke points of pride in the storage game.
Both systems fit into Sun's new high performance computing package - Constellation - which includes the Bechtolsheim-designed DataCenter Switch 3456 and the new Sun Blade 6048 chassis. (The Sun Blade 6048 lets customers put up to 48 SPARC, Xeon or Opteron blades in a full rack.)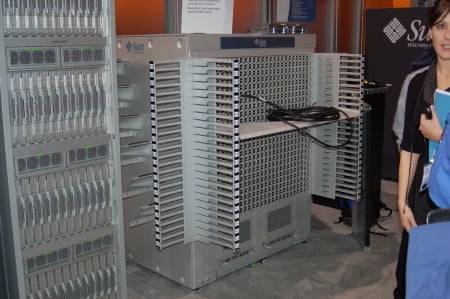 The Big (3456) Freakin Web Tone Switch
Thankfully, Sun realizes that not everyone is looking for a 3,456 port InfiniBand switch. So, it has prepped a 72-port InfiniBand switch that will sit on top of the Sun Blade 6048 rack.
"This will let us do small to very large clusters with similar storage, compute and fabric components," Fowler said.
Sun demoed the new 72-port switch at Supercomputing and plans to start selling it in the coming months.
FFS - Flogging File Systems
Both the HPC and storage story at Sun revolve around the company's file system work. Fowler is awful proud of NetApp's favorite file system - ZFS - and of the newly acquired Lustre file system.
According to Fowler, ZFS will "become the underlying way we instantiate data onto to disk." So, moving forward, Sun plans to add ZFS hooks into any product with a disk component. "The Lustre guys have already ported ZFS over as underlying technology with their software."
Even new chum Dell appears to buy into the ZFS story.
Kevin Noreen, Dell's affable marketing manager for open solutions, told us that his customers have been asking about ZFS support. And, building on Dell's deal to sell servers running Solaris, the company intends to examine supporting ZFS on storage gear "very soon."
Meanwhile, Lustre made its way onto most of the top ten supercomputers in the world, according to the most recent Top500 list.
Next year, Sun plans to round out its storage software story with the release of the as of now top secret code known as FiSHWOrKs, which may or may not stand for Fully idiosyncratic Stopgap Hardware Warped On rotated Kelp slop. According to Fowler, this mysterious software "plays into our management" portfolio.
Disk Knobbing
Clearly, Sun has quite a few knobs to turn in 2008 as it goes about the daunting task of becoming a storage vendor that customers really care about.
Granted, the purchase of StorageTek for $4.1bn did shake up the storage world for a few months and buy Sun some much needed attention. Everyone loves to talk tape, and securing the services of the flashy StorageTek transformed Sun from an also ran to a ran ran.
Oh wait. None of that happened.
Thankfully, Sun's current crop of gear and maturing storage software proves far more exciting than robotic tape handlers. And it's interesting to hear that Bechtolsheim has joined in on Fowler's ambitions to make storage a zestful enterprise for Sun.
As always with Sun, customers will need to see if the company can deliver on its research and development ambitions. Sun has a tendency to think and talk big, while shipping goods at a more modest pace. ®
Register editor Ashlee Vance has just pumped out a new book that's a guide to Silicon Valley. The book starts with the electronics pioneers present in the Bay Area in the early 20th century and marches up to today's heavies. Want to know where Gordon Moore eats Chinese food, how unions affected the rise of microprocessors or how Fairchild Semiconductor got its start? This is the book for you - available at Amazon US here or in the UK here.