Original URL: https://www.theregister.co.uk/2007/11/19/mobile_experience/
Powering the mobile experience
Our pollsters' assault on battery life
Posted in Networks, 19th November 2007 11:51 GMT
Reg Technology Panel Deep in the heart of Gotham City, a gang of arch-criminals descends on the central bank. The plan: to execute the most audacious heist ever. What can stop them? Nothing! Unless... across the windswept street, from the darkest confines of a garbage-strewn alleyway emerges our masked hero, the caped crusader.
"Not today!" he announces sternly, as he closes on the motley crowd. From his pocket he withdraws a device so powerful it can halt time itself. In a single, smooth motion he wields the black cylinder like the haft of a sabre, pushing the small red button on its side as its arc descends towards the villains.
Nothing happens, because its battery has run out. "Bugger," he says, before receiving a right kicking from the soon-to-be-rich, criminal masterminds.
Poor Batman is not alone, according to our intrepid force of Register readers. Top of the list in our recent "future of mobility" survey was battery life. Here we see the business users, but there's a similar picture for personal usage: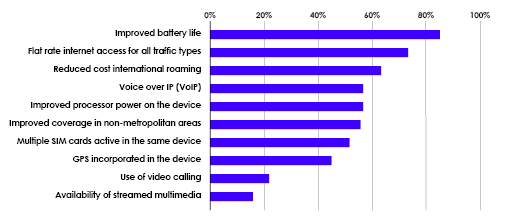 Fortunately, not all requirements are quite as insurmountable as battery life.
A close second in the priority list is flat rate internet access - for reasons we've seen elsewhere in this study series, such as predictability of costs and convergence of functions, this is clearly something that would make people's lives easier.
Given the amount of fuss about international roaming at the moment, it's interesting to see that it comes in only third for business users (and fifth for personal users, if you're interested).
While these topics are addressed, it will be interesting to see what manufacturers - particularly laptop vendors - can come up with to give us more power to our fingertips. Initiatives such as One Laptop Per Child (OLPC), with its reduced-functionality, low-power mode of operation illustrate the potential for innovation in this area.
Perhaps just supplying laptops with a spare battery in the box, or even coming up with some kind of voltage and power tip standard so that we'd only need one kind of supply wherever we are, might that be the answer?
What do you think? Answers on a fully charged postcard, please. ®