Original URL: https://www.theregister.co.uk/2007/11/16/review_asus_eee_pc/
Asus Eee PC 4G sub-sub-notebook
The ultimate laptop?
Posted in Personal Tech, 16th November 2007 11:02 GMT
2007's Top Products Asus' diminutive Eee PC 4G 701 micro-laptop is here. It's garnered an amazing welcome from computer users looking not for the acme of performance but for a highly portable wireless notebook with a decent battery life. Will they be disappointed?
First, for anyone's who's missed the Eee PC hoopla, Asus' little laptop is like a standard 13.3in notebook that's been shrunk to two-thirds of its usual size. It's not the first of its kind – Sony's been offering a variety of these tiny machines for years, Toshiba once made headlines with its oh-so-small Libretto and we're old enough to remember Olivetti's much missed Quaderno.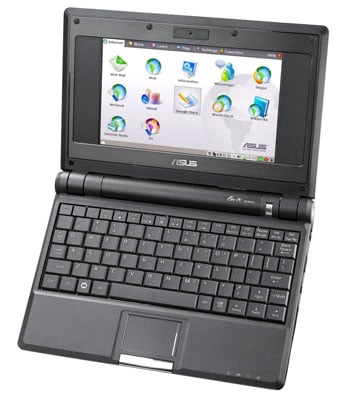 Asus' Eee PC 701: smart, stylish and very portable
What the Eee PC brings to the sub-sub-notebook category are a few modern refinements: Linux, Wi-Fi and solid-state storage. Our review unit has 4GB of Flash, of which around 2.9GB was consumed by the OS, bundled apps and sample files leaving just over a gigabyte for new stuff.
The machine starts straight into Asus' own front-end: a set of icons grouped into categories, each category on a different tabbed pane. The bundled software is comprehensive, and includes Skype; Firefox; Thunderbird; KDE Mail, used for PIM data rather than email; OpenOffice; Acrobat Reader; the Pidgin multi-network instant messaging app; photo, music and video managers; a media player; and an array of utilities, including a file browser.
Not that you should need one. Asus' GUI is clearly intended to be the be-all and end-all of your Eee PC experience. The above-mentioned apps are presented as generic icons – eg. Web rather than Firefox – and are mixed with others that simply trigger links to specific websites, such as Wikipedia and Google Docs. The Internet Radio icon takes you to MediaU.net, for instance.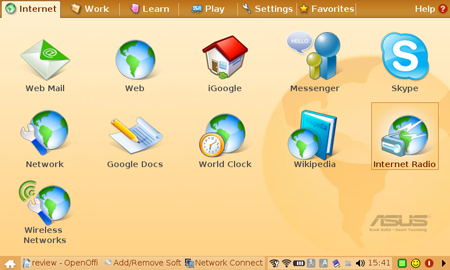 All-in-one inclusive GUI for novices
The Eee PC may run Linux for cost reasons – it's cheaper to install than Windows – but that doesn't mean this machine's aimed at fans of the open-source OS. Indeed, File Manager hides away almost all of the OS' internal workings – though it's not hard to find them if you know what you're about.
Another advantage to using Linux is that it's easier to make the OS fit the screen. The 701's very nice 7in, 100dpi, LED-backlit, 800 x 480 screen isn't a standard resolution, but there are pixels aplenty to ensure dialogue boxes don't disappear off the bottom of the screen as they almost always did with early Windows-based UMPCs. Any that do can usually be resized to fit the screen with just a click. Windows, rather than dialogue boxes, open full-screen by default, but it's easy to switch between them using the tabs in the status bar at the bottom of the screen.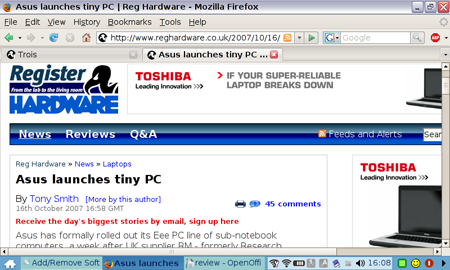 No cut-down 'mobile' browser here
That said, run too many apps and the tabs rapidly run together into a mess because there are no separators between them. Ultimately, you end up with a line of icons. If you want some extra screen space, you can temporarily dismiss – and restore – the taskbar by clicking on the triangle at its far right end.
In one respect, the Eee PC's screen is a step backward: it's much smaller than the laptop's lid, like notebook screens used to be back in the early 1990s. Asus has wisely used the space either side of the screen for the 701's speakers – rather tinny ones it has to be said; use the earphone socket instead – and there's a 0.3-megapixel (640 x 480) webcam above it.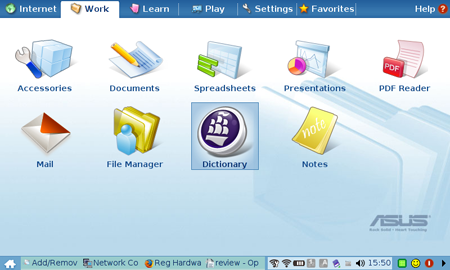 GUI customisation limited to changing the colour
The laptop's lid feels rigid to withstand many of the knocks and bumps that inevitably occur during a life on the road. The hinges run smoothly but with more friction than you usually find with notebooks – again, a sign of solidity. Not so the keyboard, which presented us with slightly misaligned keys that have the rattly, lightweight feel of low-end laptop keyboards circa 2000.
Typing on the 701 is certainly possible, but if your fingers aren't those of a five-year-old, it'll take a wee bit of practice to make sure you hit just the letter you want and not an adjacent key too. But all the keys you'd get on a full-sized model are here present.
If the keyboard's hard to use because it's small, that goes double for the twee touchpad. A mere 45 x 30mm, it's got a scroll space over on the right-hand side, but that just makes it ever fiddlier to use.


Right-hand side port array
Below the pad are the mouse buttons, both formed from a single, flat piece of plastic. Asus could at least have sculpted the single piece to make it easier to hit the bit of the bar you want. We fould ourselves hitting it too close to the middle, often doing a left-click when we wanted a right one. And pushing the button with one hand while controlling the cursor with the other – to select a block of text, for example - is a recipe for tying your fingers in knots.
We'd suggest you just take a travel mouse with you.


Left-hand side port array
The 701 has three USB ports for this: one on the left side; the others on the right, between the Eee PC's VGA port and its SD/SDHC card slot. The other side is home to 3.5mm headphone and microphone sockets, a 10/100Mb/s Ethernet port and – for us – a blocked modem port. The 4GB 701's 5200mAh battery plugs into the back of the machine next to the power port, and there's a microphone located right at the front of the machine, below the mouse button.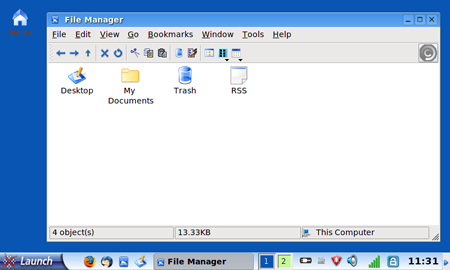 A standard desktop is a basic hack away
Turn the Eee PC over and there's a large cover. If you're willing to invalidate your warranty, you can open it up to expose the memory slot - the 701 has a 512MB 400MHz DDR 2 DIMM in place already, but it'll take a 1GB module - and the expansion bay. The latter is presumably where the anticipated 3G connectivity module will go.
Closed, the 701 measures 225 x 165 x 25-35mm, but in real terms that means it's the size of a typical hardback novel. It weighs about the same too, but if you want a more specific figure, it's 890g. In other words, eminently portable, and a perfect size to close up and stash away in your backpack or briefcase when you've finished surfing, writing the latest chapter of your magnum opus or whatever.
In addition to the Ethernet port, the 701 has 802.11b/g Wi-Fi, and its Xandros Linux distribution includes a suitable taskbar icon to help you select an access point or hotspot and get connected. There's a separate icon for all your established network connections. Two network tools is just plain confusing, especially since the former doesn't actually tell you if you're connected or not. Asus and Xandros, combine these, please.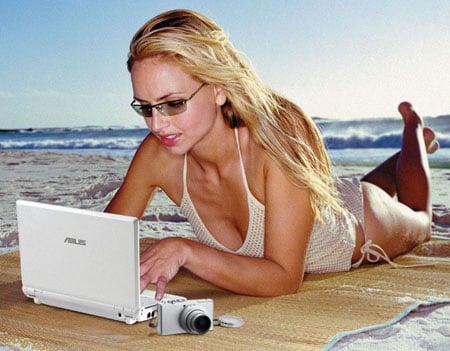 The Hardware Widow gets down to some full-on Linux hackery on the beach...
Irritatingly, while the power icon will tell you how much juice you have left when you're running on batteries, when you're running off the mains, it won't tell you how long you have to wait until the battery's fully charged.
Asus claims the battery yields 3.5 hours' uptime. We got a bit more than that - and that's while using the thing almost continually. Still, it's not a machine you can work on for the best part of a day without reaching for the AC adaptor, which is a severe limitation.
This is our only real disappointment with the Eee PC. A machine with such a basic spec and with such a focus on portability - that's why it's the size it is, for heaven's sake - really ought to give much more runtime than a regular laptop. You get better browsing life out of an iphone.
The culprit's almost certainly Linux. We put the Eee PC to sleep overnight when it s battery registered 50 per cent full. The following morning the battery was fully drained. This has never happened with any modern Mac or Windows laptop we've tried.
Worse, there's no way of controlling the Eee PC's power usage. When the battery charge falls to ten per cent, you're given three minutes before the 701 shuts down. Folk familiar with Linux's many settings files may be able to override this, but many an Eee PC user won't, in which case they can't get the full duration out of the battery.
Customisation is equally limited - to changing the Asus GUI's colour scheme from one of four pre-sets. The GUI's Settings tab also included a Windows-esque Add/Remove Software utility, which will find online updates for installed apps and let you uninstall some, but by no means all of them.
Asus offers an optional external USB optical drive, but as we said, the company doesn't anticipate the 701's target audience installing new apps. Think of the Eee PC as a complete, sealed unit that's ready to do all you need it to out of the box, and you've a good idea what this machine is about. It's not a PC, it's an appliance.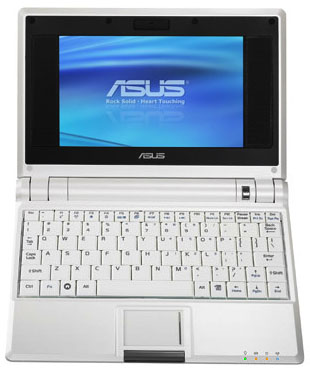 The big bevel's more obvious with the white Eee
That's an appropriate description given the 701's 900MHz Celeron M 353 ULV (ultra-low voltage) processor and 910GML chipset, both well behind the leading edge. Performance, then, isn't anything to shout about, but it's adequate for the tasks Asus has designed it for – as shown by what apps it's chosen to bundle.
Loading apps off the Flash drive is quick, but not perhaps as fast as you might expect given the hype surrounding solid-state drives. It starts up in a mere 15s or thereabouts. But then this isn't a machine you'll want to be powering on and off. Just put it to sleep, and it'll be ready next time much more quickly. Battery -drain permitting, of course...
Verdict
At just £220, Asus Eee PC is a steal. The bundled GUI keeps things simple for novices, though we reckon most such users will prefer the familiarity of Windows, and we expect this machine to really take off when Asus offers a version with XP pre-installed.
But that's not to detract from the Linux Eee PC and its all-in-one information processing package. Linux buffs and geeks will love its sheer hackability. For two hundred quid, it's a perfect impulse buy for folk who love messing around with operating systems.
This is a fun, cheap machine - which is just as well when the battery life means it'll never be a mobility masterpiece.