Original URL: http://www.theregister.co.uk/2007/11/15/review_nokia_7500_prism/
Nokia 7500 Prism mobile phone
If it's good enough for the Sugababes
Posted in Personal Tech, 15th November 2007 12:02 GMT
Review Any followers of the Bauhaus movement working in the Nokia design studio where presumably off sick on the day this baby was cooked up. Even the most cursory glance will tell you that form following function was not top of their agenda. That the phone appears frequently in the video for the recent Sugababes chart topper should also tell you a thing or two about the market Nokia is aiming at.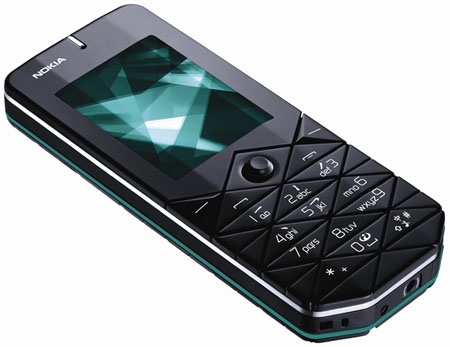 Nokia's 7500: diamond life
The Prism's diagonal keypad layout and design has been inspired by the infinite geometrical forms found in architectural surfaces. Apparently. We suspect the designer just likes Toblerone a lot. That aside, it does look rather fetching and, more to the point, it works. OK, it's no better than a keyboard designed with a slavish and exclusive devotion to ergonomics, but nor is it any the worse.
One slight quibble is that neither the start- and end-call buttons, or the two soft-menu keys, are exactly were logic or custom would dictate them to be. Clearly, logic and custom didn't see eye to eye with geometric layout and got a slap.
The 7500's other look-at-me feature is its 2in, 240 x 320, 16m-colour TFT display with an "organic desktop" and "event-driven themes", which is Nokia-speak for saying the screen glows in a cool and trippy manner.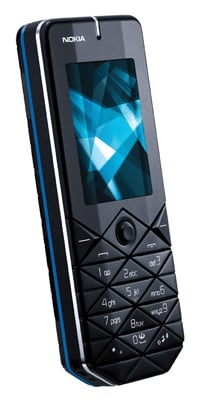 An 'infinite geometrical form', yesterday
Actually this was all pretty disappointing. Sure, you get a decent selection of themes, but frankly neither they, nor the handset's various lighting functions, are anything much out of the ordinary.
Build quality is what we have come to expect from Nokia on its better days. The plastic body feels solid and robust, while the angular styling has been thoughtfully carried over onto pretty much every surface just in case you put it face down in your favourite wine bar. In use, both the keys and the joystick have a positive feel to them, though the joystick is a just little on the short-and-stiff side. It's a wee bit too easy to push it in - to make a selection - rather than in the direction you want the cursor to go.
The 7500's basic specification is nothing to complain about: tri-band GSM, GPRS and Edge; 30MB of internal memory; a Micro SD expansion slot good for up to 2GB - a 512MB card is included in the package; a two-megapixel camera with an LED flash; A2DP wireless stereo over Bluetooth; a media player that can handle MP3/AAC/eAAC+/WMA audio along with MPEG 4 and WMV video; an FM radio; voice memo recorder; calender; calculator; four games; five free music tracks; a universal converter that even does shoe sizes; and a world clock.
Phew.
The phone also has a mini USB port for PC hook-up, and comes with the usual Nokia software suite.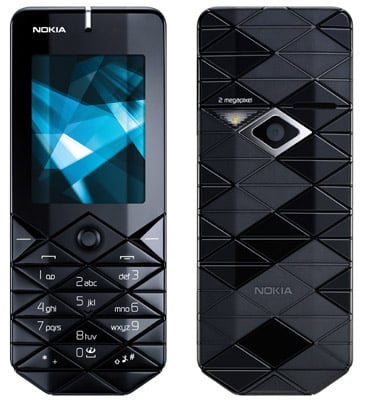 A none-too-shabby specification
Thankfully, the email client on the 7500 is a fully fledged standalone app and not the nasty little Java application you get on some lesser Nokia phones, such as the 6300. It also comes pre-loaded with the Opera Mini browser so you're not stuck with the built-in WAP browser.
The various equalisers in the rather fine XpressMusic audio player also deserve a mention in dispatches. They look great and actually work, while the supplied 2.5mm-jack stereo headset is not too shabby in either the sound or comfort stakes.
As for the camera, with a resolution of 1600 x 1200, an 8x digital zoom and 176 x 144 (QCIF - the 'F' stands for 'feeble') video it does pretty much what you'd expect but no more. The LED flash is next to useless, while the time taken to process each shot is on the long side.
The user interface is the by now familiar fifth edition of Nokia's Series 40 (S40) UI and there is nothing wrong with that, especially as it allows for a fairly high degree of user configuration, a vital feature for the modern 'phone as fashion accessory'. A nice touch is the option to put a 'note' on the main standby screen.
The handset itself is available in black, red and white and comes with three clip on colour "accents" that look just fine and more importantly stay securely in place when clipped on under the battery cover.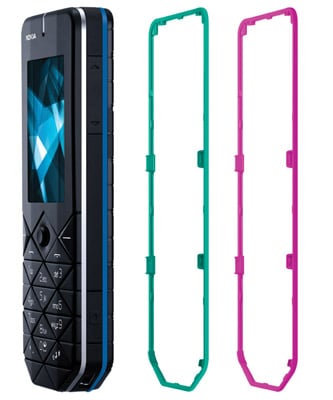 Choose your 'accent'
The handset's other impacts on the physical world are encompassed by a size of 109 x 44 x 14mm and a weight of 83g.
Battery life is not the phone's strong suite. Maybe the battery is just plain weak and pasty, but we found that a full charge was good for about a day of heavy mixed use. Make less of a demand on it and you could probably eke that out to 48 hours. For a mid-level non-3G handset this is borderline adequate.
Nokia claims 2.8 hours' talk time, 280 hours on stand-by and nine hours of music playback. We reckon the latter is possible, but only if you don't actually use the 7500 as a phone during that time. You also need to remove the battery to change the Micro SD card, which is something of a backwards step in phone design.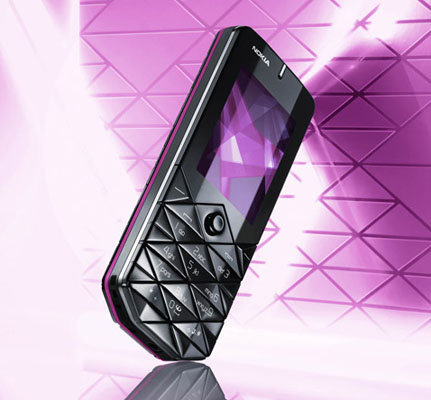 Pretty in pink
As soon as review samples of Nokia's '7500 on steroids', the 7900, complete with trick OLED screen and 3G, pitch up we will let you know if the Toblerone phone is a flash in the pan or the shape of more triangular things to come.
Verdict
With its angular keypad, dozen trippy screen themes and 'blimey, what's that?' appearance, Nokia's 7500 Prism is a phone you are going to buy because of its looks rather than because of what it does. Just as well then that when you get it out of the box you'll discover you have a perfectly reasonable middle-of-the-road handset in your possession.