Original URL: http://www.theregister.co.uk/2007/11/14/review_creative_zen/
Creative Zen media player
Spiritual enlightenment by way of sound
Posted in Personal Tech, 14th November 2007 12:02 GMT
Review Creative's latest MP3 player offers a 2.5in screen, video playback capabilities, photo viewer, voice recorder and an FM radio. It claims to provide 25 hours of battery life and is the size of a credit card. Sounds good on paper, but does it all come together in practice?
Despite beating Apple to market with the Nomad MP3 player and being eventually credited with the mother of music player user-interface patents, Creative has always been stuck in Apple's shadow. Its offerings to date have been well-received, but it has never come up with that 'breakthrough' device to give it true mass-market success.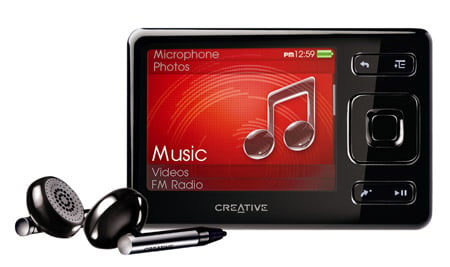 Creative's Zen: enlightenment for the iPod generation?
The Singapore-based company is hoping that its latest offering, the almost spiritual-sounding Zen, will make a difference. Launched as the flagship model of Creative's Flash-based line-up, it offers all the basic functionality that the iPod Nano - reviewed here does and - those looking for an Apple alternative will be happy to note - a little more.
The Zen is a small, black rectangle with a 2.5in landscape-oriented screen that can display 16.7m colours. The front of the device is glossy and is mostly the screen, while the back is a matt-black metal with a pleasing logo dimple.
The controls are found to the right of the screen. From the top down, there's a Back navigation button and a contextual-menu key. Next comes the square five-way controller for volume adjustment and track-skipping, then a Forward menu button and Play/Pause. The right-hand side of the player is home to the power button that doubles as the lock key. Below it sits a mini USB port and the headphone jack while. There's an SD card slot and a mic on top of the player.
The controls are well placed, but you do wonder why there are separate Back and Forward buttons when this functionality surely could have been incorporated into the D-pad. When getting to grips with the device, we did find ourselves naturally going for the D-pad only to remember that there were separate buttons.
The Zen's menu, organised in a list that you scroll up and down, reveals the full functionality of the player with options for Microphone, Photos, Music, Videos, FM Radio, Extras, Memory Card and Settings.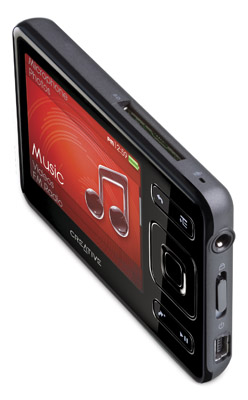 Skinny, init?
The microphone is a straightforward voice recorder that records in WAV format, perfect for execs on the go or those prone to important out-loud ramblings, and it worked fine. The FM radio is a nice feature and something the iPod has yet to offer, despite the pleas from fans. With its 32 station pre-sets, it'll serve those who want to catch with the news or get fed up of their playlists.
Photos display well on the luscious screen - more of which later - and can be added by simple dragging and dropping them onto the Zen's icon in Windows. Pics load quickly.
The Extras menu gives you date and time settings as well as Tasks, Organizer and Calendar functions. These have to be synced through Creative's software with Microsoft Outlook so we feel, unlike the iPod Touch - which has just been granted direct calendar editing with the 1.1.2 firmware update - these are not features the average consumer will take advantage of.
The Zen takes SD cards and the new high-capacity SDHC boys, so buy a 4GB player, stick a 32GB SDHC card in - bank balance permitting - and you've got a really respectable media capacity on a teeny-tiny player. It's quick too: just stick the card in, select the Memory Card option and browse away.
The downside is that the memory card's contents can't be accessed from the main Music, Video and Photo options. We don't see this as a major drawback for those folk planning to use the expandability in a hot swappable-fashion, for digi-cam pics or playlists that take your fancy, but if you're hoping to use SD cards as a way to permanently expand the player's capacity, it'll be annoying.
The Zen's video playback is great if you can get past the small screen size. We were really pleasantly surprised at how good vids look displayed in the maximum 320 x 240 resolution. Yes, there's slight blurring/jagging with fast movement, but the colours are brilliant, everything is beautifully crisp and it really is just as good as the alternatives out there.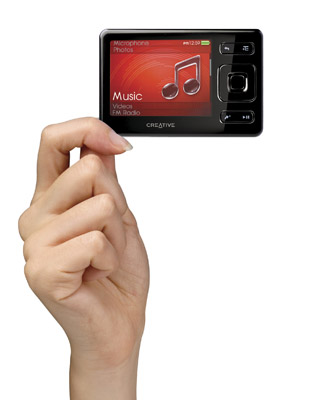 Don't leave home without it
The screen itself is quite simply lovely: bright, crisp and clear. The viewing angles are good too. Although it's clearly suited for a single viewer, you don't have too precise about how you angle the player to get the best picture.
When it comes to music, the sound is fantastic. The Zen delivers audio quality of 97dB SNR, but actually getting around to listen to it - although the player's interface is super-easy to work out - is a laborious process.
From the ZEN's main menu screen you have to select Music. You then get Playlists, Albums, Artists and Genres options - all the while the album art scrolls through a slideshow in the background, which is quite pretty. Let's say you then press to select Artist. This brings up your list of warblers. Once you've selected one, you get album options, which you also have to press to select. Then you're presented with a song list, at which point you can either press the Play button or select a track and select Play. When the track stops, you have to go back and repeat the process.
Not too different from other interfaces out there, you might think, but the way the buttons are laid out with those pesky Back and Forward options placed high and low on the player, it's actually quite annoying to use.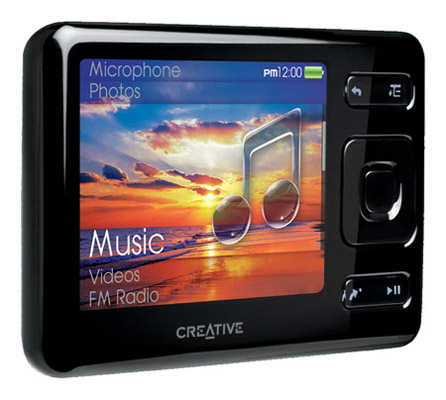 Gorgeous screen, irritating user interface
Unless you opt to purchase the extra AC adaptor, you charge the Zen by connecting it to your computer. Creative claims a single charge gives five hours' video playback and 25 hours' audio, which matches the Nano. This obviously depends on usage, how you have the backlight set up and what files you're playing, with sound-enhancement options sucking power, and AAC and WMA files shortening the time too. We got 17 hours out of the Zen on a full charge, which included lots of fiddling around with the menus, some video and the rest purely music, which we felt was respectable.
File support is another area the Zen shines in. JPEG, BMP, GIF, and PNG pics can be viewed directly, with TIFFs being converted by Creative's software. As well as your MP3, WAV and WMA files you can also use the player for non-protected AAC files, which will appeal to anyone using iTunes Plus. Video support is also generous with WMV9, MPEG 4 SP, Motion JPEG, DivX 4 and 5, and XviD playable as long as they are resized to 320 x 240 resolution - again Creative software comes to your aid here.
The Zen is available in 4GB, 8GB and 16GB options. With each model you get Creative's earphones, which are rubbish. So you might want to invest in something half decent. You also get a short USB-to-mini-USB cable, a Quick Start guide and the installation CD that includes the Creative Media Explorer software.
Verdict
Comparisons with Apple's iPod Nano are inevitable - the Zen is a direct rival to the lesser 'pod. The Creative player has a larger screen - by half an inch - comes in a larger capacity and then there's that SD card slot. It has more features too.
So, what should you opt for? It's a tough call. We really liked the Zen. If you're determined not to go down the Apple route, you'll find the Zen a worthy rather than wannabe competitor. But, we still feel that Creative isn't quite there with this undeniably capable option. It's close, but it's no iPod killer.