Original URL: https://www.theregister.co.uk/2007/11/13/hp_shorty_clustry/
HP whips out d*** in a box
By d***, we mean cluster
Posted in The Channel, 13th November 2007 22:18 GMT
SC07 HP continues to celebrate the "Shorty" blade system in any way it can. At this week's Supercomputing show in Reno, HP unveiled a modified version of Shorty called the Cluster Platform Workgroup System that gives engineers and researchers direct access to a real workhorse.
The new box holds up to 8 blade servers in the c3000 chassis and can be run as a type of deskside unit. HP claims the system shows close to 1 teraflop of horsepower.
HP's approach here is a less sophisticated take on the personal cluster/desktop supercomputer trend that has started to gain momentum. Orion Multisystems pioneered the market back in 2005 with a 96-processor Transmeta-based box that could plug into a standard wall outlet. The start-up failed for a number of reasons, but now companies such as SiCortex and Scalable Servers have picked up on the idea.
These types of units get our imagination bubbling. In a couple of years, regular users with about $10,000 or so to burn should be able to produce short Pixar-like films. And there are people talking here about using such robust computers in conjunction with in-house product modeling kits to let Average Joes design and even produce all types of objects in their garage. Fanciful? You bet. But one must dream.
For the moment, HP will aim the mini-cluster at the usual high performance computing set - engineers doing computer-aided design, oil and gas exploration and bio-tech operations. Sure, the box runs pretty loud and isn't much to look at, but it's nice to see a Tier 1 trying this concept.
The system runs Linux, of course, and, as you can see, Microsoft's cluster operating system.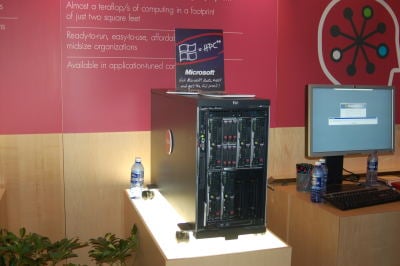 Clusty Shorty
Along with the "Shorty" tweak, HP announced the ProLiant DL160 G5 server, which is a thin, rack system that relies on Intel's latest quad-core chips. Again, this box should go to HPC users.
You can buy the Cluster Platfrom Workgroup System today, while the new ProLiant ships in the first quarter of 2008.
Customers will need to hit up this site to nab a quote on the cluster. Meanwhile, HP said it expects the ProLiant DL160 G5 to start under $1,500. ®
Bootnote
Those of you confused by the headline's genius may or may not want to click here.