Original URL: https://www.theregister.co.uk/2007/11/09/review_iomega_ego_hdd/
Iomega eGo 160GB external hard drive
Hard drive meets hip-flask
Posted in Personal Tech, 9th November 2007 15:19 GMT
Review News of this...er, "designer" hard drive first appeared on Register Hardware back in June , and it's the latest product in a growing trend of making once ordinary-looking hard drives a little more interesting – the LaCie Golden Disk is another great example.
The aesthetics alone were always going to spark interest for external hard drive devotees, so when we had the opportunity to see how the Iomega actually performed, we were keen.
The eGo is certainly sleek. The size - 135 x 90 x 20mm at it's widest - its weight - 220g and just general product design are certainly striking. The eGo sports a curvaceous body - available in cherry red, an almost gun-metal blue, black and silver - and finished off with chrome.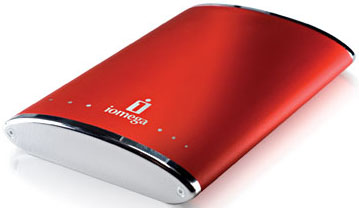 Iomega's eGo: hard drive meets hip-flask
The only ports - a USB connector and a 5V power socket, both alongside a reset switch - hardly spoil the polished chrome finish of the top end.
The 160GB capacity is a nice size for a 2.5in portable drive, and the fact it's USB-powered means you won't have to schlep a spine-crippling power brick around with you in your man-bag. The cable sprouts a secondary, USB plug that slots into your laptop just in case the primary doesn't provide enough power.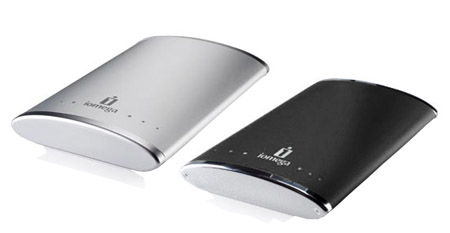 Available in silver and black...
The eGo includes a free licence for EMC's Retrospect Express HD (Windows only) back-up software, which can be downloaded from Iomega's website and installed using the serial number supplied with the hard drive itself.
The eGo also comes equipped with something called DropGuard, which sounds a lot like the motion-detecting, read/write head-parking data protection system so many laptops come with these days. So we tested it accordingly and... er, encouraged the device to fall off tables a few times onto typical office carpeted floors and even - ahem - knocked about a bit by a Timberland-clad foot.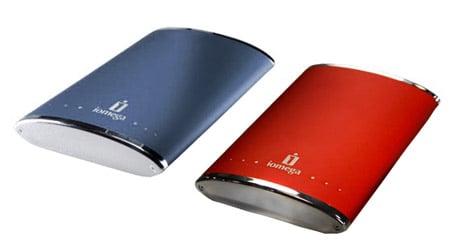 ...and blue and red
And afterwards it worked fine. The speeds were unaffected and the drive unmarked or damaged in any way. We had no trouble getting data off the drive.
Test Results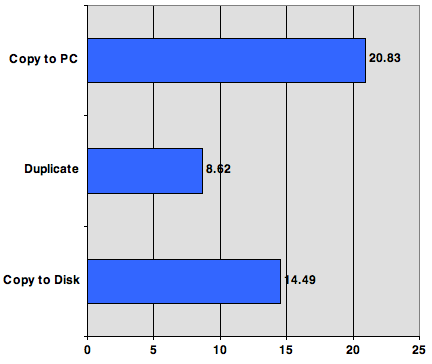 Results in MB/s
Longer bars are better
To assess the eGo's performance, we used Register Hardware's standard drive test: we copied a 1GB folder containing 100 10MB files to the drive. We then duplicated the folder on the drive itself before copying it back to the host computer, in this case a 2GHz Core Duo-based MacBook. All the tests were conducted half a dozen times and the timings used to calculate an average.
And then we did the tests all over again. Because we simply couldn't believe how speedy this little hard drive is. The numbers here aren't directly comparable to those from previous hard drive tests we've run because they were conducted on a different machine, but the eGo's read speed - as measured by the copy to PC test - is impressively high for a drive of its class.
Verdict
Aside from the ever-so-slightly less tasteful red and blue variations - let's face facts, almost all technology looks better wearing black or silver - this little drive can't be faulted. It did take a little while for the drive icon to appear on the Mac desktop, but then really, on the grand scheme of things, an extra second or two isn't really worth mentioning.