Original URL: https://www.theregister.co.uk/2007/11/08/review_htc_tytn_ii_smartphone/
HTC TyTN II smartphone
TyTN II: sounds like an ICBM
Posted in Personal Tech, 8th November 2007 13:32 GMT
Review Don't you just love it when a good product is tweaked ever-so-slightly to make it much better? Not just gadget tick-list bonus points, or fashion-conscious dabbling, but genuine changes that do the business. HTC's TyTN II, first announced back in August, is evidence that the Taiwanese manufacturer has done just that.
Like the original TyTN, the TyTN II has a slide-out keyboard, but HTC has solved a smartphone headache at a stroke by adding an additional tilt mechanism to the screen. It's a simple but ingenious solution that brings proper typing to the device.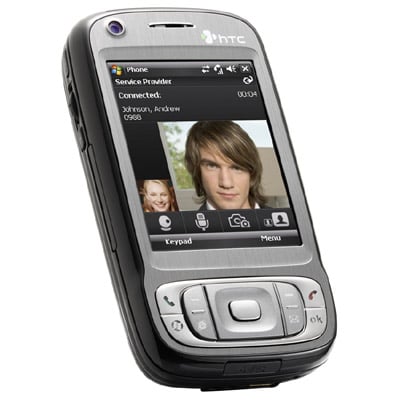 HTC's TyTN II: well connected
HTC has also taken the trouble to beef up the specifications of the original TyTN, already a formidable Windows Mobile device. A GPS receiver has been built in for full satnav functionality, the camera has been upgraded to a three-megapixel shooter, and the TyTN II now sports the latest version of the Microsoft OS, Windows Mobile 6 Professional.
It's well-connected too, with HSDPA 3G offering data downloads and browsing at up to 3.6Mbps on suitably specced mobile networks - it has quad-band GSM/GPRS/Edge for the others - plus 802.11b/g Wi-Fi connectivity. There's the usual Microsoft Office Mobile suite of applications, email, PC syncing and browser functionality.
Despite additional hardware, the HTC TyTN II manages to be a little slimmer than the original - although, at a pocket-sagging 190g, it is around 10g heavier.
When closed, the TyTN II looks pretty much like any regular Windows Mobile touchscreen device. There's a navigation pad plus soft-menu keys, call/end buttons and dedicated keys for Internet Explorer, messaging and the Start Menu.
A whopping 2.8in, 240 x 320 (QVGA), 65,536-colour display promises good times for video and picture playback, as well as plenty of real estate for viewing and working on emails and other documents. There's a small secondary VGA camera perched above the screen for 3G video calling or low-res self-portraits.
The keyboard is revealed with a gentle thumb-push with the device in landscape position. It's a smooth, two-action movement to propel the screen into the tilting position, angling to any position up to around 40°. The slider also switches the screen automatically into landscape mode, giving you a mini-laptop viewing experience.
HTC has done well to shoehorn the keypad into such a compact space while still retaining usability. The 39 keys are slightly raised and curved so you can distinguish them with your fingertips. And they're sensibly labelled, with white letters on black keys for the main Qwerty array. The blue function (Fn) keys are also visible thanks to a backlight when typing, and Caps and Fn LEDs light up when these modifiers are engaged.
The two soft-meny keys between the keypad and screen are a bit hard to reach when the display is tilted, but you can tap the screen instead if necessary.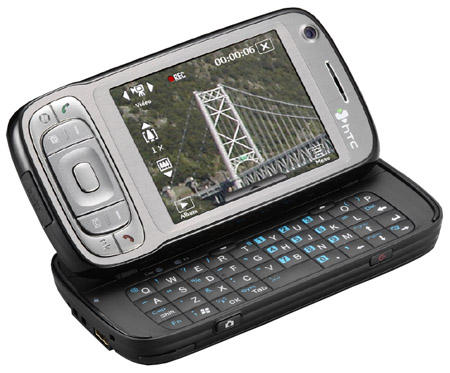 An ingenious screen tilt mechanism
The TyTN II's design genuinely allows two-finger typing. Some thought has gone into the stability of the device when you're entering text. It doesn't fall over, and the screen angle really aids its use as a desktop companion. It's very easy to use, and is a real step up from simple thumb-banging note-taking, though you can do this too, of course.
You have to be careful not to force the screen beyond a 40° tilt, or it could get damaged. In normal use this shouldn't be a problem, but don't let kids or drunken friends play with it...
Another impressive feature of the TyTN II is the jog wheel control on the side of the phone to help navigate menus and select options. We've always liked this control - it adds speed and flexibility. Combined with the screen-tapping for quick drop-down menus and accessing extra options, it really helps navigation. And there's a virtual keyboard option too for quick text-entry without the real keyboard.
If that's not enough, button-activated voice commands for initiating some functions is another option.
The TyTN II uses a 400MHz Qualcomm MSM7200 CPU, has 128MB RAM and 256MB of Flash ROM. User storage available on our device was around 133.5MB, although there's a Micro SD card slot on the edge of the screen to add more.
As it did with the consumer-oriented Touch smartphone - reviewed here, HTC has layered its own Home screen on top of the Windows Mobile UI. This gives users an at-a-glance readout of email, calendar, text messages, missed calls, dynamic weather updates and so on.
This was sadly absent on our Orange-braned TyTN II, which was set up with the standard Orange home screen. The Start menu is user-configurable, though, so you can bring your most-used features easily to hand. Handily you can check from the home page which application are open and close unwanted ones quickly.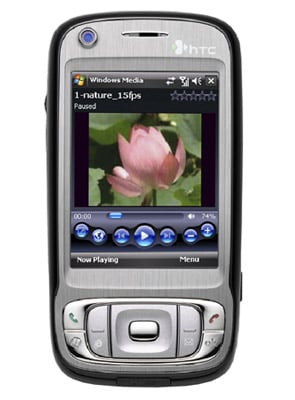 Who needs an iPod now?
The TyTN II is billed by HTC as the "ultimate mobile companion", and it is undoubtedly a well-connected business device. Email options are extensive, with support for POP3 and IMAP 4 mail accounts, BlackBerry Connect - software is supplied on an application disc - and Microsoft Exchange Direct Push Email.
With the Windows Mobile Office application suite preloaded, users can view, edit and create Word and Excel documents, and view PowerPoint files. An Adobe Reader PDF viewer application is included too.
That 'at desk when out' experience is enhanced by comprehensive organiser tools for contacts, appointments, task lists and notes, plus a voice memo application. These can can be easily synced with your desktop with the supplied software and USB lead.
The TyTN II comes with Windows Media Player mobile software, and PacketVideo's pvplayer to show over-the-air content. The music player supports MP3, AAC, WMA, AMR and MIDI file formats, and you can synchronise tracks with your PC using Windows Media Player 11.
Music performance was adequate through the speaker, though not particularly loud and so-so in quality. The average-grade packaged stereo earphones worked reasonably well. They plug in via the USB connector, so you can't substitute better headphones. But you can use Bluetooth cans as the TyTN II supports the A2DP stereo streaming profile.
HTC may have improved the camera on the TyTN II, but there's no Flash on this model and the useful macro mode lever from the original TyTN has been ditched. Still, the TyTN II has an autofocus facility plus a selection of camera controls, exposure and white balance options, shooting modes and effects. At the maximum 1536 x 2048 pixels resolution, in decent lighting conditions picture detail is excellent. Fine detail is captured with good colour rendition. Indoors shots are detailed too, but less than outdoors. It deals reasonably well with contrasting lighting conditions for a cameraphone.
The other major addition to the latest TyTN is the GPS receiver. This enables the phone to be used with any Windows Mobile 6-compatible satellite navigation software package, or other GPS-enabled applications such as Google Maps. HTC supplies its TyTN II with a TomTom Navigator 6 Taster Edition sampler, although there wasn't one with our Orange review sample.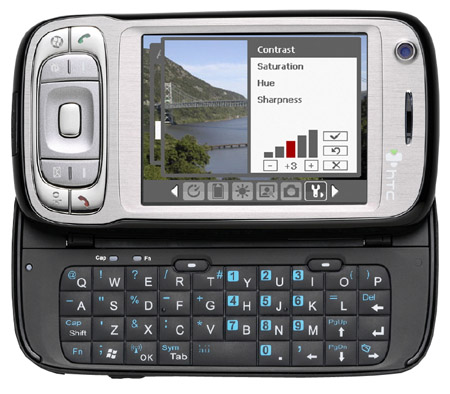 Beefed up specs means a heavier handset
We tested the GPS functionality with downloaded Google Maps and ALK's CoPilot Live 7 software on a Micro SD card. The TyTN II is impressively quick at locating satellites, and updates the map display fast and accurately. The large screen really plays well with sat nav.
On the Orange-tweaked version of the TyTN II, you get a few extras, like access to Traffic TV – a network of CCTV cameras showing regularly-updated pics of traffic flow on major roads – and Orange's Mobile TV service. You can also access remote syncing via an Orange backup service, and use Orange Mail as an alternative to the other email options.
Battery life on our review sample didn't get anywhere near the estimates provided by HTC, though our use of Wi-Fi and the music player along with a bit of GPS and camera usage no doubt explains that. HTC quotes up to 365 hours on standby when connected to a GSM network, or 250 hours on 3G; talk-ime is quoted as up to 420 minutes for GSM or 264 minutes for 3G. We managed between two and four days between charges with sustained usage.
Verdict
As Windows Mobile 6 devices go, the TyTN II takes some beating. HTC has raised the bar with the feature list and improved keyboard usability dramatically with its display and keyboard engineering nous. Connectivity is excellent too. And GPS is a welcome and genuinely useful extra.
And while the TyTN II is a heavyweight phone in the literal sense, pound-for-pound it does deliver a cracking performance. This is one heck of a smartphone.