Original URL: https://www.theregister.co.uk/2007/11/07/dell_emc_and_equallogic/
Does Dell scorn EMC with EqualLogic buy?
With partnerships like this, who needs competition?
Posted in The Channel, 7th November 2007 16:57 GMT
Analysis On Monday, Dell said it will acquire iSCSI storage vendor EqualLogic for $1.4bn. That's no small chunk of change even for a company with Dell's deep pockets. And the price is even more significant when you consider Dell's historic aversions to meaty acquisitions.
The purchase not only illustrates Dell's fevered blitz for larger chunk of the storage market, but may also suggest the company wasn't the only one at the bidding table.
But where does this deal leave Dell's storage partner EMC?
EqualLogic will doubtlessly be advantageous for Dell. It's one of the leaders in the iSCSI marketplace — an area Dell considers a silver bullet for simplifying data storage and appealing to the all-coveted SMBs. EMC is expanding its small to mid-market product as well. Now Dell clearly wants to develop in-house storage gear rather than just rebrand EMC's as it has been doing for certain parts of the market.
Both Dell and EMC claim the deal does not trouble their relationship. But where do the two companies stand now?
Last year, the two companies extended their partnership through 2011. Their shared fondness has been important to them both. Dell got a share of the storage gear margins. EMC got an important customer. At the end of the June quarter, Dell accounted for 15 per cent of EMC's revenue.
But with the bottom-line dominating Dell's "2.0" strategy, it looks like the company would rather do its own storage range. Perhaps Brutus spent some time looking for the right knife too.
Enter EqualLogic.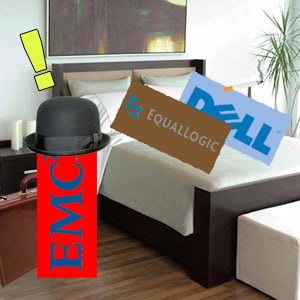 Busted!
There are clear distinctions between the markets served by EMC and EqualLogic, but there's a healthy chunk of overlap as well. EMC's CX and AX series compete with EqualLogic's PS series. However, Dell doesn't resell EMC's iSCSI products.
[Update: Reader John T. points out that Dell does in fact resell the AX150i, the iSCSI version of the AX. Oh my! In addition, some of the other EMC gear does in fact have iSCSI ports. Thanks, dear readers.]
It will certainly be interesting to watch how Dell deals with its latest and largest acquisition. EMC and Dell may be best of buds now, but we'll see if they keep holding hands when they're grabbing for the same prize. ®