Original URL: https://www.theregister.co.uk/2007/11/02/review_navman_s_series_s30/
Navman S30 satnav
Cheerful as well as cheap
Posted in Science, 2nd November 2007 13:55 GMT
Review With everyone from Alpine to Via Michelin offering standalone satellite navigation kit, should you bother with a competitively-priced, lower-end offering from an established brand name? We hit the streets with the entry-level Navman S30 to find out.
The S30 is at the very bottom of Navman's new S series and comes in at an affordable RRP of £149, although it goes without saying a bit of judicious internet shopping can find the product at an even more attractive £130.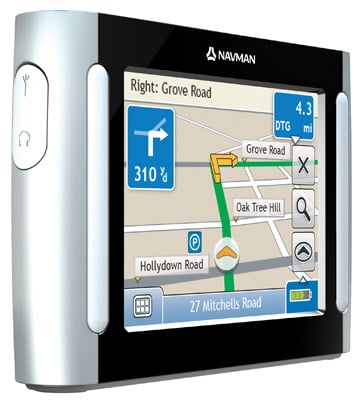 Navman's S30: completely redesigned
It's not the thinnest satnav on the market but at 20mm thick it is slim. And it doesn't look bad in its black and grey plastic livery. Put it this way, there's nothing to fall out with as far as the appearance goes.
Navman claims the S series has been completely redesigned from the inside out, following extensive research and input from its customers. This will be welcome news for folk dissatisfied with Navman's previous products, which were be sometimes slow and a little fiddly to use.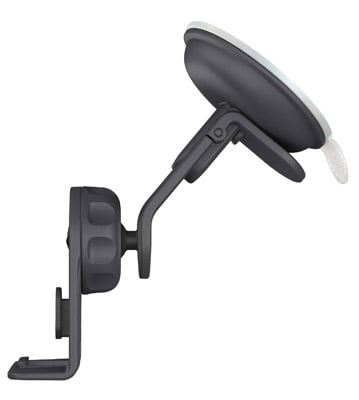 The windshield mount is robust
Still, £150 isn't chump-change in the increasingly competitive satnav market, so what do you get for your money? In the box, you get the S30 with its 3.5in touchscreen; a windshield mount that works on a clip-down sucker that we'd definitely describe as robust; a cigarette-lighter power cord; a cloth case that will offer only the flimsiest protection; a mini USB cable for PC hook-up; a slim quick start guide; a seriously hefty "Legal Information" booklet; and, finally, a DVD-ROM that holds the NavDesk desktop software and global map data.
Upon using the device, you'll see the main menu is split over two screens, with My Home, Favourites, Recent, Map, Address and POIs on the first. The press of an arrow gets you to the second screen that offers a more detailed split of points of interest as well as comprehensive choices for device preferences.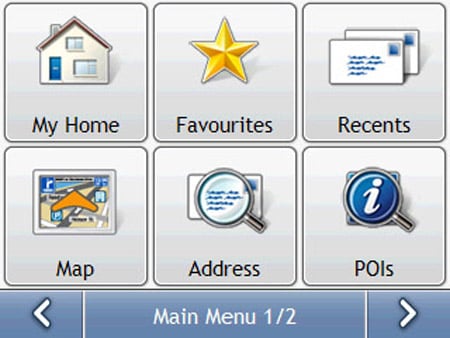 The main menu splits over two pages
Long gone are the days when cheaper GPS units only offered four-digit postcode search, so the Address option gives you the choice to search by City/Area, (full) Postcode, Street Address, or Intersection. Entering characters - and you can opt to have your disembodied satnav voice speak out the key presses - immediately narrows down the list of location choices, depending on whether there is a town, street or postcode that matches what you've entered so far. Anything on the list can be selected the moment you spot the destination you're looking for.
Selecting the City/Area choice gives the option to navigate right to the town centre, which anyone who has tried to do this using other GPS devices without this feature will know is a lot easier than having to conjure up an imaginary address for the "High Street" in the hope the gadget knows what you mean.
With the S30, the address-entering process can quite simply be described as painless, quick and easy. The only minor problem we had was with our slightly shaky hands occasionally getting double-taps on the very sensitive touchscreen, but it could be argued that is something that a regular user - or one with steadier hands - would quickly get used to.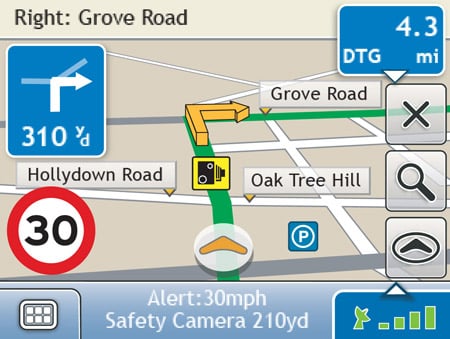 Route calculation is fast and accurate
Navman's claim that the display is "crystal clear" is well justified. We had no problems seeing what was on the screen, even in bright sunlight. As well as the day/night colours schemes, and a brightness auto-adjust function, you can select a custom colour palette for your display. Rather than a frippery, this is a nice extra as people may find some colours more visible than others, although we'd be surprised if anyone would have a problem with visibility, and clarity of maps on the S30.
For once, the choice between the shortest distance or the fastest travel time is not a one-or-the-other option, but a sliding scale with five increments between the two extremes, so you could select a middle ground between the two, or opt for either one or slightly more one than the other. We suspect only long-term or head-to-head testing would reveal whether or not this is a clever scale of choice, or just an unnecessary confusion.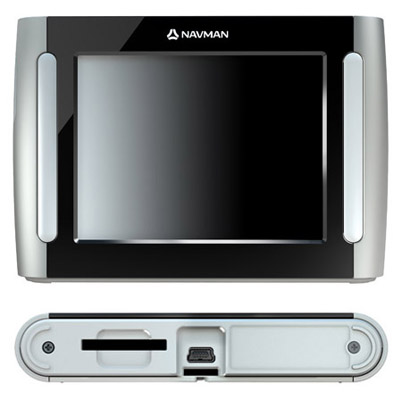 Good looks
Once we were going, we found the volume is initially disappointing low, but it can be cranked up sufficiently via the settings, or a shortcut on the map screen, to make sure it can be heard over a moderately loud radio. The female voice is much more satisfying sound than the male alternative, which sounds like an evil robot from a Buster Crabbe Saturday morning serialisation.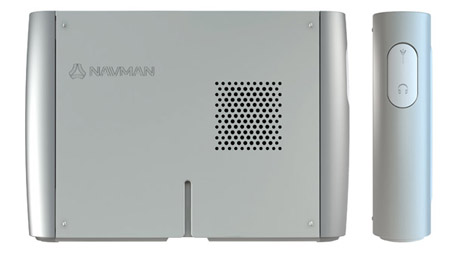 Not the thinnest satnav available - but still a reasonable size
The route planning was fast and accurate. One outstanding feature of the spoken navigation was just how clear the instructions are. As an example, instead of just saying: "In 300 yards turn left", the S30 says: "In 300 yards, at the roundabout, turn left." Or: "In 300 yards, at the end of the road, turn left," which is a bonus on a budget unit.
The one minus point we'd highlight was that the S30 was slower than other units we've looked at to realise that a deviation from navigation was not a mistake, and that we'd chosen to take a slightly different route. Rather than quickly calculating the next best route, it did seem to continue to insist on taking the fourth exit at roundabouts or doing u-turns where possible for what felt like too long a time.
Verdict
Although we'd be hard pressed to name all the 500 enhancements Navman claims to have made with its S series, having used the S30 we think it has chosen wisely. Anyone wanting a bells-and-whistles-free GPS, without all that MP3 player nonsense, advanced phone functions and even the gimmicky NavPix feature found on the pricier S-series devices, would struggle to find major fault with this competent, tidy - and affordable - offering.