Original URL: https://www.theregister.co.uk/2007/11/02/five_eee_pcs/
Asus' Eee PC laptop so small, buyers sent boxes of five
Shipping blunder
Posted in The Channel, 2nd November 2007 11:13 GMT
We know that Asus' Eee PC sub-sub-notebook is popular with hardware fans and Linux lovers alike, but does US supplier Newegg really have to send out five units for every one ordered? A number of buyers claimed to have received a handful of the handhelds when they only asked for a single machine.
Eee User forum poster StampedingChipmunk was one. He posted a pic of the five Eee PCs he received: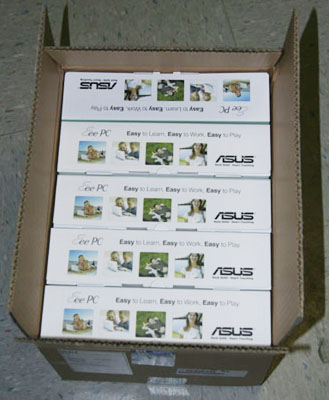 StampedingChipmunk's five easy pieces: or five Eee PCs...
Image courtesy Eee User
Soon after receiving his package, StampedingChipmunk also received a request for the four surplus sub-sub-notebooks to be sent back.
So did fellow poster AgentEntropy, but "legally in the state I live in, I could have kept all five", he wrote. However, he did the decent thing: "Morally however I just couldn't justify it. So when New Egg called, I answered and agreed to send the extras back.
"They're paying for shipping (wouldn't have agreed to it otherwise) and they've offered me $50 off my next purchase through them. Not sure the $50 is enough to cover the disappointment I feel over not being able to keep the extras, but since I didn't pay for them in the first place I can't really complain."
Forum contributor Howie had the same experience, but claims he was offered $30 in compensation.
Poster NastyGash didn't even get that far - Newegg grabbed his box of five-for-one Eee PCs before the courier managed to deliver it.
"Early this morning, UPS confirmed a delivery on Friday and that the package had even arrived locally," he wrote. "A few minutes ago, I checked again with UPS again, hoping that I'd see 'Out for delivery'. No. Instead, I saw, 'THE SHIPPER HAS REQUESTED A DELIVERY INTERCEPT FOR THIS PACKAGE / RETURN TO SENDER PENDING[X]'.
"Can you imagine my SHOCK? I called Newegg and was told that the package was recalled because they had shipped me FIVE 4Gs, not one! The lady said that they would ship me another, overnight delivery, so I would have it Friday. How's that for customer service, huh?"
Except... "I just checked Newegg and it shows them OUT OF STOCK!"
It's not hard to imagine how all this might have happened. Having seen one of the machines, we reckon the Eee PC packaging is so small that five together in a brown cardboard box are much the same size as the kind of box a desktop machine might come in. It's not hard to imagine warehouse staff from any supplier assuming one box equals one machine, not five.