Original URL: https://www.theregister.co.uk/2007/10/31/review_oqo_model_e2/
OQO Model e2 UMPC
Probably the world's best ultra-mobile PC
Posted in Personal Tech, 31st October 2007 14:19 GMT
Review OQO may sound like a city in Japan, but it's actually a company that makes ultra-mobile PCs - handheld computers capable of running a full-size operating system. It's been around for seven years, and was founded by a team of ex-Apple engineers. The Model e2 is the company's third shot at a UMPC, following in the diminutive footsteps of the Model 01 and the Model 01+.
Of the current crop of UMPCs, to our eyes the Model e2 has by far the coolest design. The lines are clean and uncluttered, and the glossy screen-surround contrasts with the matt black casing. With a scarcity of buttons on the front, it could pass for a media player rather than a computer.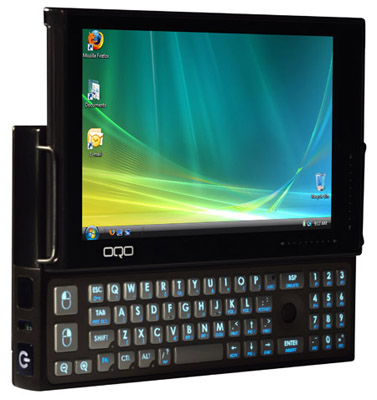 OQO Model e2: media player styling
Where rival UMPCs resemble bulked-up gaming devices, complete with joypads and buttons, the Model e2 is dominated by its display. It's actually an active digitiser panel, so if you specify Windows XP Tablet Edition as your operating system, you'll be able to control the device using a stylus. There's still a Qwerty keypad though, revealed by sliding up the top.
The dimensions are slinky. It's just about possible to shoehorn the Model e2 into your pocket, although you'll attract a range of glances - and possibly the odd injunction - with that UMPC-shaped bulge if you do.
The 5in screen boasts a native resolution of 800 x 480 pixels. Images are smooth, although Sony's UMPC – the VAIO VGN-UX1, reviewed here – offers a sharper resolution of 1024 x 600. The OQO's screen was fine for working with documents, but when it came to viewing web pages we found ourselves having to scroll all over the place in order to see an entire page.
However, there's clearly an awareness of this awkwardness - the e2 has two touch-sensitive strips by the bottom right corner of the screen in an attempt to overcome the problem, letting you scroll up and down easily at the swipe of a finger.
Another plus comes in the form of hardware zoom buttons. Offering an interpolated 1200 x 720 pixel resolution, it's easy to view web pages as they're intended. The downside here is that the images lose clarity, something you always get when you run an LCD past its native resolution.
The keyboard incorporates a pointing stick between the buttons. This took a while to get accustomed to, with the smallest actions resulting in seemingly disproportionate responses, but once you get the hang of it it's quick and precise. There are two buttons on the left-hand side of the device which work just like the buttons on a mouse.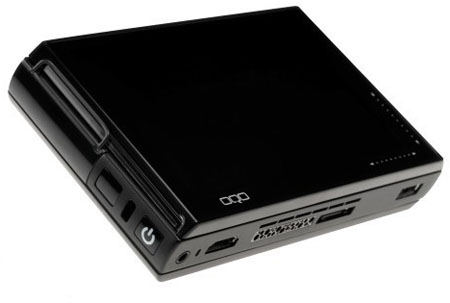 Black box
The Qwerty keys themselves are among the most usable we've tried so far on a UMPC - and the ambient backlighting is excellent in poor light - but they're not perfect. The keyboard's designed to be used with your thumbs, so touch-typing isn't really an option. The biggest problem we had was with the width of the unit – the centre keys were slightly too far from the edge to reach comfortably.
Despite these quibbles, it's a lot nicer to use than either Sony's UX1 or the tiny buttons built into Samsung's Q1 Ultra – the Model e2's biggest rivals. Each of the Model e2's raised keys offer a slight movement so you know your actions have registered. The dedicated numeric pad is a welcome touch too, although it can still take forever to winkle out those lesser-used characters.
The Model e2's build quality impressed us - the magnesium alloy chassis seemed both strong and durable. It also helps to keep the overall weight at a non back-straining 470g. The overall fit and finish was generally good, although how the unprotected screen stands up over time remains to be seen.
Features are never going to be a top priority on a device this small, but it's still a shame to see just one USB 2.0 port located on the bottom. This rules out plugging in more than just a memory stick at any one time if you don't want to carry a USB hub around with you. Thankfully, Bluetooth is also part of the package, offering wireless connectivity for an external mouse or keyboard.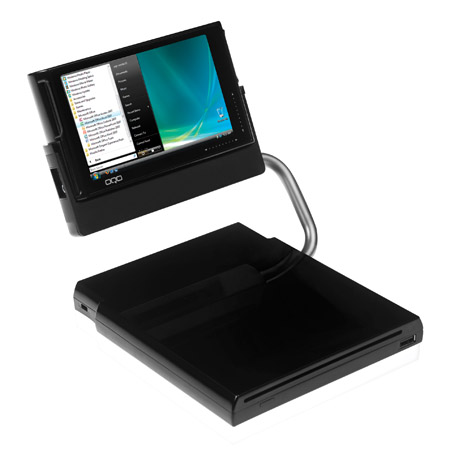 Stand by me: connected to the optional dock
It's perhaps surprising to find an HDMI port on the Model e2 - the OQO can support resolutions of up to 1920 x 1200 pixels on an external display, plenty for output to your HD TV.
As for wired networking, that's included through a dongle that connects to the Model e2's docking port. It's backed up by an 802.11b/g Wi-Fi adapter, letting you take advantage of the nearest wireless hotspots. Unfortunately, HSDPA 3G isn't available at this point.
OQO sells a range of compatible accessories for the Model e2, the most useful being a docking station. Consisting primarily of a slot-loading optical drive, the dock is available with a CD-RW/DVD-ROM for £199/$300, or with a DVD writer for £269/$400. The dock offers an additional three USB 2.0 ports along with HDMI and VGA-out connections to support external displays - an HDMI-to-DVI adapter is bundled. An Ethernet port is integrated, and you get a 3.5mm headphone socket.
The dock is a neat addition, holding the Model e2 in an adjustable cradle supported by an aluminium arm that looks odd at first. However, you soon realise that it lifts the e2 to a height that allows you to view it comfortably without bending your neck too far down. Compare that to almost all other UMPCs, which sit propped up on the desk, forcing you to look down.


The dock alone
As with every other UMPC currently available, heat dissipation is a big problem with the Model e2. According to OQO, temperatures are kept down by the use of a VIA processor, but even so, after just a few minutes the e2 felt rather like clutching a hot-water bottle.
The VIA C7-M processor is a single-core chip, and is available in either 1.5GHz or 1.6GHz guises. It's supported by a relatively limited 1GB of memory, which turned out to be hopelessly inadequate for running Windows Vista in all its glory. The Model e2 felt sluggish during start-up and struggled with multiple tasks.
Thankfully it's possible to specify Windows XP Pro, which is also slightly cheaper than equivalently specced Vista models. We found performance on our XP-based review machine was noticeably better. Granted, it's not going to keep gaming manufacturers awake at night with worry, but neither will you die of old age waiting for Microsoft Word to open.
The OQO struggled when it came to our benchmarks, managing just 95 points in Cinebench 9.5 – one of the lowest scores we've seen. In its native resolution, it scored 801 in PCMark 05, and was unable to perform the tests in our usual 1024 x 768 resolution.
In the storage department, the base model features a 60GB hard drive, with 80GB and 120GB disks also available. A 32GB solid-state drive can be specified, although the cheapest e2 with an SSD is £1339/$2400, rising to a massive £1539/$2800 when equipped with Vista Business and MS Office. That hefty tag is still worth considering, however - with no moving parts, it's bound to be more robust and cooler to the touch.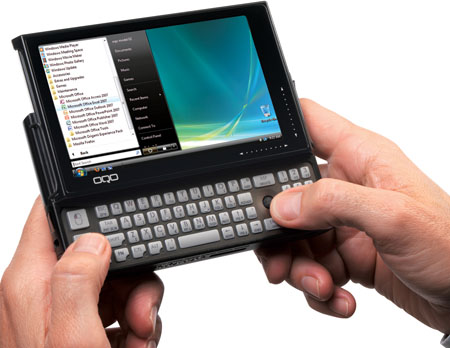 Thumb-friendly keyboard...
The Model e2's chipset features an integrated VIA UniChrome Pro II graphics core, a budget offering that delivers considerably less performance than the Intel GMA 950 chip used by rivals. The Model e2 was unable to run either 3DMark 05 or 3DMark 06, and scored a paltry 84 in 3DMark 03.
Multimedia performance wasn't anything to write home about, though to be fair the Model e2 makes a decent enough fist of running office apps and even the odd movie.
Despite the integrated GPU and small display, battery life was unexceptional, offering just 3-4 hours' usage between charges. A larger, extended battery is an option, offering a more respectable six hours away from power.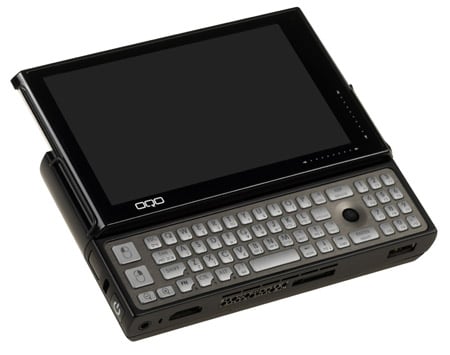 ...but a tricky-to-use integrated mouse
Verdict
The Model e2 is a great example of how diverse the UMPC arena currently is, differing vastly from its rivals. The 5in screen is a reasonable compromise between size and portability, and the slide-down keyboard is the best we've seen on a UMPC.
It's a shame, then, that the Model e2 has many of the same problems as rival devices. After a couple of minutes the heat of the thing becomes annoying, it's still too bulky to fit comfortably in a pocket, and at up to £1539/$2800 it's as far away as ever from Microsoft's dream of an affordable, ubiquitous device.
As a mobile companion for your desktop, the Model e2 may be a winner. It's better than the rest of the current crop of UMPCs, and is actually a usable device. For this money, however, we'd rather have a decent ultra-portable laptop.