Original URL: https://www.theregister.co.uk/2007/10/31/diane_greene_vmware_chat/
How to escape the clutches of world+dog's VMware fetish
Also, Diane Greene considers the meaning of life
Posted in The Channel, 31st October 2007 20:26 GMT
Interview The polite thing to do after interviewing a high-powered CEO is to wrap the executive in a certain amount of praise. If you're a contemporary, backbone-infused journalist, you lather up that praise and then counter it with a helping of critical insinuations. The trick comes from being firm and aggressive but not too insulting. God forbid you lose access to the sound bytes.
Yes, VMware amazes by almost doubling its revenue every quarter, but CEO Diane Greene will soon face massive tests. Yes, Greene has guided a young VMware with remarkable skill, but she has no experience steering a public company. She has no experience dealing with a spotlight this bright. She has no experience with a zealous Wall Street that values VMware at 100s of times its potential future earnings. She's stubborn. She doesn't seem terribly fond of her owner - EMC.
A ruthless reporter might go even farther. Such a hack could focus on Greene's past as a freedom-loving hippie at times playing with her dinghy and at other times moving to Hawaii to wind surf. Can an executive with a predilection for wind surfing best an obsessed nerd like Bill Gates and a maniacal capitalist like Steve Ballmer? Let's be realistic. VMware is not a - gasp! - $46bn company, no matter how loud Wall Street shouts that it is. This bubble is already fully formed. All it has to gain now is a bit more gloss before the grand bursting. Then reality will settle in on VMware's hype-fueled show.
Fortune's talented reporter Adam Lashinsky seemed to deal with these issues in a recent profile of Greene. Lashinsky actually went sailing with Greene in the San Francisco Bay and has the pictures to prove it.
The Fortune piece proves both factual and painful. Lashinsky captures the major market forces shaping VMware's existence but does the inevitable by recounting the same tales anyone covering VMware has heard time and again about Greene. As mentioned, she likes to sail. She's also short, married to a computer scientist who co-founded VMware and is - or at least was - a quasi-reluctant CEO.
Herein lies the problem with today's VMware: there's little left to do than fetishize the virtualization software maker.
Some of you have grown sick of this VMware adoration. You suggest that we - and possibly other organs - spill too much ink on a "niche" software maker. Yes, virtualization software has its uses. The fad, however, will pass.
To such criticism, Greene responds, "Bullshit!".
Well, not really. But we've known Greene for many years and are pretty sure that's what she'd spout out after a few beers.
"I think they just don't understand ," Greene told us, during an interview at VMware's new headquarters in Palo Alto. "There are just too many advantages (with the technology)."
The point she makes will seem mundane to anyone familiar with computing history. Time and again we see the computing elite latching on to concepts that emerged with grizzled mainframes. The "fresh" utility computing trend replicates the time-sharing of old. Splitting virtual workloads across the processors in a physical box? Yes, we've experienced this in the past. The major difference with today's virtualization is that it takes place on Intel- and AMD-based servers that anyone can buy.
Early Slicer
VMware deserves tremendous credit for tuning in to the need for virtualization software on x86 gear so early. Greene's husband Mendel Rosenblum and partners at Stanford University began working many years ago on shifting IBM's server slicing techniques to commodity hardware. A post-bubble slowdown in technology spending created the first mainstream interest in VMware's code. And now we find the company capitalizing on the beefy chips pumped out by Intel and AMD.
The lead VMware established with x86 virtualization software drives the endless adoration for the company.
VMware has more or less doubled revenue every year of its existence. That was cute when it made a few million. It's astonishing now that VMware brings in $350m per quarter.
This meteoric rise in revenue has left the rest of the virtualization market looking foolish. Microsoft, for example, still claims it hasn't missed the virtualization party because the market is so young.
"Wouldn't you say that if you were them?" Greene said.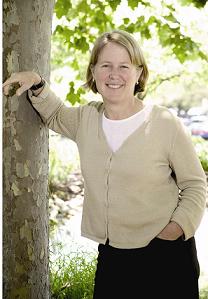 VMware CEO Diane Greene not on a boat
Well, sure, but Microsoft can charge in with Windows Server 2008 and slap a hypervisor on a huge chunk of hardware before VMware even has a chance to pick up the phone.
"We are pretty well partnered with the hardware vendors," Greene said. "It's hard to run virtualization without a server."
To Greene's point, VMware has already struck deals with HP, IBM and Dell to have its new ESX 3i hypervisor go out the door with select server models. Not surprisingly, Greene expects the vendors to one day offer an embedded hypervisor on just about every system they sell.
"If you have a virtual infrastructure or a VMware infrastructure and you get a server that's virtualization enabled, you just plug that thing in and automatically all of the loads get rebalanced to take advantage of that. Automatically all of the clustering is their to failover to if it needs it. The power management. Everything just works. It's plug-and-play.
"We are virtualizing the hardware. That's the right way for it to come. I believe that generally when something is that right it happens."
The Irrational Stuff
Isn't that the one major lingering question about VMware? How right is it?
Wall Street appears to be judging this question in both rational and irrational ways.
VMware is on pace to churn out more than $1bn in annual sales at a quicker clip than giants such as Microsoft and Oracle. The analysts see this and pump VMware's share price up to reflect where they think sales will be in a couple of years. That's the quasi-rational part.
At the same time, the investment houses are dealing with a market that's largely lackluster except for a handful of wonder stocks - Apple and Salesforce come to mind. Our friends on Wall Street say they're being pressured to buy more and more of VMware because they don't want to fall behind rivals. The only way to make big gains in this market is to ride these select out-performers. This is a practical approach for gun-to-your-head professional investors but an irrational, unsustainable trend for the market as a whole.
As a result, you end up with VMware claiming a market cap of $47.5bn, and EMC, which owns 86 per cent of VMware, claiming a market cap of $53bn.
Last month, EMC's market cap sat at $43bn. As anyone can tell, VMware is directly responsible for EMC's recent growth. The company's share price had languished around $13 before VMware's sex charged IPO. Now EMC trades at $25 per share.
EMC's ownership of VMware has always proved uncomfortable for the likes of HP, IBM and Dell (a close EMC partner). These companies fight with EMC for storage sales and see EMC encroaching on their server software turf as well through a number of acquisitions.
"The relationship is continuing like it always has because we were always an independent subsidiary," Greene said. "We are more independent now. It really is pretty much business as usual. They never sold our product. They never set our strategy."
Such a line seemed fair enough in a pre-IPO world. But now EMC is becoming a much stronger, richer company on the back of VMware's success. Every server IBM ships with VMware's software puts money in EMC's pocket - money it can then use to invade IBM's traditional businesses.
And at VMware we find a company with a board dominated by current and former EMC executives and board members. Why should VMware acquiesce to this type of control when it now seems like the one leading EMC to the promised land?
"Because they legally have 86 per cent of our stock," Greene told us. "They get to make some decisions. The shareholders are going to get them to make decisions that are in the best interests of shareholders."
Is Greene hinting that the shareholders might see the value in a standalone VMware - one capable of growing without these IBM, HP, Sun Microsystems and Dell fetters? We think so.
You can sense some level of tension between Greene and EMC's CEO Joe Tucci in Lashinsky's story.
Though Greene and Rosenblum did well by selling to EMC, nearly all the upside since has accrued to EMC shareholders, a source of annoyance to Greene and her top employees. That irritation was compounded by the terms of the IPO. Of the 37.1 million stock options granted to VMware employees before it went public, Greene received just 2.7%. (The typical award by startup boards to CEOs they recruit is 7% to 10%.)

Asked why the award was so small, Greene doesn't hesitate. "Joe Tucci told me he thought he was being 'very generous,' " she says. "Those were his exact words."
If VMware is as "right" as Greene thinks, these EMC questions will become harder and harder to answer.
The Future is Happening
Author Nick Carr, for example, has been pushing hard on the idea that we're close to some manner of tipping point around utility style computing. You can see evidence of this via the renewed fervor for thin clients and the massive data centers being built by the likes of Google, Microsoft, Sun and Amazon. The form of utility computing described by Carr relies on virtualization software.
As it stands, VMware has a lock on becoming the Oracle or Microsoft, if you will, of this new shift in computing. It's already the standard platform for large businesses and shockingly faces almost no competition from the unshipping Microsoft, the unproven Xen and the unappreciated SWsoft/Sun. There's little at this time to stop VMware from dominating computing's next wave.
"The fact that some people think this is hype shows that it hasn't sunk in yet," Greene said. "This is like the next-generation plumbing."
If you buy into such a scenario, then VMware's insane share price looks less insane. Screw moving hypervisors by the socket. We're talking about 100,000 server purchases at a time and lots of them. We're also talking about VMware invading business desktops and, perhaps, one day ending up on consumer devices like set-top boxes that will perform media center-like functions. Want a TV? Want a music player? Want a computer? Press a button on your box. (Fantasy? Please take note of Cisco's (Scientific Atlanta) investment in VMware.)
All Puffed Up
When Greene thinks about this future and looks at VMware's share price, she must be upset about selling out to EMC too soon? She would have tens of billions of dollars on paper already.
"It's not like we would have done something different if we had more money," Greene told us. "I am not sure (millions versus billions) makes a qualitative difference in my life. You are not going to spend it yourself. So, it's a matter of giving it away. My goal in life was not to get to give away tons of money."
What is your goal then?
"It is hard to know. I just have to be engaged in whatever I am doing.
"You're asking me 'what is the meaning of life.' And I don't have a clue."
And here we are guilty of the same fetishizing of VMware done by all the other hacks.
Ultimately, however, it's near impossible to avoid celebrating VMware at this point, primarily because it has no real competition and makes a product that people largely like.
There is plenty of room for disaster. The pressure to keep increasing revenue at historical rates is massive and near impossible to achieve. EMC and VMware can look forward to very difficult marriage. Microsoft may one day put out a competitive product. VMware's employees may get too rich and complacent.
Until one or all of those negatives take hold, you all should tuck in for at least a couple more years of laudatory VMware puff pieces. ®