Original URL: http://www.theregister.co.uk/2007/10/30/review_pentax_optio_z10/
Pentax Optio Z10 digital camera
Perfect Pentax - or Optio gone awry?
Posted in Hardware, 30th October 2007 13:08 GMT
Review Talk about too much choice: we're drowning in digital cameras. These days, everyone, their tennis partner and their dog seem to be launching an eight-megapixel compact with a large screen. So, in this over-crowded environment can Pentax's Optio Z10 stand out from the crowd?
Ever heard the expression 'little things can make a big impression'? Well, that's what occurred to us as we unpacked the Z10. Out of the box came the camera, battery charger, connecting leads, software disc – and a printed manual. Now, the latter might not seem like such a big deal to those of you who don't believe in reading instructions, but for many people it is.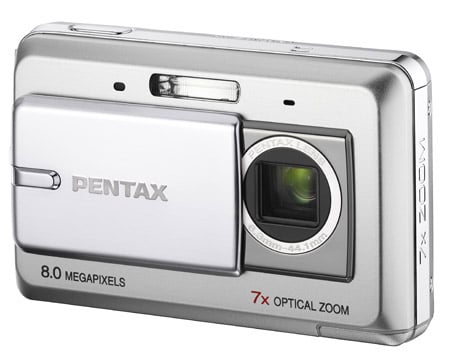 Pentax Optio Z10: a camera we wanted to like
The fact that Pentax offers users both a full paper manual and a PDF version on disc tells us that this is a company that thinks about its customers, because there's nothing worse than trying to get to grips with a new camera while scrolling through endless pages on a PC screen. Pentax also supplies ACDSee photo management software, a nice touch.
So, right from the start, we had positive feelings about this camera - it was a camera we wanted to like. Its sleek, silver, compact body is attractive to the eye. At 25.3mm thick, it's not exactly skinny, but it's nonetheless eminently pocketable.
Around the back is a 2.5in LCD screen, zoom button and a four-way rocker controller. There's also a green button, which has nothing to do with being environmentally-friendly, but reverts the Z10 back to the standard settings. This is handy if, say, you've set the camera to shoot in movie mode, and then suddenly decide to take a still image. Instead of fiddling around with the menu settings, you just press the green button.
Underneath the Z10's casing are SD/SDHC memory card and battery slots, and at the side, ports for PC/AV connection and power. The Z10 uses a lithium-ion battery, which Pentax says is good for around 210 shots using the flash for roughly half of the time, and we had no problems taking lots of shots and shooting movies on a single charge.
The Z10 has a CCD with an effective eight megapixels, a 7x optical zoom equivalent to 38-266mm in 35mm format, and a 5.1x digital zoom offering up to 35.7x magnification. A nice touch is 52MB of internal memory, which can hold up to 13 8Mp images at the highest quality setting. OK, it's not a lot, but reduce the picture quality to 5MB and you can store up to 40 good quality images without so much as a memory card.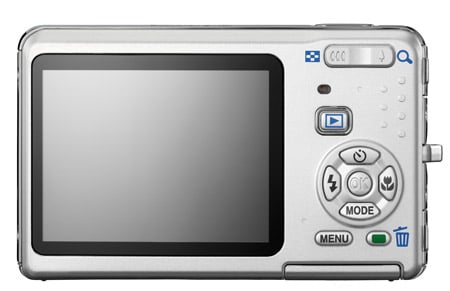 Messed up your settings? Press the green button to get the right ones back
Switching on the Z10 simply involves sliding the lens cover. It takes around four seconds for the Z10 to power up and be ready for action. Shutter response time is reasonably quick.
As usual, there are plenty of settings to tweak. You can, for example, adjust the picture quality from its maximum setting of 3264 x 2498 pixels to 640 x 480 pixels – with three additional quality settings, listed from as one to three stars. Video can be recorded at 30fps or 15fps, at 640 x 480 or 320 x 240 resolution. No surprises that there are various shooting modes on offer and these are accessed from a single screen.
Icons are used to represent the various modes, but as you hightlight each one in turn, a small text box describes what they do – another nice touch. The shooting modes include portrait, landscape, sport, kids and food. The latter mode had us perplexed for some time, but an alert reader informed us that a big craze in Asia is to take a photograph of your restaurant meal and then send it to your friends.
Here are some sample shots we took: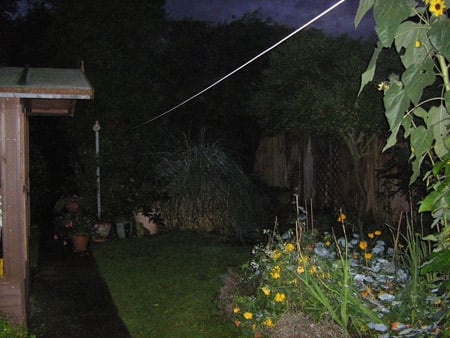 The Z10 works well in low-light shooting conditions
Click for full-size version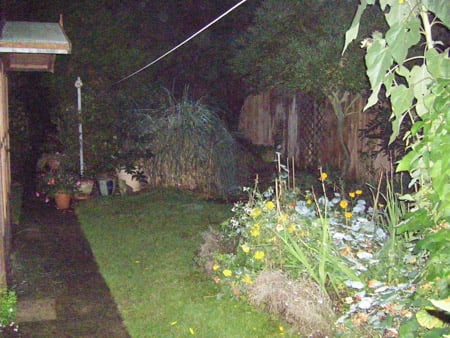 The same garden at night, but this time with the ISO boosted to its maximum of setting of 3200
Click for full-size version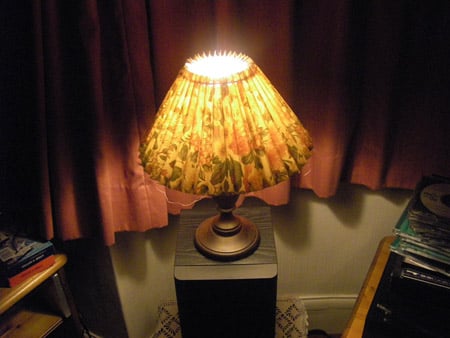 The only light source here was a 60W bulb, but that was no problem for the Z10, even in auto mode
Click for full-size version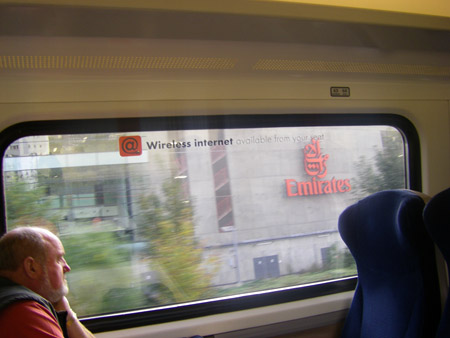 The pan focus mode is designed to give keep the entire image in focus, front and back, even when shooting through glass
Click for full-size version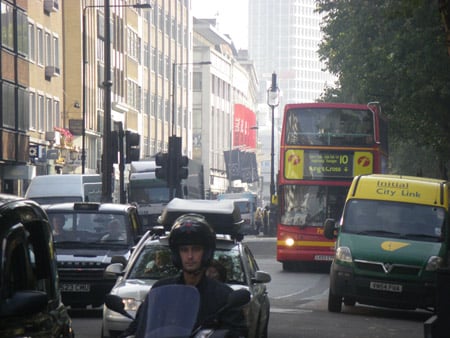 The digital zoom worked surprisingly well, as this long-range shot of London's Tottenham Court Road shows
Click for full-size version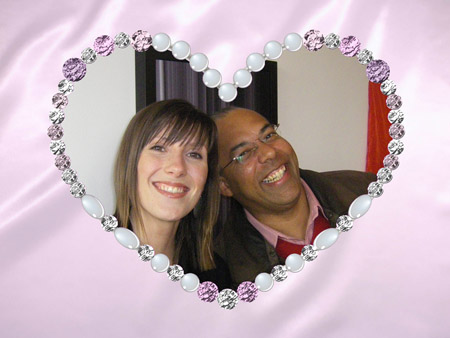 There are few digital effects on offer...
Click for full-size version
The Z10 also has facial recognition technology, but it only kicks in when you're using the kids and portrait modes. It works well. Likewise, continuous shooting and high-speed continuous shooting (4fps) modes only work with a limited number of pre-sets. the Z10's Digital Shake Reduction system boosts the ISO setting to maximum to compensate for any camera vibration. In the auto mode, the image size is set at 8MB and the ISO range from 64-800 (it goes up to 3200), but there's plenty of scope for manually tweaking focus, exposure and white balance.
So how does the Z10 work in practice? We found it to be a bit of a mixed bag. There are some useful features, like the ability to recover deleted images - provided you don't remove the SD card or take another shot before trying to recover them. You can even use the zoom in movie mode. Digital effects are limited, but that's no bad thing in our book. The in-camera editing facilities include red-eye reduction, which works pretty well, and you can also crop images, although the latter introduces some digital noise into the resulting image.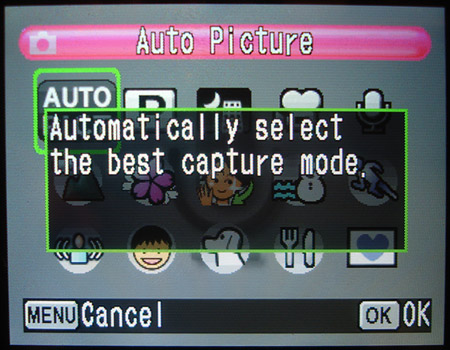 The Z10 tells you what each shooting mode's for
The picture quality is, again, a mixed story. Shots taken outside were sharp, clear and had vibrant colours. Even the digital zoom at full stretch can produce pretty good results. The macro setting gave some stunning close-ups and the focus system was sharp, fast and accurate. The one fly in the ointment was the digital shake-reduction system, which gives horrible, grainy images.
Verdict
On the plus side, the Z10 offers very good low-light performance. In one of our tests, the only light source was from a small torch, but the Z10 had no problems in producing a decent image, given the circumstances. But too many interior shots suffered from poor colour or contrast. We put a lot of this down to the ISO rating being set too high in the auto mode – up to 800.
This meant that the flash often didn't discharge when using the Z10 indoors. The high ISO setting would also explain the large amount of digital noise - equivalent to the grain you get from fast film - on so many of our interior images. Yes, you can reset the ISO range and manually adjust shooting parameters to your heart's content, but the fact is that most people buying a camera like this will use it in the automatic mode and won't want to have to keep fiddling with the settings whenever they take a picture.
We really wanted to like the Z10, but sadly, its flaws outweigh its good points.