Original URL: https://www.theregister.co.uk/2007/10/29/review_intel_qx9650_penryn/
Intel 'Penryn' Core 2 Extreme QX9650
The world's first 45nm gaming CPU
Posted in Personal Tech, 29th October 2007 12:28 GMT
Review Intel's 45nm 'Penryn' update for its Core 2 microprocessor family has been an open secret for many months. It's first desktop incarnation, the Core 2 Extreme QX9650, is due to be formally introduced on 12 November, but today we can tell you how it will perform.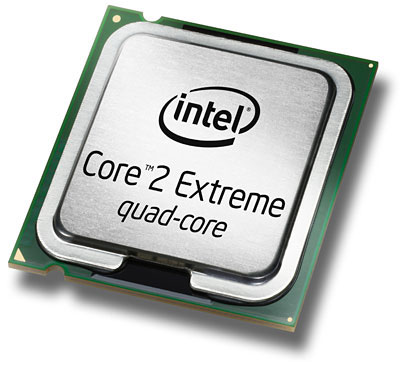 Intel's 'Penryn' Core 2 Extreme
Penryn uses the same LGA775 pin-out as existing Core 2 Duo, Quad and Extreme processors, and has the same thermal package too. The new features of Penryn are the move from a 65nm process to 45nm, which gives Intel more die area to play with, in turn allowing it to raise the chip's L2 cache from 4MB to 6MB for each pair of cores. As with 'Kentsfield', the current four-core Core 2 Extreme, chip, Penryn continues to use an architecture that cobbles together two dual-core dies to create a quad-core processor which will now come with an enormous 12MB of cache.
The die is 107mm² and contains 410m transistors.
The first desktop Penryns will run on the same 1333MHz frontside bus (FSB) as the 6x50 code Kentsfields, with a move to 1600MHz in 2008. Corporates will be able to get their hands on Penryn-based Xeon server chips with the faster FSB from November.
Penryn will debut at the same speeds as existing Kentsfields, but this is where we stray into the realm of speculation. The information that Intel has allowed us to make public today means that we can disclose details of Penryn's performance but not its pricing information. Happily, there has been a great deal of informed speculation around the web so we can dish the dirt.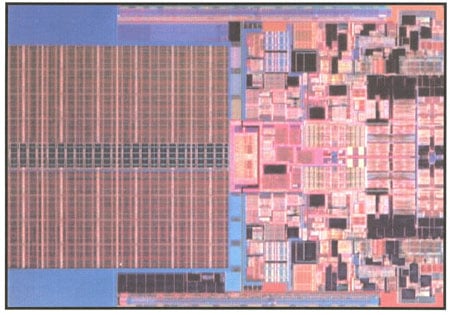 A dual-core Penryn up close and personal
The quad-core models are codenamed 'Yorkfield', while dual-core models go by the 'Wolfdale' handle.
The sample we were sent is the Core 2 Extreme QX9650 which runs at 3GHz. This is the unlocked part that is effectively a reviewer's special, just like the QX6850 and the 3.80GHz 'Northwood' Pentium 4 that went before. The pricing will be in the order of $999-$1149 per processor for a batch of 1000 to give a retail price of something like £649, but you're not going to buy it at that price.
The models that are more likely to appeal are the Core 2 Quad Q9550 at 2.83GHz and priced at $530 (say £349); the Q9450 at 2.66GHz and $316 (about £199); and the Q9300 at 2.5GHz and $266 (maybe £175).
Dual-core models will be the Core 2 Duo E8500 at 3.16GHz and priced at $266 (so £175), a 3GHz E8400 at $183 (£119), and there may well be a 2.83GHz E8300 and a 2.66GHz E8200.
Penryn uses a smaller fabrication process than Kentsfield and has more L2 cache, but the only new feature that stands out is the inclusion of the SSE 4 instruction set, so in many respects it doesn't look like an especially exciting processor. Truth be told, we started our testing with the expectation that we wouldn't see any significant improvement over Kentsfield and had the conclusion 'wait until Penryn hits 4GHz' on stand-by.
We compared the QX9650 with a QX6850 so we've got two unlocked quad-core processors running at 3GHz on a 1333MHz FSB. The test platform was an Asus Maximus Formula SE motherboard - reviewed here itself based on Intel's top-of-the-line X38 desktop chipset and fitted with 2GB of OCZ Reaper PC2-9200 memory, a Hitachi 7K1000 hard drive and an Asus EN8600GTs graphics card, all running on Windows XP SP2.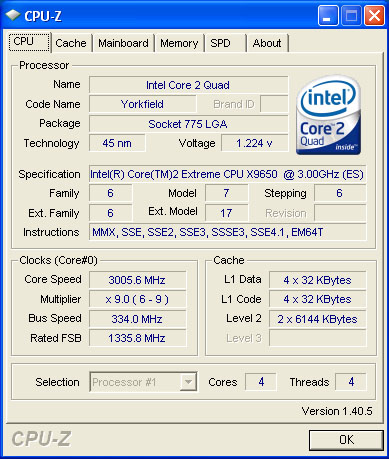 We ran the processors at stock speed and also at 3.42GHz with a 380MHz - 1520MHz effective - FSB which was the fastest that the QX6850 Kentsfield would go on standard voltages. The QX6950 Penryn was happy to run on a 410MHz FSB - 1640MHz effective - to give a clock speed of 3.69GHz. We don't draw any conclusions from those clock speeds as Kentsfield is at the end of its life while Penryn is just starting out.
Running PCMark05 showed that performance rises exactly in line with processor speed and there's nothing to choose between Penryn and Kentsfield running at stock speeds.
PCMark05 Results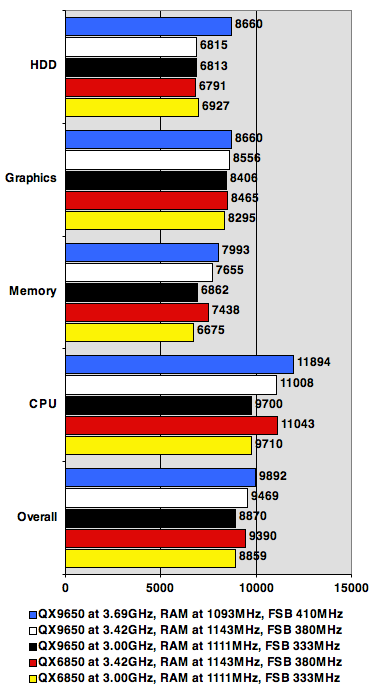 Longer bars are better
QX6850 did not run at 3.69GHz
Recoding an AVI file with Nero 8 to Nero Digital format does show a small swing towards Penryn but it's only eight seconds in five minutes. Again, that leaves very little to choose between stock CPUs.
However, there's a far greater benefit when you use DivX 6.7 to recode the AVI file. The 3GHz Kentsfield takes 10 minutes 59 seconds, but the Penryn steams through the job in 10 minutes 12 seconds. The reason for the extra performance is that DivX 6.7 supports SSE 4, which hands an advantage to Penryn - albeit a small one.
POV-Ray only supports SSE 2 so there's nothing to choose between the two architectures: both yielded roughly the same score. However, it is a fully-threaded application that hammers all four cores at full speed which is handy when you want to check the power draw of the processor.
We used a plug-in power monitor to check the power draw for our test system and found that Penryn was consistently more frugal with the juice. At idle, Penryn uses 45W less than Kentsfield at 3GHz, although the gap is reduced when you overclock. That's a huge percentage of the total power draw, dropping the figure from 155W (minus display) to 110W.
In PCMark05, the system is loaded fairly evenly and once again the difference was 30-45W in favour of Penryn. Finally, we come to POV-Ray where the quad-core processors were running flat-out and the power draw was highest of all with a difference in power consumption of 55W at a 3GHz clock speed. When we overclocked the difference was, once again, 30W.
That's quite remarkable when the QX6850 already runs very cool and is perfectly happy with a near-silent Zalman CNPS8000 heatsink/fan and we have to wonder whether a dual-core Penryn might even be able to run with a passive heatsink.
Verdict
Penryn is a step forward from Kentsfield that offers moderately better performance in day-to-day tasks but when you give it a sniff of SSE 4 it shows a distinct benefit. The much-reduced power draw is very encouraging too. You'd be crazy to spend £649 on the Core 2 Extreme QX9650, but you should most definitely choose a Penryn-based Core 2 Duo or Quad over an older, 65nm model.