Original URL: http://www.theregister.co.uk/2007/10/26/review_motorola_razr_r2/
Motorola Razr 2 V8 mobile phone
Cutting... er... edge
Posted in Personal Tech, 26th October 2007 11:02 GMT
Review To say it's been difficult for Motorola to follow up the massive hit of the Razr V3 with something better is an understatement. Since its release to the sounds of jaws dropping in mid-2004, the Razr has gone from high-end must-have to mass-market. Now comes the Razr 2 V8, billed as the next-gen V3. So does it offer more than just another face-lift?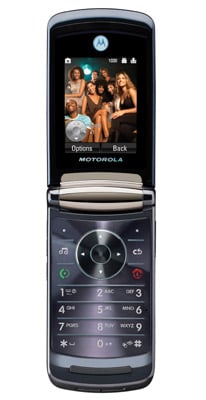 Moto's Razr 2: premium quality feel
The Razr 2 is thinner than the original – a monumental 2mm thinner, in fact. It's a mere 11.9mm thick, but a fairly standard sized clamshell otherwise. At 117g, it's quite heavy, however, the result of a heavy-duty stainless steel frame combined with metal and glass housing. Like the original, the materials used to make the Razr 2 are the key ingredients that make it look and feel a premium quality product.
On the outside of the clamshell, Motorola has used chemically hardened glass, spun metal and chrome to create an impressively tough and glossy phone. That hard-as-nails glass is used down the front of the phone, covering a remarkably large external display, but it's a fingerprint magnet. The screen is a 2in, 320 x 240, 262,000-colour screen, with some touchscreen control for the music player.
The external screen puts to shame many a mobile's main display, and almost matches in size its own internal, 2.2in screen - another QVGA 262,000-colour panel. The main display sits above the thin, flat keypad: numbers, soft-menu keys and shortcut buttons are neatly lined up in rows and columns, making it simple to tap out texts. A central navigation pad rounds out the controls - this can be user-programmed for shortcuts to particular functions too.
Over the years, Motorola has suffered much criticism of its menu system's usability. With the V8, however, the user interface is notably easier to master. The main menu is laid out as a grid of icons - though it can be switched to a simple list, if you prefer. It's regular, intuitive mobile stuff: click on icons and you get sub-menus, where you can scroll down or press corresponding numbers to skip to specific options.
The Razr 2 comes in two versions, with 512MB or 2GB internal storage - our review sample had 512MB. The downside is there's no additional memory card expansion. D'oh. With 2GB Micro SD cards for mobiles now widely available for under £15, we're sure most people would easily prefer the flexibility offered by swappable cards.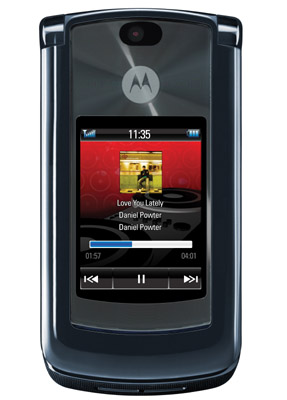 The external screen puts many a mobile's main display to shame
The music player can take tracks easily from a PC using the supplied USB cable. Songs can be copied over with Windows Media Player 11 or simply dragged and dropped into the phone if you change the phone's USB setting. MP3, AAC, AAC+, WAV, WMA and Real Audio file formats are all supported.
The player itself offers plenty of regular MP3 player options to arrange music. When the phone's open, the navigation pad controls play, but close the lid and that external display comes into effect. You get track details on screen, and the bottom section of the screen provides touch-sensitive play/pause, forward and backward keys - with a handy bit of vibrating feedback to let you know they've been pressed. You can't explore all the music player app's options from the outside, however.
Volume keys are positioned on the side of the phone, and you can lock the external music keys by a long press of a button under the volume rocker. Incidentally, the same key also doubles up as a camera activation key and to select functions when the phone's open.
The music player performs well, with the external speaker loud enough to scare fellow commuters - but alas still prone to typical mobile tinniness. The supplied stereo handsfree headset is adequate for casual listening. Motorola uses the mini USB port as the headphone socket, so there's no plugging in better-quality headphones. And you can't charge and listen with headphones at the same time – unless you go the stereo Bluetooth route.
The external display is also utilised for handling text messages. When closed, you can view incoming texts on the screen, and even reply by selecting from pre-programmed standard messages with a few taps of the side key. It's a handy extra, although actually opening the phone to read messages isn't exactly an effort.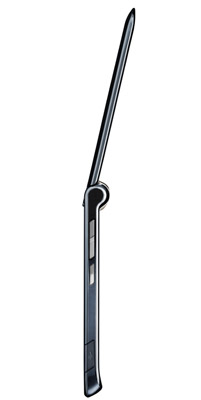 2mm thinner than the previous model
The external volume control and select key combo can also be used when closed to change the ringtone set-up, so you can switch easily to silent or vibrate.
Motorola has opted for a run-of-the-mill two-megapixel camera for the V8. The 1200 x 1600 pixels resolution is standard issue, and there's only s limited amount of useful tweaking you can do. There's a night mode, which doesn't compensate at all for the lack of a flash, and there are a few picture effects you can apply. Unfortunately, there's no autofocus, or macro mode for close-ups, though there is an 8x digital zoom.
Regular snaps require you to open the clamshell, although the external display can be used for self-portraits. Image quality is quite good in decent lighting conditions for mid-distance shots, offering some degree of fine detail. Lower light shots aren't quite so successful, however, and lack crispness, while indoors images often contained a lot of noise. The lack of macro mode means close up snaps don't work as well as they could, either.
Video footage, shot at maximum 176 x 144 resolution at 15 frames per second, looks OK on the phone display, but isn't intended to be shown on a screen any larger than that.
The Razr 2 features Opera's full browser, which can fit text to screen or offer a full-size web page with the screen acting as a window onto it. The lack of 3G can be an issue on richer pages, though overall it manages impressively quick rendering and speedy page scrolling for a 2.5G handset.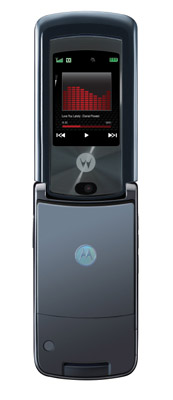 Good music player, average camera
The V8 also has an email client, plus a spread of office tools such as calendar, task list, notepad, file manager, alarm clock, currency converter and voice recorder facilities. Calendar and contacts can be synced over the air remotely using the SyncML-compatible MotoSync technology. Email csn be synced too, via Exchange ActiveSync for Microsoft Exchange 2003. Alternatively, users can hook up via the USB cable or Bluetooth to sync locally with a PC using the supplied Motorola software.
You can use speaker-independent voice dialling, engage a series of commands for activating functions, and use a "talking phone" option to have messages and various menu options spoken to you.
Thin it may be, but Motorola claims the Razr 2 V8 can go the distance, with a stand-by time of up to 330 hours and a talk time of up to 470 minutes. This is compromised, of course, by music playing, camera snapping, video watching and so on. Playing music on its own, the V8 would rock on for approximately 11 hours, according to Motorola.
In admittedly music-intensive mixed feature testing, we had the Razr 2 begging for more juice after a just over a day's function-heavy usage. In regular usage, we managed around three days between charges. Call quality delivered no complaints, providing an excellent performance over a series of calls in a variety of international locations and network situations.
Verdict
Style has always been a key factor in the Razr proposition, so you might reasonably expect the Razr 2 V8 to offer an exciting new take on the line – or perhaps add some genuinely cutting-edge functionality. Sure, it's undeniably thin, but there's really nothing here we haven't seen before.
The V8's features are decent enough, though we still think no swappable memory is a mistake, the camera is disappointing, and the lack of 3G is odd for a device aiming to push forward the Razr concept. There is a 3G version waiting in the wings, the V9, so would-be buyers impressed with the look of the V8 but wanting faster downloads may care to wait.