Original URL: https://www.theregister.co.uk/2007/10/18/nokia_tablet/
Nokia slides latest Linux tablet onto market
Internet device gets a keyboard
Posted in Personal Tech, 18th October 2007 10:27 GMT
Nokia took a direct pop at Apple yesterday as it unveiled the latest addition to its internet tablet range.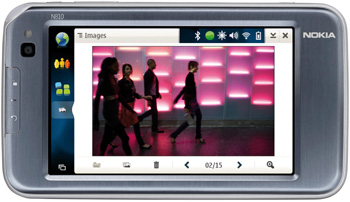 The Nokia N810: it can definitely handle pink
The Linux-based N810 finally adds a real keyboard to the Nokia tablet range, instead of asking customers to rely on a full screen touch keyboard. This might go some way to answering the question of whether it's more of a phone than a computer. Just to be sure, Nokia is unabashedly claiming the latest device packs the "power of a traditional computer" into a pocket-sized package.
As well as the slide-out keyboard, the latest version includes a GPS receiver with built-in maps, and the option to upgrade to a full-on voice navigation service. Nokia's getting very attached to GPS at the moment, having just lashed out $8.1bn to take over Navteq. Screen size comes in at 4.13in and 800 x 480 resolution. Like its predecessors, it has Wi-Fi and Bluetooth and can be used to make VoIP calls.
The 810 could be seen as a direct rival to Apple's iPod Touch - reviewed here and iPhone devices. At the same time, Apple's iPhone is a clear grab at Nokia's cellphone hegemony.
Speaking at yesterday's launch in San Francisco, Nokia multimedia group executive vice president Anssi Vanjoki reportedly said: "We are competing with Apple on all fronts with all cylinders... Let the best man win."
The 810 will start shipping next month, with a US price tag of $479. ®