Original URL: http://www.theregister.co.uk/2007/10/18/eb_apple_tv_composite_hack/
How to get colour composite-video from an Apple TV
Got a standard def 16:9 telly? Now you too can use an Apple TV
Posted in Personal Tech, 18th October 2007 20:07 GMT
Updated I've been playing with Apple's Apple TV set-top box this week, and I have to say I like it. But Apple's missing a trick by not allowing those of us - me included - without HD TVs to make the most of the device. No matter: a simple hardware trick solves the problem.
I've found Apple TV to be a great way of getting content not simply from a computer onto a TV, but for taking the computer (almost) out of the equation. My approach isn't for everyone - plenty of Register Hardware readers have way more downloaded music and video content, in a broader array of formats than I have, but I like to keep things simple.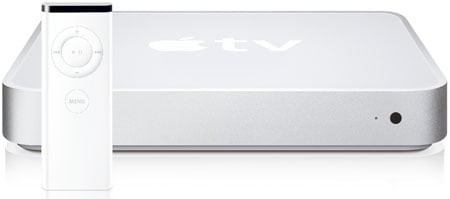 Apple's Apple TV: complete with remote - but no cables
I currently have around 25GB of music on my MacBook Pro, along with 2GB of photos. I've got some H.264 video, in standard definition, maybe 5GB or so, largely ye olde 1970s TV shows I've digitised off VHS tapes that were never re-released on DVD. I used to have a lot more music until I realised I was largely keeping it because I couldn't bring myself to delete any of it, hoarding for hoarding's sake, even though so much of it hasn't been listened to for years, even when it was my CD collection.
One major spring cleaning later, and I've a pared down library of stuff I like to listen to regularly and some material I listen to once in a blue moon but don't want to erase just yet.
I keep most of this on my laptop, most so I can transfer it to my first-generation iPod Nano. But Apple TV has allowed me to copy it all over to the small box's 40GB hard drive and select songs using the on-screen UI. Now I can listen to any track I own in my living room, not just on the move.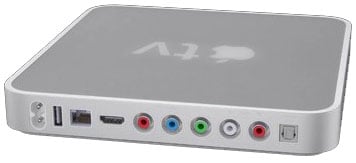 Apple's Apple TV: HDTV-friendly ports... and SD too?
Up until now, I'd been using a Logitech Squeezebox III, acquired long before developer Slim Devices was bought by the mouse maker, connected over the network to a Samsung Q1 UMPC. Why use a UMPC as a media server? Two reasons: first, it's small and, second, what the heck else was I going to use the machine for? The battery life's not good enough for full-day mobility, and the screen's too cramped for a decent web browsing experience.
Replacing these units with the Apple TV loses me my Squeezebox, with it's easy-to-read-from-the-sofa user interface, but allows me to keep one device powered up instead of two. And it'll play the songs I've purchased from the iTunes Music Store as well as the ripped ones.
I mentioned earlier that I'm not a HD TV owner. I'm not a big watcher of broadcast TV, so I'm waiting for true free-to-air HD before I ditch my 28in CRT. The Apple TV only has component-video and HDMI ports, none of which my telly posesses, but a quirk of the machine allows me to get a monochrome signal out of the green component channel and in through my TV's composite-video port.
It's no good for photo or video playback, but it works just fine for music selection. Apple TV supports PAL-friendly 576i and NTSC-ready 480i resolutions so it's easy to switch to a picture size that'll work on a standard-definition widescreen TV - and possibly a 4:3 ratio model too, if it has an option to compress the image vertically into 16:9.
One Apple TV owner, Mauricio Pastrana, recently posted a YouTube video apparently showing him fooling the device into outputting a colour signal via the green component video. If it's not a hoax - and the guy claims he doesn't know why it worked - the process involves clipping in an HDMI device to then quickly removing it. Why that should persuade the Apple TV to reformat the signal being sent out of the green component port is anyone's guess.

Mauricio Pastrana's YouTube video
Can't see the movie? The download Flash Player from Adobe.com
Here's the procedure:
Plug your composite-video cable into the Apple TV's green component-video
Go to Settings/TV Resolution
Move the cursor onto 576p but don't press Play (OK) on the remote
Unplug the composite cable
Plug an HDMI-DVI adaptor that's connected to a DVI-VGA adaptor
Now press Play (OK) on the remote and count to five
Unplug the HDMI-DVI adaptor
Reconnect the composite video cable
When the picture comes back, it should be in colour, or so Mauricio claimed.
There's also a way of tricking the Apple TV to produce the same effect using software, but I didn't try it - the Apple TV's not mine, and the software approach requires a lot of hackery. Instead, I decided to give the quick hardware hack a go.
Register Hardware's local Maplin provided the HDMI-DVI connector for a very cheeky £20, while an old Sapphire graphics card review unit furnished the DVI-VGA convertor - it's a stock ATI-branded unit. The first unit's connector is DVI-D, the second one DVI-I.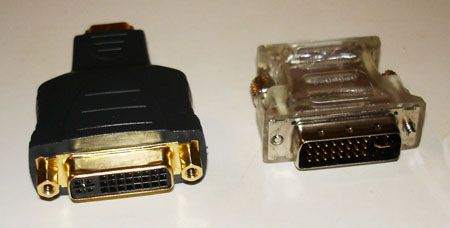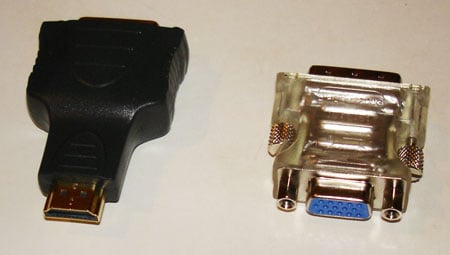 Apple TV adaptors: HDMI to DVI-D (left) and DVI-I to VGA
And yes, it does work. Reconnecting the Apple TV reveals there are now only two resolutions, one of which, 576i, is ticked. Movies, photos, album covers - all are now in colour. Here's the pic to prove it: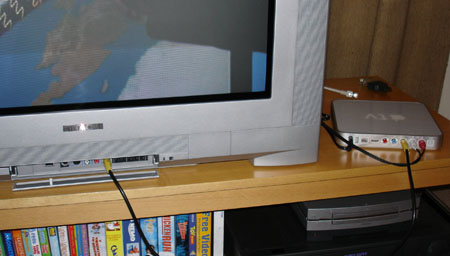 Hurrah! Apple TV output in composite-video colour
Yes, the cable coming out of the Apple TV is the one that's feeding the TV's composite-video port.
Kudos, then, to Mauricio Pastrana for discovering this.
How does it work? The trick is clearly to fool the device into outputting in composite-video. Using the DVI-VGA converter is enough to make the Apple TV think it's connected to a real device - something that the HDMI-DVI unit alone wouldn't do. Removing the unit causes the Apple TV to fall back to the previous resolution, and that's 576i. The green component would seem to be connected to the unit's GeForce Go 7300 and ancillary signalling circuitry in such a way that it's capable of handling a composite signal too. When falling back from the 576p resolution, the Apple TV's video sub-system detects the present of a composite-video device - the TV - and adjusts itself accordingly.
The snag is that this hack doesn't survive powering down the Apple TV - plug the plug and when you restart the device, it's in black and white again. And the timing has to be exact - if you're too quick or too slow at removing the HDMI-DVI-VGA, you'll get the wrong resolution. Not to worry, though: just pull the power cable, restart the Apple TV and try again.
Update Wait until the LED on the front of the Apple TV goes a steady orange before yanking out the HDMI adaptor. It may be five seconds, it may be more. But that's the point at which the resolution is set.
But the bottom line is that Apple TV users shouldn't be forced to hackery when the gadget can support composite-video output. Yes, consumers are buying HD TVs but there are still many, many more standard-definitio screens out there, all of which can be supported by the Apple TV but are nonetheless ignored.
Heck, even if Apple offered a $30 dongle that would handle the conversion, that would still, for many buyers, be a worthwhile purchase and would certainly open up the Apple TV to a much wider audience.