Original URL: https://www.theregister.co.uk/2007/10/15/interpol_manhunt_continues/
International manhunt tracks pedophile suspect to Thailand
Unscrambled pics yield more than 350 tips
Posted in Security, 15th October 2007 22:55 GMT
Police who unmasked a suspected pedophile and posted his picture online have identified the man and say he is at large somewhere in Thailand thanks to an international campaign that yielded tips from more than 350 people.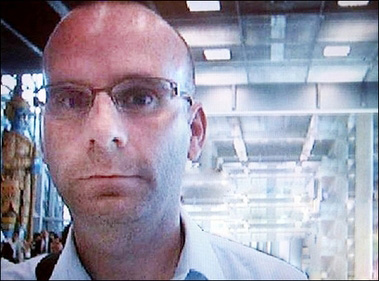 A photo taken by Thai immigration authorities
The man, whom Interpol declined to publicly identify for "investigative reasons," was photographed by security cameras at the Bangkok airport last week. He had been working as a teacher of English at a school in South Korea but was forced to flee shortly after the international police organization issued a public appeal for help in tracking him down. Police say they have determined the man's name, nationality, date of birth, passport number and current and previous work places.
Codenamed "Vico," the man was allegedly shown in 200 online photographs in which he sexually assaults 12 young boys in Vietnam and Cambodia. The face in the photos had been digitally altered so it couldn't be identified. When Interpol figured out a way to largely restore the original image, they published the photo of the man on their website and asked for help in identifying the suspect.
More than 350 people responded to last week's appeal, Interpol said. The suspect was identified from information provided by five people on three continents. Interpol said it was the first time it had made a worldwide appeal to the public to track down a suspect.
The images show a white male with a receding hairline who is occasionally bespectacled. Police are continuing to investigate Vico.
"We must once again enlist the public's support, this time to pinpoint Vico's current location," Interpol Secretary General Ronald Noble said in a statement.
Anyone with information about the suspect can contact Interpol here. ®