Original URL: https://www.theregister.co.uk/2007/10/12/hw_motorola_gold_razr2/
Motorola cuts a dash with 24-carat gold Razr 2
Old smoothy
Posted in Personal Tech, 12th October 2007 12:23 GMT
Motorola's no stranger to gilt-y pleasures. It's already offered Oriental buyers a lady-aimed gold-clad Krzr K1 and now here's a Razr 2 that's apparently been "re-imagined and reconfigured in the most luxurious materials... bathed in gold and clothed in snake-like skin".
Cleopatra's perfect phone, in other words. You bet your asp...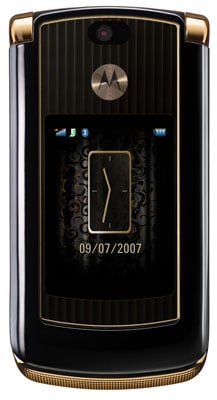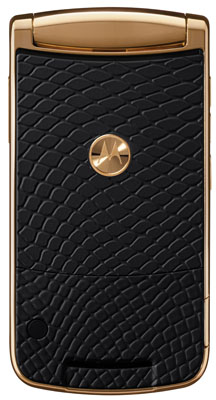 Moto's 'luxury' Razr 2: real gold but fake snake
The limited edition Razr 2 is highlighted with 18- and 24-carat gold "accents" that contrasts with "a luminous, black slate, vacuum metal finish". I'm not sure what "vacuum metal" is. It sounds like something for air-skull headbangers, but denim, leather and patchouli oil aren't quite the fashion statement Moto's out to make, I suspect.
And the serpentine quality? The "sensual snake skin texture" on the "soft-touch" back of the handset, apparently. It's "edgy, yet chic" too, I'm told.
I should also mention the phone's "luxurious details such as elegant pin stripes on the CLI lens, an engraved diamond-cut pattern on the sideband and a linear etching on the navigation wheel"...
Interlude
Razr: "Greetings, my dear. Perhaps you would care to come up and peruse my linear etchings?"
Debutante: "No, sir. I fear for my virtue at the soft touch of your hands..."
Razr: "Worry not, pretty one, my motives are pure, my touch sensual. I am edgy, yes, but chic also. I include 'a full suite of features and accessories for conscious consumers seeking a glamorous design'."
Debutante: "Sir, I have no doubt as to the true nature of your designs upon my person and I'm sure I would not find the experience glamorous. I note also your snake-like skin.
"In short, sir, I reject your leery advances spoken with a 24-carat accent, and bid you good day."
Interlude ends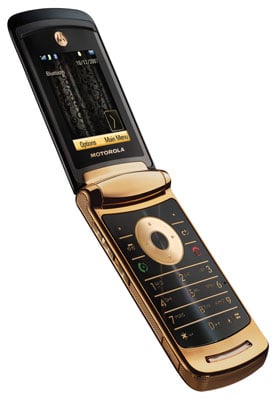 Old smoothy
Where was I? Oh yes, the Razr 2 is a quad-band GSM/GPRS/Edge handset. Internal and external displays are both 240 x 320, 242,166-colour panels, the inner one 2in across, the other 2.2in. There's a two-megapixel camera on the back and 2GB of memory inside.
"As a special bonus, the special edition Razr 2 comes complete with a black-slate Motorola H680 headset with 18-carat gold accents and a patent leather carrying case," it says here.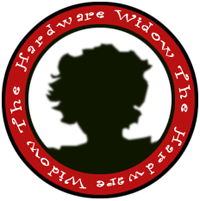 *The Hardware Widow is hitched to a young hardware geek - the
Tech Obsessed Youth - who thinks he knows more about technology than she does...