Original URL: https://www.theregister.co.uk/2007/10/11/feature_future_display_tech/
Telly vision: future display technologies
Coming soon to a screen near you...
Posted in Bootnotes, 11th October 2007 16:42 GMT
Feature Karl Ferdinand Braun could never have imagined how fiercely competitive and technologically advanced the global market for displaying still and moving images on a screen would become during the hundred or so years since he created the Cathode Ray Tube (CRT).
But in a world where CRT once reigned supreme, Liquid Crystal Display (LCD), plasma and Digital Light Projection (DLP) TVs have taken its place. Plenty of CRTs are sold each year, but it's clear that the technology's days are numbered.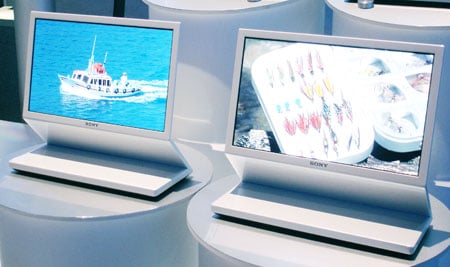 Several OLED TVs, yesterday
But how long have its successors got left to them? LCD, plasma and DLP offer some key advantages over CRT: they can be made much thinner, and can scale to bigger screen sizes and larger resolutions. But for all the advancements made to each technology, a fair few viewers believe - with good reason - that clunky old CRT TVs still produce better pictures.
That means there's a gap in the market for a flat-panel display that can present a moving picture that's as bright and as blur-free as a CRT but also supports the high resolutions only LCD, DLP and plasma can provide.
So what technology might such a screen use? Enter a whole new set of acronyms to encounter: OLED, SED and LCoS. Not to mention the positively Star Wars-sounding laser TV...
OLED
The development of OLED technology stretches right back to the 1950s, but the first demonstration of the kind of screens we know today took place in 1996. The technique utilises organic compounds that generate light when they're fed with an electric current. Deposit tiny drops of a given compound onto a glass or plastic panel and sandwich it between a grid of positive and negative electrodes and you've got a simple, single colour OLED panel. Combine three of these into one and you have the basis for a three-colour - red, green and blue - panel capable of displaying colour pictures.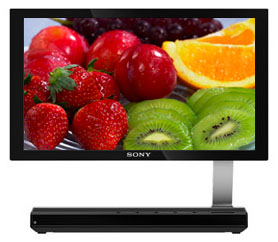 Sony's XEL-1 OLED TV
Because OLED panels generate their own light, they don't need a separate light source the way an LCD panel does. That not only helps reduce their power consumption - up to 40 per cent less than LCD, it's claimed - but leads to better colour reproduction. The trouble with a backlight is that it's always lit no matter how few pixels are showing a colour other than black. OLED pixels only consume power when they're lit.
That, in turn, leads to better contrast than LCDs can deliver because black areas are unlit - with an LCD, even black areas let some light through, though TV makers are getting better it minimising this leakage without reducing the brilliance of other colours. LCDs also use a variety of filters and polarizers, all of which reduce the amount of light passing through the front of the screen. To bring the brightness back up, that means burning the backlight more brightly, upping the power consumption.
OLED pixels can be turned on and off very quickly, much more so than the pixels in an LCD panel. LCDs have a response time of around 10ms - a thousand times slower than a typical OLED pixel. That makes for pictures that move more smoothly, though again TV makers are working to improve LCD response times and to introduce techniques like 100Hz refresh rates to counter this.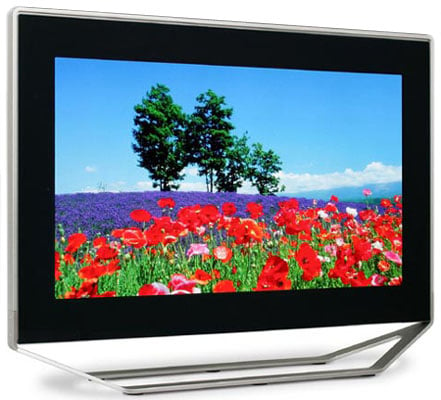 Canon's SED TV prototype
However, OLED technology isn't without its drawbacks, in particular panel longevity. The organic compounds degrade with use, especially those that emit blue light, so they won't operate at full brightness for anywhere near as long as an LCD will. The addition of phosphorescent materials do improve OLED longevity, but still not up to LCD levels.
It has also taken the industry some time to develop panels large enough to be used in TVs - the world's first commercially available OLED TV, Sony's XEL-1, is only 11in across, for example - though this appears as much because OLED screen production hasn't evolved as far as LCD has.
Why not? Primarily because LCD and plasma have become the focus of flat-panel TV production, but also because the intellectual property behind OLED is much more tightly held, which increases development costs for firms who want to design OLED panels.
SED
It's widely held that LCD and plasma technology will mature in the 2010-2012 timeframe, with OLED lined up as their heir apparent. But it's not the only technology in the running. Take SED (Surface-conduction Electron-emitter Display), a system devised by Canon in the early 1980s and that's been in development ever since, though it too has been troubled by debates over who really owns the technology.
SED works in a similar way to an old-style CRT display, but instead of a huge electron gun at the back of the set and the electro magnets used to guide the electron beam across the screen's pixels, SED sets have one tiny electron transmitter mounted behind every single pixel. This means the screens can be flat like OLED, LCD and plasma displays, and can scale from standard-definition resolutions right up to HD and beyond.
How SED Technology Works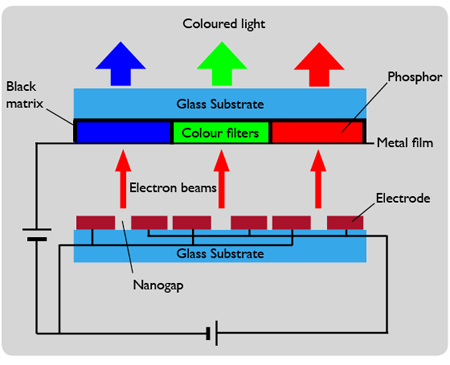 The voltage established between adjacent electrodes fires out an eletron that strikes the phosphor, emitting light that is tuned by the colour filter
Light is produced when an electron hits the phosphor-coated screen, just it is in a CRT TV. Because the screen emits light rather than has light shone through it, as per LCD, it generates high-brightness, high contrast images that are comparable to plasma contrast ratios: 50,000:1 to 100,000:1.
Canon also claims the close proximity of the electron source and the display phosphor means SED screens consume very little power. It also plans to manufacture the electron emitter arrays and associated wiring by spraying materials onto a glass substrate in exactly the same way inkjet printers spray ink into the page. This, the company reckons, will make SED TVs cheap to produce, though such has been the cost of development, we don't expect over-the-counter prices to upset LCD and plasma makers.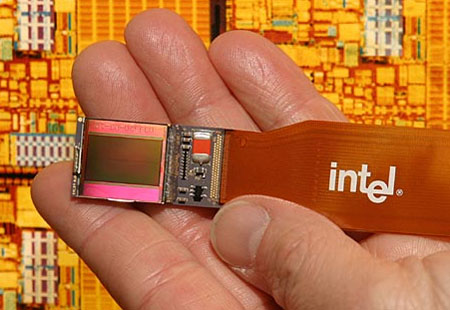 Intel's abortive LCoS chip
Working with Toshiba, Canon has announced that it will soon be able to make commercially available SED TVs with screen sizes of up to 55in. Indeed, the two have been promising SED TVs 'real soon now' for the last three or four years. Hindering their plans has been litigation from Texas-based Nano-Proprietary, a company that maintains Canon wrongfully shared its carbon nanotube technology with Toshiba. Remember SED's tiny per-pixel electron guns? They're made from carbon nanotubes.
While the legal fight looks like it's near its conclusion, it has persuaded Canon not to release SED TVs this year and not even say when they will debut. Some observers hope it can get the out sometime in 2008, but there's an undercurrent of pessimism in many reports that suggests the technology may never make it to market. Toshiba sold its share of the joint-venture established with Canon, leaving Canon as the only company likely to produce SED TVs. The legal battle with Nano-Proprietary may have left it too tired to bother.
LCoS
If SED fails to take off, there's always LCoS (Liquid Crystal on Silicon). Once favoured and quickly abandoned by chip maker Intel, LCoS uses standard chip-making techniques to embed tiny LCD pixels onto the surface of a chip that contains all the circuitry needed to turn them on and off. The pixels are mounted above a reflective layer. The picture is produced on the chip and cast onto a screen by reflecting light off the chip and magnifying the reflection up to full screen size.
Early LCoS TVs use three chips, one for each of the primary colours, but a more advanced version of the technique displays the three colours on one chip, the colours shown in rapid succession so quickly the eye sees the three images as one.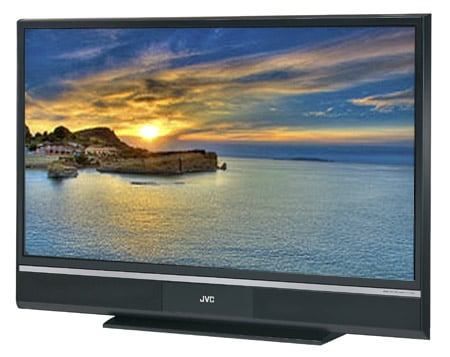 JVC's HD-IDA HD-70GC78 LCoS TV
The big advantage with LCoS is that it improves as chip production develops. Switch the chip from, say, 90nm production to 65nm production, and the smaller size means you can cram more LCD pixels on the chip, upping the resolution. As production yields improve, LCoS chips get cheaper, and it's this application of processor production economics that first attracted Intel's attention.
So far, though, LCoS hasn't delivered big time as a TV technology, though companies like Sony are using it for projectors, particularly for digital cinemas, and JVC has a line of three LCoS TVs, the HD-IDA line, priced at $3300-4496.
Laser
So far no one's released a commercially available laser TV yet, either. But they could appear sooner than some of the other technologies. Mitsubishi, for one, plans to demo a laser TV next January at the Consumer Electronics Show in Las Vegas.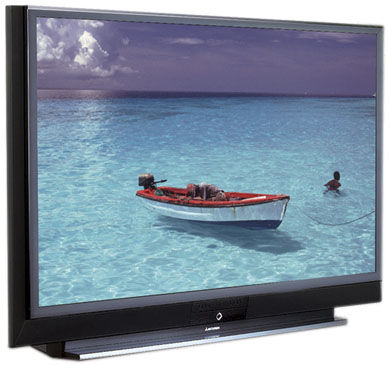 Mitsubishi's Laser TV could look like this
Laser isn't a TV type in its own right. Rather, it's a technique for improving existing designs, in particularly LCD and DLP, but also LCoS. All these approaches require a light source and have traditionally used bulbs that pump out white light which is then optically separated into beams of red, green and blue light.
Laser TVs replace the white light lamps with precisely coloured laser beams. Proponents of the technology claim the result is the ability to generate a much wider range of colours - called a gamut - than is currently possible, allowing TVs to display almost as many if not more colours than the human eye is capable of seeing.
Companies marketing rear-projection TVs - most based on DLP technology, but soon LCoS too - like laser's promise to allow them to make much thinner sets. Big projection TVs generally cost less than equivalent sized LCDs and plasmas, and laser could allow them to compete on thickness too.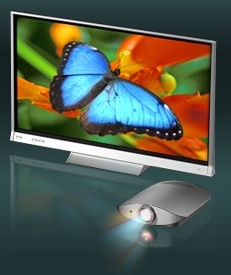 Laser tech could boost LCDs
However, laser could be used to improve LCD panels too, extending the advances already being made with LED backlighting. Again, LED backlights transmit red, green and blue light separately, and have the added advantages of consuming less power and taking up less room than traditional LCD white-light bulb backlights.
LED backlight technology is advancing as quickly as other display techniques are, and when combined with image enhancement systems like 100Hz refresh rates, will undoubtedly extend LCD's life even further. Top-of-the-line LCD TVs with LED backlights are already going on sale. But you can't yet buy a laser-lit telly.
Laser or LED? The jury's out, but LED seems likely to dominate, leaving laser as the high-end backlight of choice, able to deliver more colours, but squeezed out of the mainstream by cheaper LED technology.