Original URL: http://www.theregister.co.uk/2007/10/09/transformer_robot_can_transform_into_a_robot/
Qinetiq touts 'Transformer-like' mobility-scooter killbot
Robots in disguise... as slightly different robots
Posted in Science, 9th October 2007 18:36 GMT
UK deathboffinry spinoff firm Qinetiq says it plans to deploy Transformers combatbots in the Wars On Stuff.
In a release today, the company invites the world to admire MAARS™ (Modular Advanced Armed Robotic System). MAARS is made by Qinetiq's recent American acquisition, Foster-Miller, who are perhaps most famous for their TALON line of military/police/first-responder robots.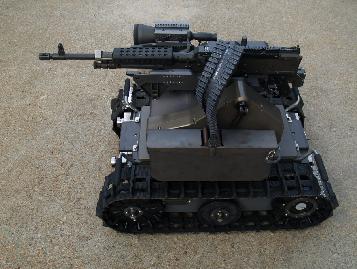 MAARS™. Always try to be the guy with the control console.
TALONs are small tracked ground-crawling droids which can be fitted with a variety of different field-handy deelies: articulated gripper claws, specialised bomb-disposal weapons, Taser electric cattleprod guns, etc. TALON SWAT can be configured with "a choice of weapons for a lethal or less-than-lethal response", while the SWORDS* TALON can have an M16 assault rifle, M240 or M249 machinegun, Barrett .50 sniper rifle - good for shooting people hiding behind truck engine blocks - or really get serious with a multi-shot grenade or rocket-launcher.
Given this fearsome arsenal of robotic weaponry, one does wonder what on earth the new MAARS™ droid might bring to the party. Qinetiq says that it "uses the more powerful M240B Medium Machine Gun" - puzzling, as the existing bot could already do that - "and has significant improvements... compared to its SWORDS predecessor... The new Digital Control Unit significantly improves... safety margins..."
Still, it's "Transformer-like". Perhaps it can disguise itself as, oh, a Segway or an electric wheelchair scooter or something - only revealing its true slaughter-machine nature at the last moment. That would make sense, kind of - the thing's chassis is broadly the same as that of a modern mobility scooter.
Well, no. Actually, according to Qinetiq:
"MAARS will also come with a new manipulator arm [just like the old TALON]... The arm can quickly replace the turret mounted M240B weapon, literally 'transforming' it from a remote weapons platform for force protection to a [bomb-disposal] tool."
So in essence it's a bomb-disposal robot with a gun on it, which is able to transform (with some help) into a bomb-disposal robot. That's not exactly going to have the Decepticons in a tizzy, now is it?
In fact the MAARS does contain some new kit, though you'd struggle to find that out from the Qinetiq release. Wired magazine reports that the biggest problem thus far with armed killbots has been safety. It's all too easy even for human soldiers to shoot their buddies inadvertently, and concerns over the robot - perhaps accidentally - turning its weapons on human comrades have, according to Wired, kept the existing warbots from firing a shot in combat.
MAARS has some new features designed to help with this, including software which can allow the human operator to define safe zones or sectors, and GPS so that commanders will know where the droid is. There are also mechanical lockouts preventing the gun turret from swivelling into potentially unfortunate directions. Perhaps most reassuringly of all, the MAARS is unable to fire directly at its own control console.
Even so, the day of the close-combat droid doesn't appear to be here just yet. MAARS will have a top speed of 7mph or so, and its battery power will mean limited endurance. This rather suggests that fit and agile human opponents will be able to outmanoeuvre or outrun it.
That said, kit like this could be useful for bringing up heavy weapons to support close-combat troops, or to provide sniper cover etc. It might allow a few more US soldiers to lurk relatively safely in armoured vehicles or behind perimeters rather than having to venture out onto the hostile streets of Baghdad.
Qinetiq are upbeat about it, in any case.
"Foster-Miller is proud to introduce the new MAARS robot to the US Military personnel who risk their lives every day defending our freedom [which is so old-fashioned and unnecessary]," said Bill Ribich, of QinetiQ North America.
"The challenge before us now isn't technological in nature but rather the widespread training of our forces to use this greatly enhanced robotic capability," he added.
Ha. We say the tech challenge might be over when the thing can disguise itself as a dessert trolley or something. Or perhaps it'll be when a team of MAARS bots can beat a team of humans at laser tag.
Even once that's done, the notion of gunbots replacing human soldiers doesn't seem likely to advance the cause of peace and democracy in Iraq much, or to convince the locals that America really cares about their future. But those might be lost causes already.®
*Special Weapons Observation Reconnaissance Direct-action System