Original URL: https://www.theregister.co.uk/2007/10/09/review_samsung_s85/
Samsung S85 eight-megapixel digital camera
The Peoples' Choice?
Posted in Personal Tech, 9th October 2007 14:40 GMT
Review Remember the days when even an entry-level digital camera cost the proverbial arm and a leg? Nowadays, low-price doesn't have to mean low performance or even low in features. If you're looking for a decent digital camera today, you can pick up a fairly well-specified model for a little over £100.
Let's face it: not everyone wants, needs or can afford a megapixel monster with the processing power of a Cray supercomputer and a zoom lens the length of a basketball player's arm.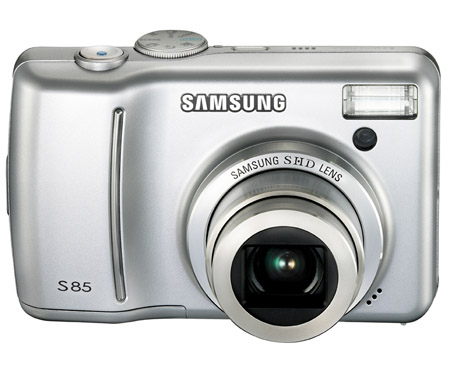 Samsung's S85:
Many people are simply looking for a camera with the PPS factor – Pick-up, Point and Shoot. So hats off to Samsung for launching such a product at a highly affordable price. At just a penny under £120, this is indeed a product for the masses. In fact, we've decided to dub the S85 The Peoples' Camera.
So what do you get for your hard-earned? You get a pretty impressive camera considering the price, with an 8.2-megapixel image sensor; a 5x optical zoom that's roughly equivalent to a 38-190mm lens on a 35mm camera; an ISO rating from 50 to 1600; and a top shutter speed of 1/2000s. There's 20MB of built-in Flash memory, although you'd be wise to invest in an SD card if you want to take more than a few high-res shots - the S85 supports SDHC cards up to 4GB in size. You also get face-detection technology and ASR shake-reduction thrown in. And there are lots more goodies, which we'll talk about later.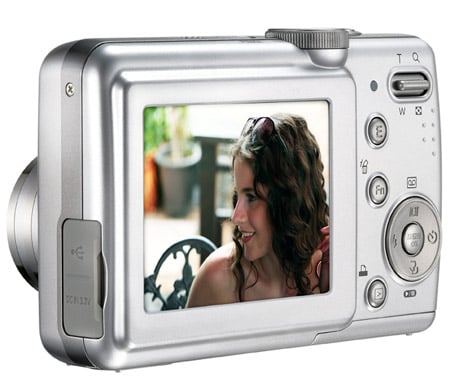 Around the back is a decent-sized, 2.5in LCD
Bundled in the box are a few accessories, including two AA-sized rechargeable NiMH batteries - although, funnily enough, the instruction book claims these are an optional extra - a USB cable, AV cable with RCA audio and composite-video jacks, battery charger, a CD-Rom containing photo editing software, and a strap. There's also a small instruction book - the full version is available as a PDF file on the disc.
The S85 is not a bad looker: it's finished in two-tone aluminium and feels quite classy in your mitts. However, there's a price to be paid for affordability and in this case it's the size of the camera. After using super-sleek models that vanish in the palm of your hand, it's a bit of shock to go back to a camera of this chunkiness. Don't get us wrong: the S85 isn't a massive beast by any means – it measures just 10cm across and is around 2.4cm deep, but at some 6.3cm in height, it towers over many models. However, the S85 only weighs around 154g, excluding battery and memory card, so at least you won't get a hernia carrying it around.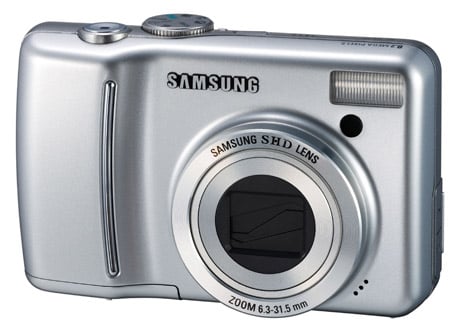 A little on the large size, but eminently portable
Around the back is a decent-sized, 2.5in LCD screen, which functions as a viewfinder, playback screen and menu display, and a few control buttons: E for effects, FN for Function and a multi-function menu control which also selects the macro mode and timer. A small rocker switch operates the zoom.
On the top of the camera is the power button - which needed a good hard press to get going - shutter trigger and mode dial. The latter lets you select various screen shooting styles, including auto, manual and 13 pre-programmed modes. Now, we said this was a camera for the masses, but we have to confess that Samsung seems to have gone overboard on the number of options available.
For instance, we suspect that few people using this camera will bother to use most of the program settings, which bizarrely include a Food mode and a Café mode. Why Samsung didn't plump for, say, a Supermarket mode too is beyond us. There's also a Child mode, which actually isn't specifically designed for the taking snaps of the little darlings, but is for taking pictures of fast-moving objects - obviously the kids in Korea are much more energetic than the many British children who seem to spend half the day pigging out in front the box...
The same goes for the number of on-board effects. These use digital processing to add effects to images, such as changing the colour of the image - take your picl from sepia, red, and black and white, among others. You can also add cartoon captions to images; rotate them; put just part of an image in sharp focus; combine up to four different images; and even add a heart-shaped effect around an image of your beloved – aahhh. These effects are good fun on a night out with friends and after a few drinks, but we can't see them getting that much use.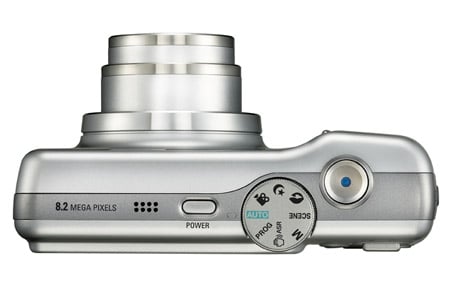 The power button needs a good hard press to get going
And we've only scratched the surface when it comes to options, because you can also change the image size from a one-megapixel setting (1024 x 768 resolution) to eight megapixels (3264 x 2248). Then there's a sub-menu for selecting Super Fine, Fine or Normal modes - essentially the amount of JPEG compression applied to each pic. There are also options for setting the colour, saturation, exposure, white balance, shutter speed, ISO, an more. To be honest, you could spend weeks going through the various permutations.
And we haven't even talked about the S85 also offering movie recording: ten-second clips in AVI file format, and there are two frame rates and file size settings to choose from. Voice recordings can be added to images or movies, and you can also tape up to ten hours' of WAV-format voice memos. The sound quality isn't bad either. Oh, and there's a choice of several music clips to accompany your images too.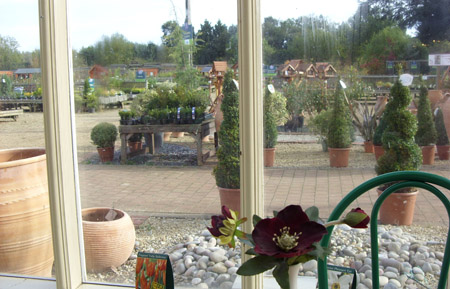 The auto-focus works well, even through glass
Click for full-size version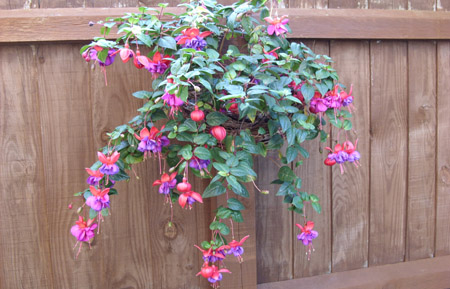 Colours looked a little washed out at times
Click for full-size version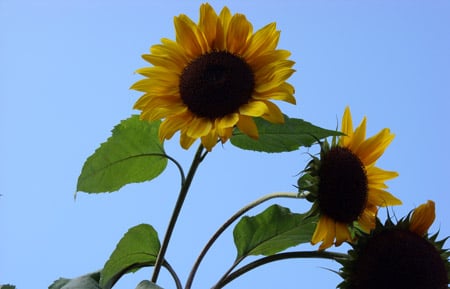 The auto-exposure works well, even when shooting an object against a bright sky
Click for full-size version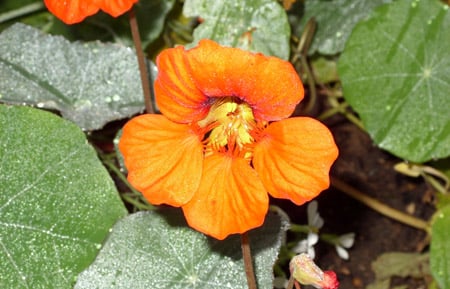 Close-up shots, when they worked, looked impressively sharp
Click for full-size version
As you can see from the samples above, the S85's pictures are sharp, clear and crisp. That said, we felt that colours looked a little washed out at times. Close-up shots were rather hit and miss, although when they worked, they looked impressively sharp. The zoom really pulls in the action and the auto-focus works well, even through glass. The S85 also takes low-light conditions in its stride and the face-detection technology does what it says on the tin.
Despite the overwhelming amount of features and settings, the S85 is a nice camera to use. Samsung claims the rechargeable batteries last up to five hours, and our results more or less confirmed this. Plus it's nice to know that you can always revert to AA alkalines in an emergency.
Verdict
All in all, we liked this camera. Yes, it's a little on the large side and Samsung seems to have thrown everything but the kitchen sink under the bonnet. But at this price, you can't complain. It's a camera for the masses and it's well worth considering if you're on a tight budget or simply don't want to take out a second mortgage to buy your next digital camera.