Original URL: https://www.theregister.co.uk/2007/10/08/wii_upc_nintendo/
New product code points to revamped Wii?
Accessory bundle, perhaps - or DVD playback
Posted in Personal Tech, 8th October 2007 11:41 GMT
Nintendo has set tongues wagging with its registration of a second Wii universal product code (UPC). The move is prompting the console's fans to speculate that it could signal the arrival of a new version of the machine.
The new code, for a product known only as "New Pack", is 0045496880088 - only one digit out from the Wii's original UPC, 0045496580018. Searching for the new code on the official UPC database reveals that while no product has yet been associated with the UPC, the code has nonetheless been registered by Nintendo of America.
The code was revealed by Wii fansite Codename Revolution, which cited a "distributor contact", suggesting that the UPC is legit.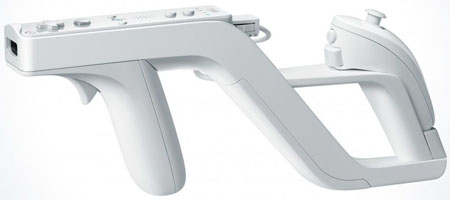 Nintendo's Wii Zapper: soon to be bundled?
What might the New Pack be? The addition of DVD playback functionality to the Wii has been anticipated for some time already and the feature could sit well with consumers in preparation for the Christmas sales period. Alternatively, rumours have also suggested that Nintendo could be adding another title to the console's bundled games list or that it plans to bundle extra accessories, like Wii Zapper.
Some online reports have also speculated that Nintendo may have introduced the new UPC to accommodate a new colour console.
Unfortunately, Nintendo is keeping its mouth firmly shut for the time being. So watch this space...