Original URL: https://www.theregister.co.uk/2007/10/08/review_slingbox_solo/
Slingbox Solo TV-over-the-net device
Slingbox pared back to basics
Posted in Personal Tech, 8th October 2007 13:16 GMT
Review Sling Media's Slingbox Solo is for all those folk who already have a digital TV set-top box and don't fancy forking out for a local network and internet video streaming gadget that has an on-board tuner of its own.


Sling's Slingbox Solo: tuner-less
The Solo sports the usual truncated triangle look of all previous Slingboxes, but this time it's kitted out in shiny black plastic with a similarly coloured metal mesh on top to aid cooling. The front's home to just power and network activity indicator LEDs because the back is the business end. Here, you'll find a 10/100Mbps Ethernet port, a non-functioning USB connector - "reserved for future use", Sling ominously states - and an array of RCA stereo, composite-video, s-video and component input ports, mirrored by an identical set of outputs to provide pass-through to your TV.
Sling bundles a pass-through Scart adaptor in the box which connects up to the Solo's composite ports. You also get composite-video and stereo audio cables, but there are no component or s-video leads. The packaging does include an Ethernet cord and the infrared transmitter the Solo uses to control your video source.
The key fact is there's no aerial socket because the Solo expects that to be handled by one of the other devices in your living room. In our case, we hooked it up to a Humax PVR-9200T, but it's ready to accept feeds from Sky HD boxes, Apple TV units, DVD players, whatever. The only limitation: you can only activate one set of inputs at a time.
That choice is applied during the set-up phase, which is just a matter of connecting the Solo to your router - wired only; this is not a wireless-friendly product - and installing the playback software on your computer, be it a Mac or a PC. Just check that you're computer's firewall is open on the TCP and UDP ports - 5001 - that the Sling system uses.


Sling's Slingbox Solo: a plethora of inputs and outputs, but you can only use one set
And if your router's not set to operate using the UPnP protocol, you may need to tweak its settings to expose the Solo to the outside world - but only if you want to view its signal beyond the reaches of your own, local network.
Incidentally, if, like us, your broadband connection or your router isn't plumbed into the living room, the Slingbox - of any type - is an ideal application for Powerline Ethernet networking-over-the-mains technology. We used a Netgear XEPS103 four-port powerline adaptor - reviewed here - and a Devolo dLAN Microlink adaptor - reviewed here - to bridge the gap between Solo and router, and Sling Media has its own Sling Link adaptor which does the same job. All of these are based on the 85Mbps HomePlug powerline standard.
The Solo's set-up process is straightforward - install the SlingPlayer software and, by and large, you're away. Sling has certainly improved the process, hiding more the networking stuff away, but it could do more to smooth it for the less technically adept. We forgot to open up the relevant part of our laptop's firewall, preventing SlingPlayer from spotting the Solo. The app could have suggested directly that we check this - we eventually found the solution in the Help file. It's a common enough mistake, after all.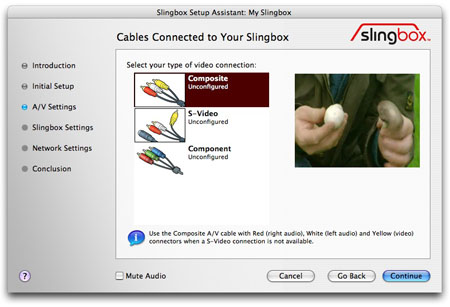 Sling's Slingbox Solo: select which of the three inputs you'll use
The Solo's internal workings are more advanced than those of the original Slingbox. The new model can process and send out images at up to 640 x 480 resolution, so it's just below the UK's PAL 720 x 576 picture size, but a little more computer-friendly, and certainly not, of itself, HD. However, the Solo is able to recognise 16:9 widescreen signals and format the image size accordingly. It's also able to transmit at up to 8Mbps - up from the old model's 2.5Mbps limit - though what you actually receive will depend on the bandwidth of the narrowest part of the network over which the Solo is transmitting.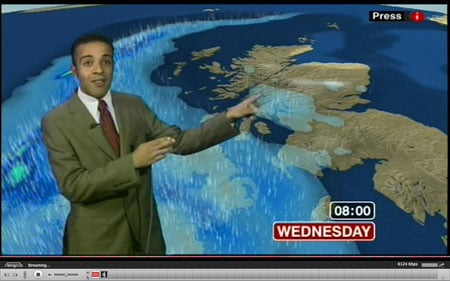 Sling's Slingbox Solo: good viewing full-screen on a 15.4in laptop display
Click for full-size version
Our powerline adaptors run to a raw speed maximum data rate of 85Mbps, which translates as a real-world throughput of 20-25Mbps - still more than enough space for the Solo's maximum output: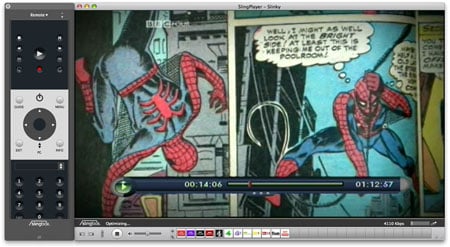 Sling's Slingbox Solo: decent picture quality over the local network...
We got a throughput of up to 5700Kbps going via powerline from Solo to router and then over 802.11g Wi-Fi from the router to the laptop. That's enough to yield a very watchable widescreen picture on the MacBook Pro's 1440 x 900 display. Of course it's not HD - and not even SD really - but it is perfectly good to watch, particularly if you don't sit nose to screen.
Out and about, the results were less impressive. We left our abode and used a Novatel Wireless Merlin XU870 ExpressCard HSDPA add-in to connect back to base over Vodafone's 'super 3G' network. We got bitrates of up to 650Kbps, well short of the local network speed and with a consequent reduction in picture quality: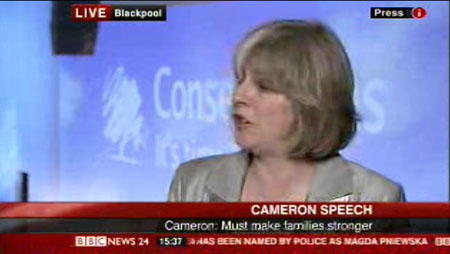 ...but not quite so clear via 3G
That said, it was no worse than a lot of content on YouTube, and while you might not want to put your feet up and watch the latest episode of whatever US drama series is hip this month, it's not so bad for keeping tabs on the news though a small window in the corner of your screen. And with a device that has a smaller display - a Nokia N95, say - where Sling's technology can trade pictures size for lower compression within the same bandwidth, it will be more watchable.
The Solo comes with an infrared transmitter through which the Slingbox controls the video source. We found that no matter how we adjusted this - there are three settings: Fast, Medium and Slow - every button press we made in SlingPlayer, such as moving up and down the channel list or choosing menus - was treated as two presses by the Humax. This doesn't happen with the DVR's own remote, suggesting the Sling unit is to blame. Indeed, this wasn't something we experienced with the original Slingbox.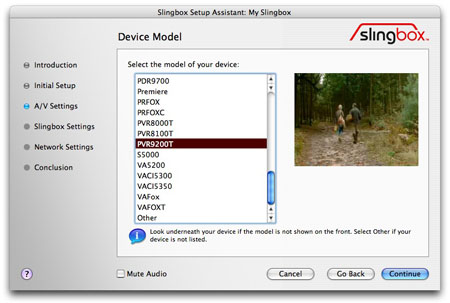 Sling's Slingbox Solo: vast range of UK video hardware supported
At least we could get around the problem to some extent by storing our favourite channels on SlingPlayer's customisable channel panel, but it meant that we couldn't select every channel in the DVR's electronic programme guide, preventing us from scheduling recordings remotely.
And while we were pleased to find the Humax among the many, many set-top boxes, DVD players and other picture sources listed in the SlingPlayer set-up screens, the remote didn't provide the same or equivalent keys to the Humax remote - even basic ones like getting the list of recorded programmes. Of course, Sling can't produce a virtual remote that matches the look of every single real remote out there, but if it's gone to the trouble of supporting as many devices as it has, it could at least have ensured that the virtual remote's five custom buttons could generate useful signals.
You still get a couple of seconds of video judder when you push one of the remote's buttons, a fault Sling really should have licked by now, especially given the bandwidth available to the SlingPlayer-to-Solo link. This wouldn't be a concern if you were connecting using a mobile phone, but it's not something you ought to experience when Slingbox and computer are on the same, local network.
Finally, there's the Solo's lack of tuner. Without one, the Solo is limited in its applicability to households not only with an existing tuner, but also where the residents are in total accord about what they want to watch. With, say, a Slingbox Pro, we could watch documentaries on BBC Four while the missus caught up with the latest episode of House. She watched the signal from the set-top box; we watched the signal from the Slingbox.


Sling's Slingbox Solo: eminently watchable
With no tuner, that's impossible with the Solo, and flipping channels while your other half is watching something is not a recipe for domestic bliss. This won't be an issue for someone with a TV that has an integrated digital TV tuner, of course, but it is a problem for the many of us who don't.
Still, the Solo does deliver content over the network in an eminently watchable form, and we quickly put it to use streaming late-night TV to a laptop in the bedroom, and we can see it being an ideal way of keeping up with what's happening in the UK the next time we're away on holiday, provided the apartment has broadband, of course.
Verdict
Sling Media's Slingbox Solo lacks the range of roles you can put its bigger, better sibling - the Slingbox Pro - to, and that limits its usefulness to many consumers. But if you just want to stream a single source around your home, to a laptop in a holiday home, or to a 3G mobile phone, it does the trick. Just make sure your other half isn't watching at the same time, or you'll be introduced to a new theatre in the war for the remote.