Original URL: https://www.theregister.co.uk/2007/10/08/microsoft_halo3_disc_error/
MS admits Halo 3 'disc unreadable' errors
But it's keeping mum about the cause...
Posted in Personal Tech, 8th October 2007 08:03 GMT
Microsoft has refused to reveal the cause behind a fresh wave of disc problems affecting Halo 3. The company told Register Hardware that it's aware of a problem which stops the game from loading correctly, but refused to give any further explanation.
Exact descriptions of the disc error differ between gamers, but all of them who've encountered the issue report being presented with a message that says the disc is unreadable and can't be loaded.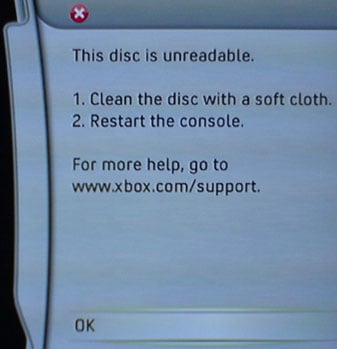 This error message appears with some Halo 3 discs
For example, one reader told us that when trying to start a campaign or solo game, an error message appears on the screen saying the game can't be started. It then advises him to press button A on the control pad. However, a second error message states more specifically that game content can't be loaded and a progress bar hops continuously between one and 29 per cent.
A Microsoft representative said the software giant is "aware of reports that some people have received a 'disc unreadable' error while playing Halo 3 and other titles". However, it refused to give any further information or disclose which additional titles were affected by the problem.
In its response to Register Hardware, Microsoft advised gamers affected by the error message to visit a Microsoft support website page. Unfortunately, the page only admits that disc unreadable errors may be the result of a dirty or damaged disc; a disc from one region being used in a player from a different region; or simply to "non-disc issues".
However, when we spoke to Microsoft's technical helpline about the problem, a representative told us it had received many similar calls from gamers. We were told Microsoft would be making an announcement regarding the problem in the coming weeks.

An annoyed gamer walks YouTube fans through the problem
One gamer has already posted a video onto YouTube that takes viewers through the problems being encountered. The video shows a message that "this disc is unreadable", despite the game being brand new and replaced several times previously because of the same problem.
Enraged and disappointed gamers have also begun taking their frustrations out on an online forum belonging to Halo 3 developer Bungie.
Thanks to Register Hardware reader Rob for the tip