Original URL: https://www.theregister.co.uk/2007/10/08/interpol_unscrambled/
Interpol launches worldwide hunt for abuse pics man
Cops unscramble face
Posted in Policy, 8th October 2007 14:20 GMT
Interpol has launched an unprecedented international appeal for information in the hunt for a man featured in child abuse pictures whose face was obscured using graphics software.
Imaging specialists at Germany's Bundeskriminalamt (Federal Criminal Investigation Office) unscrambled several images of the man, known online as "Vico".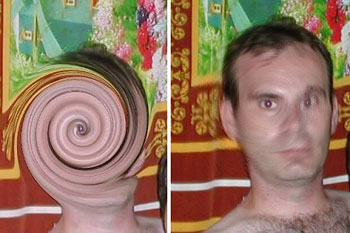 One of the "Vico" pictures before and after work by digital imaging experts.
Interpol says he appears in about 200 photographs of child abuse taken in Vietnam and Cambodia. His face had been "swirled" in the pictures in a bid to conceal his identity.
Interpol Secretary General Ronald Noble said the images of the man abusing young boys had been circulating on the internet for years. International inquiries have failed to identify him, however, and it's the first time the agency has made such an appeal.
"We have very good reason to believe that he travels the world in order to sexually abuse and exploit vulnerable children," he said.
"We have tried all other means to identify and to bring him to justice, but we are now convinced that without the public's help this sexual predator could continue to rape and sexually abuse young children whose ages appear to range from six to early teens."
Kristin Kvigne, assistant director of Interpol's Trafficking in Human Beings Unit said: "The decision to make public this man's picture was not one which was taken lightly... we are certainly not encouraging members of the public to take any direct action themselves."
Anyone with information can contact Interpol here. ®