Original URL: https://www.theregister.co.uk/2007/10/08/el_reg_quiz_victory/
El Reg triumphs in media battle of the wits
No spelling round. Phew.
Posted in Site News, 8th October 2007 10:07 GMT
The Register emerged triumphant and almost upright from a pub quiz which pitted the cream of London media against each other.
Terror scares and light drizzle deterred some of the teams from attending the event at Madame JoJo's in Soho last Monday: including Xfm and The Daily Telegraph.
Despite points lost through blatant cheating by Reg team captain Andrew Orlowski during the "physical round" of limbo dancing, the Vultures comfortably saw off a strong challenge by The Daily Star, who finished second - and left Nuts magazine trailing in the distance.
The event was sponsored by the fantastically useful and entertaining telephone answers service AQA, which donated £2,000 to Great Ormond Street Hospital.
The Reg team, which included Chris Williams and Kelly Fiveash (plus special guest Ash Dosanjh), correctly answered questions including: which movie was the first to feature a flushing toilet (Hitchcock's Psycho), the correct height of the compere in baked beans tins (17) and the exact height of Mt.Everest.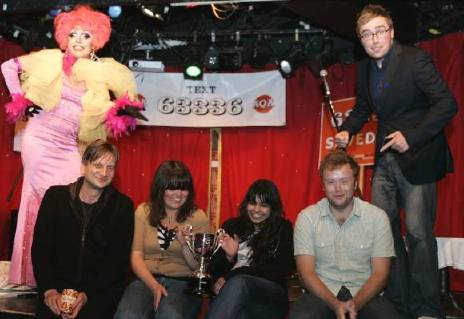 Front row (L-R): Andrew Orlowski, Kelly Fiveash, Ash Dosanjh, and Chris Williams; Back row: Team mascot Robin Lettice and compere Danny Wallace
Former Southampton and Leeds footballer TV comedian Danny Wallace presented the prize: a cup and a tin of Marks and Spencer Baked Beans.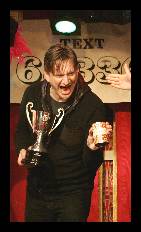 Ecstatic team captain holds aloft the bounty: Marks and Spencer Baked Beans
"You can't get anything like this at Mr Patel's corner shop," said an ecstatic Andrew Orlowski.
So it's official: we rule.
Nyeh. ®