Original URL: https://www.theregister.co.uk/2007/10/05/review_o2_cocoon_mobile_phone/
O2 Cocoon mobile phone
Nothing to do with pods, pensioners or swimming pools
Posted in Personal Tech, 5th October 2007 11:02 GMT
Review O2 may have beaten its rivals to the iPhone, but it's already launched a first assault on the mobile music market with a distinctively quirky own-brand design, the Cocoon. With 2GB of tune-packing internal memory and 2GB memory card support it's ready to go toe-to-toe with most other music phones. And, strangely enough, alarm clocks too...
O2 has been plugging away at its mobile music credentials for a while now. Think the O2 - aka the Millennium Dome - and the O2 Wireless Festival, for starters. Then the O2 Cocoon was dropped on us.


O2's Cocoon: simple, two-tone design
The Cocoon certainly is different. As well as a distinctive curvy old-school iPod-white clamshell casing, and a full rundown of HSDPA 3G-enabled features, the handset offers, uniquely, a natty scrolling hidden display on the outside of the casing and an alarm clock alter ego.
Developed in collaboration with mobile maker Pantech, the Cocoon makes a good fist of music playback. It sports a multi-format music player - MP3, AAC, AAC+, WMA and WAV files are supported - and has 2GB of internal memory, along with Micro SD support for cards of up to 2GB. An FM radio with RDS is inside too.
A two-megapixel camera on the front of the Cocoon takes care of snapping and video shooting while a smaller camera inside the clamshell delivers video calling. HSDPA promises mobile broadband download rates and internet surfing wherever the network supports it.
A white music player isn't exactly the height of design originality, but the smooth, uncluttered Cocoon is strikingly different for a mobile phone. The sides of the phone are in a contrasting black finish, with several music player control buttons and a key-lock slider lined up on one side, and a mini USB socket, Micro SD card slot and back panel release key on the other.
Closed, the Cocoon looks tidy, though it's heftier than many slimline models shimmying onto the market. It weighs in at 114g and measures 9.4 x 4.9 x 2.1cm at its widest points.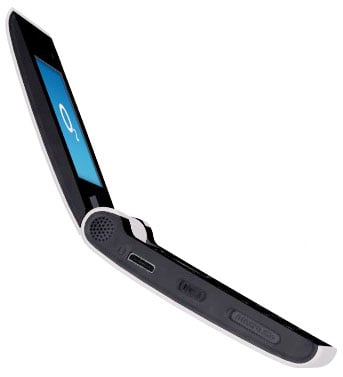 Speakers and portage on the side
At first glance, there appears to be no external display, as you'd ordinarily expect on a flip phone. However, the clever O2 design incorporates a hidden blue LED array behind the white plastic. When activated by a call, message or music track, this displays in large characters caller ID, music track info, or the opening bits of incoming text messages, scrolling from right to left. Smaller indictors glow to indicate alarm set, message waiting, battery level, incoming call, and so on. And then there's the clock...
A neat trick for the day job becomes a secondary function at night, when the O2 Cocoon slips into something comfortable – a supplied docking cradle "Nest" – to double up as a bedside alarm clock. O2 has figured that as many people now use their phone for their wake up call, they may as well make a feature of it. You can set it to wake up to a tune of your choice, the radio or a standard alarm (we're hoping a Teasmaid version will be on its way soon).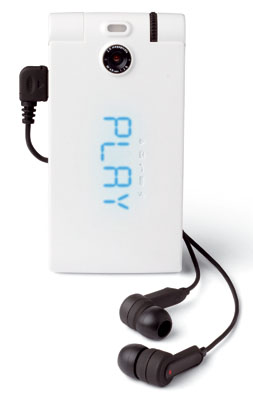 Music friendly
Flipping open the Cocoon, the keypad and screen arrangement is conventional. The matt black keypad has large, no-nonsense rectangular keys that accommodate the larger-fingered user, though they're a touch less responsive than super-speed texters might like. A five-way control is flanked by call start and end keys, and a pair of keys for activating soft menus is standard mobile phone formation.
Above these is the 2.1in, 240 x 320, 262, 144-colour display. Intriguingly there's a thumbwheel on the hinge between the display and keypad, but disappointingly it doesn't help spinning through menus or music track lists - it's just a simple volume control.
There's no mould-breaking with the menu system either. It's all pretty vanilla stuff. A main menu key pulls up a set of icons, or a list with larger icons if you prefer. Nonetheless, the conventional, non-tricksy approach works efficiently - you select options and explore sub-menus by scrolling down then hitting the appropriate number next to the option.
In addition, most-used features can be assigned to a shortcuts list that's lined up on the bottom of the display, and activated by a joypad click.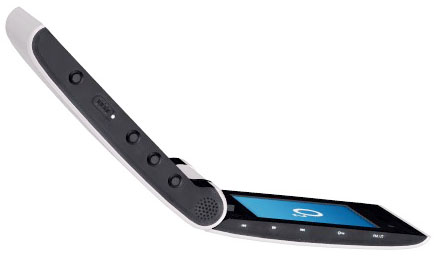 Playback controls at the ready
The music player can be activated either through the menu, shortcut options or by tapping the side-facing music control keys. Don't rely on the key labelling to help – these are minuscule and inexplicably positioned on the opposite side of the flip, so can't be matched to buttons when the clamshell is open.
Once activated, you get familiar MP3 player-style options for track selection - Artists, Albums, Tracks, Genres and Playlists - and you can select Random Shuffle too. You can opt for viewing tracks in lists or with album cover art. Various settings allow you to adjust your listening options - you can even keep listening to tunes down in the background when answering calls.
O2 supplies the Cocoon with Windows Media Player 11 software for PCs to manage and synchronise tunes, via an in-box USB cable. Mac users can drag and drop tracks onto the phone or memory card, but syncing with iTunes requires additional third-party software such as SyncTunes.
Twin speakers sit on either side of the hinge, which produces some volume, but little real stereo effect. Regulation speakerphone tinniness is not as harsh as it is on some cheaper models, but you can tweak up the bass levels to maximum without getting any extra real thump.
A hands-free stereo headset is included. O2 has smartly allowed regular headphones to be plugged in by supplying a two-part headset to plug into the phones USB socket with a 3.5mm jack adaptor on one end. Nicely, a small splitter is packaged too so that two sets of headphones can be attached simultaneously. O2 has also thought about listening when the phone is cradled - the Nest has headphone sockets so you can tune in when charging.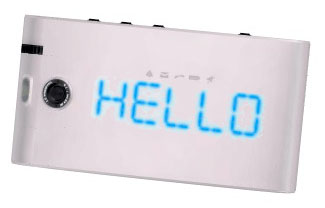 Cunningly concealed LED lighting
Sound quality through the supplied in-ear 'phones is impressive. They're better than many supplied sets - iPod earphones, certainly - and produce a welcome level of bass and tone clarity. There's neglible spillage at listening volume, too. Cocoon has stereo Bluetooth, and O2 has usefully added a fastkey on and off option.
The two-megapixel camera on the back of the Cocoon doesn't enjoy the one-button access that some other handsets provide. It has autofocus and a flash, and up to 10x zoom at lower resolutions. Some picture tweaking controls - white balance, brightness and quality options - are provided, plus there are a few "funny" frames and effects, if that makes you chuckle.
Images taken by the Cocoon are reasonable, but the camera is far from the best 2Mp mobile we've seen. Some shots are slightly soft - although mid- to close-in shots benefit from the autofocus. Colour balance is generally acceptable.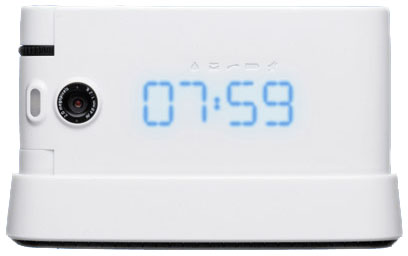 O2's Cocoon: nested
Video at the top resolution - 320 x 240 pixels - is no great shakes, as with most mobiles, and the Cocoon won't be kicking your camcorder into touch any time soon.
The O2 Cocoon has a browser on board, configured for quick access to the O2 Active portal. Regular websites can also be accessed too, along with POP and IMAP email.
O2 has provided the Cocoon with three decent Java games: The SIMs 2, EA Air Hockey and Tetris, and more can be downloaded. Other applications include standard fare like a calendar, notepad, calculator, currency converter, voice recorder, stopwatch and world clock. PC Suite 1.1 software supplied enables Windows PC users to sync Outlook with the Cocoon.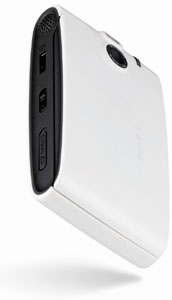 Stylishly curvaceous
In addition, the O2 Cocoon has a hidden bonus: If you happen to come within range of the O2 venue, cell ID technology communicates with the Cocoon to change the wallpaper, and offer maps of the location and other exclusive content.
Making and taking voice calls on the Cocoon proved generally acceptable, although sometimes there's a clipped sharpness to speech or a slight hollowness in the earpiece. At the other end of the phone, speech came across clear and loud. The Cocoon didn't grab on to signals quite as strongly as our reference Nokia in side-by-side tests, with 3G coverage slipping off more easily in marginal areas.
Battery life is quoted by O2 at five hours for GSM talk time, three hours of 3G usage, and 330 hours on stand-by. Or you have 15 hours' music playback. Obviously, those estimates change depending on other power hungry gadget-fiddling, but we managed to keep the phone going for over four days with ample time spent playing with all the goodies.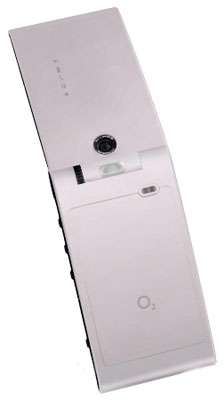 A flash-fitted camera is part of the package
Verdict
The O2 Cocoon is an impressive music player in a phone with enough quirky - and intelligent - features to justify O2's claim to have produced something a bit different. It is distinctive, but the graceful lines of the design are let down by the phone's proportions. It's not huge, but where it's coming from music-wise, slim is king.
Nevertheless, with a capacity of up to 4GB with a memory card inserted, and at the price O2 is quoting, the Cocoon is a solid music phone. And it makes a great alarm clock too...