Original URL: http://www.theregister.co.uk/2007/10/04/review_apple_tv/
Apple TV 160GB media player
A must-have for anyone with music and movies on a PC?
Posted in Personal Tech, 4th October 2007 11:02 GMT
Review Over the past couple of years we've tried at least four different media extenders from Buffalo, D-Link and Pinnacle in an attempt to send AVI movie files from a PC to a TV. The PC is in a home office box, and the TV is in the living room, and all we want to do is watch recorded American TV shows on the big screen.
All four devices involved stacks of software, all sorts of nonsensical procedures to synchronise media libraries, and then, inevitably, delivered stop/start streaming, frozen pictures and audio that would get out of sync.
These failures seem to have arisen because they are networking companies who put the emphasis on streaming a signal from Box A (a router) to Box B (their gizmo under the telly) instead of building a device that performs a series of tasks with the minimum of fuss.
The answer would appear to be simple: switch to an Ethernet cable to overcome the bandwidth limitations of 802.11b or g Wi-Fi and all will be well. But our experience suggests otherwise, which suggests that the problems aren't restricted to wireless technology.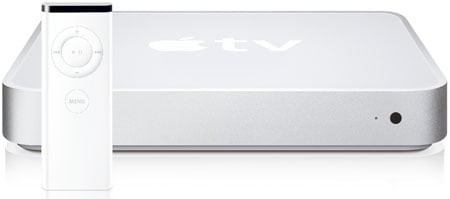 Apple's Apple TV: complete with remote - but no cables
We have to admit that we haven't used an Xbox 360 as a Media Extender, so it's possible that Microsoft cracked this particular problem a while back, but the Apple TV aroused our interest, despite its daft name - it's not, when all said and done, a TV: it's a set-top box. Yes, it's a networked unit, but unlike other devices stores content locally so there's no need to stream anything.
The first thing that strikes you is the tiny size of the unit. It measures 19.6 x 19.6cm and is only 2.8cm tall, which is miniscule compared to the hefty boxes supplied by the networking boys, all of which are the size of a domestic DVD player. This is especially impressive as the Apple TV contains plenty of hardware, including the power transformer.
Inside, the Apple TV uses a 1GHz Intel Pentium M processor, an Nvidia G72M graphics chip with 64MB of video memory, a 2.5in laptop hard drive, 802.11n wireless kit and the aforementioned power supply.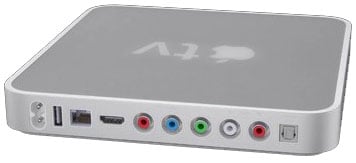 Apple's Apple TV: HDTV-friendly ports
On the front of the unit is an activity LED and an infrared receiver for the remote control, while the row of ports lives on the back and consists of a power connector, a USB 2.0 port for service and diagnostics - why not for files on a USB Flash drive? - 10/100Mbps Ethernet, HDMI, component-video, RCA stereo outputs and an optical digital audio connector.
This is the essence of the Apple TV. The hardware requirements inlcude a TV or display with a 16:9 aspect ratio and a digital input, so you can forget about an oldy worldy CRT telly with a 4:3 aspect ratio and just a couple of Scart connectors round the back - at least not without a hefty addition hardware cost for a suitable adaptor.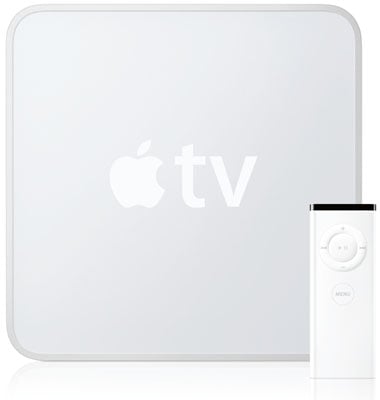 Apple's Apple TV: lots of hardware, small box
Apple doesn't supply any cables with the TV unit which is annoying, but a full set of HDMI, component, RCA and optical cables would add about £50 to the retail price so we picked up the phone and got TechLink to send us one of its WireCR range of HDMI cables.
There's no software in the package as you need to download the latest version of iTunes, but realistically the majority of prospective Apple TV customers already use iTunes to sync their iPod.
You control the Apple TV with a remote that looks like an original iPod Shuffle or, indeed, like the one you get with an iMac or MacBook. When you connect the Apple TV unit to your home network it pops up as a device in iTunes and you key in the five-digit code displayed on the TV screen to authorise the link.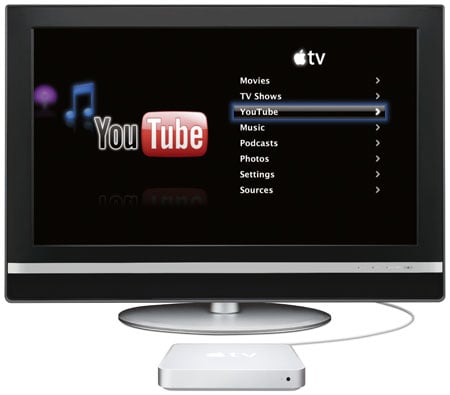 Apple's Apple TV: grainy YouTube Flash videos blown up to 720p, anyone?
Syncing content from iTunes generates a second five-digit code, presumably to double-check your content isn't being snaffled by another member of the family who also has an Apple TV. We were surprised to see that iTunes reported a total of 11,730 items on our hard drive and saw that it syncs in a specific sequence starting with movies, then TV, music, podcasts and photos. We saw that the 160GB drive has 144.63GB available capacity which is considerably less than we'd expect, even allowing for formatting the drive and the cut-down version of Mac OS X that the Apple TV runs.
Exploring the menus unveiled a large number of movie trailers that were presumably pre-loaded on the unit. The quality of these trailers was none too impressive so we bumped up the default 720p picture setting to the maximum quality setting of 1080i. The picture improved significantly, but even so it wasn't all that great.
Navigation of the menus is as intuitive as you'd expect from an Apple product. If you can drive an iPod then you'll find the Apple TV a doddle, and so too will your mum or - dare we say it - the wife.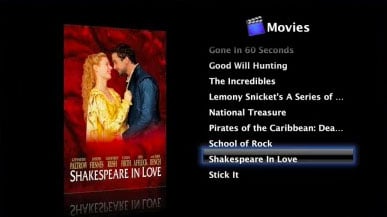 Apple's Apple TV: gran-friendly user interface for movies...
The clue lies here, where Apple spells out the list of supported formats which includes H.264 at 1280 x 720 and a data rate of 5Mbps, as well as MPEG 4 at up to 3Mbps. If you want to play movies from the iTunes store the quality is limited to VGA (640 x 480).
Mac users can try Elgato's H.264 USB-connected video encoder - reviewed here - and there's a similar unit for Windows users, Instant Video To Go, from ADS. Both should be able to recode video for the Apple TV in a way that yields better looking pictures.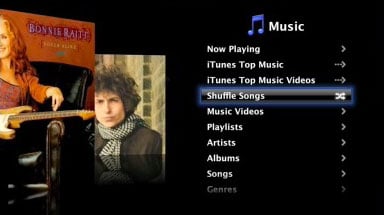 ...music...
Then there's the extensive list of formats that aren't supported, which includes DivX, MPEG 2, WMV and Xvid. Take all those points in combination and the list of movies and TV shows that you can watch is limited and will very likely look quite poor on your enormous HDTV.
Of the various movie clips that we watched, the best was a DVD rip of an old Doctor Who from the early 1980s, possibly because it was originally recorded in an analogue format, while modern recordings of CSI which were broadcast in 720p looked less than impressive as the blocks and artefacts were clearly visible.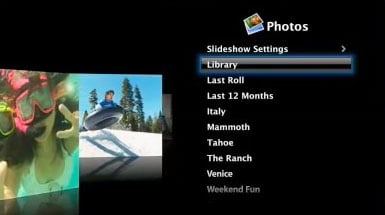 ...and photos
The other oddity is the Apple TV's YouTube feature, which allows you to watch clips quickly and easily. They're usually shown in a tiny window on your computer screen and here they are, blown up to enormous size on your TV and - guess what - they look absolutely dreadful.
Audio support is less of a shock and you can listen to the same AAC and MP3 files that you have on your iPod but - and this is the question - do you want to listen to music through your TV? I don't, and I can't think of anyone who does. Fortunately, the RCA stereo ports allow you to hook the gadget up to both your TV - for navigation and track selection - and to your hi-fi for amplification. Just remember to mute your TV first, OK?
Verdict
Unlike previous media extenders, the Apple TV takes Mac- and PC-sourced content and displays it on the big screen, quickly and easily. However, the list of supported formats and bit-rates is so short that its effectiveness is severely curtailed. Bring on the Apple HDTV.