Original URL: https://www.theregister.co.uk/2007/10/03/jan_baan_cordys_interview/
Jan Baan slices through the 'bullsh*t'
Passionate, crazy old guy takes on BPM
Posted in The Channel, 3rd October 2007 15:40 GMT
Interview Database legend Jan Baan is a man on a mission to kill old software business models and shake up IT departments everywhere.
But how is the self-proclaimed "passionate, crazy old guy" going to do that?
Baan reckons the answer is through simplifying business process management (BPM) software, not by building it to last but instead by building it to change.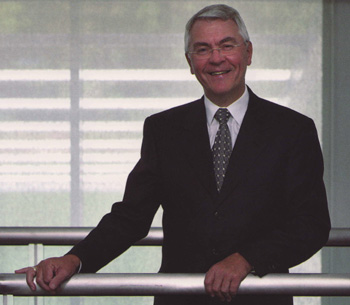 The Dutch entrepreneur has a colourful past, having played a key role in the history of enterprise resource planning (ERP) software. He founded the eponymous Baan company in 1978, which for a time in the 1990s vied for the top spot up against market rival SAP.
But ultimately, Baan admits building components to have different data models under one monolithic model was not without its problems. In 1998, following several successful investments in Top Tier, he sold his firm to SAP for $400m.
Baan, who describes the database business as "the mother of all complexity", has for the past few years been working on a new project. Putting his money where his mouth is, he has pumped €200m into Cordys, a firm he co-founded with Theodoor van Donge in 2001.
Emerging blinking into the light after a long stint underground developing his latest venture, it's hardly surprising to find Baan in good, chatty spirits.
So, is he humble enough to accept the mistakes he has made in the past?
"Of course. You know some people say that 'Jan Baan is the guy who pushed the vision, he was always early, most times ten years before'. We have a good word for vision, we call it bullshit. The truth is I can only learn from my mistakes from yesterday and the pain from today - I'm long enough in business and I'm a fast learner."
He reckons the sticking point with his previous firm was with its inability to do the "E" part of ERP. Baan concedes that the software was more like "Distributed Resource Planning (DRP)" and says he knew back then that the future was SOA and web-based platforms.
Today, helping to drive his new BPM vision, Cordys has some 300 engineers based in India developing the software which Baan confidently wants to push on to the global market.
And he doesn't want to see his hands tied behind his back by Wall Street. "Bill Gates ten years ago could have built a product like Google, but he is no longer the guy who handles the top technology architects because Wall Street told him to take a step back."
"In an old wave I'm still a part of the new wave," he continues, "because what I'm doing is disruptive technology and it is killing old business models. But there's no room for disruptive technology within Wall Street because the shareholders don't like it because it grows for years, not for tomorrow and not for this quarter. This is why you need a passionate, crazy old man who has low-hanging fruit access to the market."
Baan admits that previously seeing his name over the door every day boosted his ego far too much, and that it put a stop to encouraging innovation at the firm. But he says his role today as chairman of Cordys has allowed him to take a small step back while still pushing his vision for change. And he reckons that tactic is paying off, with investors' expectations for the future of the business set high.
The firm currently has offices in the UK, Germany, China and India, and Baan explains that it will continue to push for growth. "You need to make your partners hungry and so, over time, we will begin to go more for the indirect model with this software."
But how does the Cordys BPM product compare to its rivals in the database market?
"SAP is maybe a little further than others, but there's nothing integrated with the business process, the tools are totally isolated. Oracle is the same; they are very inventive with the single bill system. But they have no clue what back-end means because they have come from an enterprise approach, they are missing the complexity of the back-end. This is where we are different from all of them. We do everything in one step."
Baan claims the SOA market could generate $150bn in the next few years; however, he is unwilling to disclose the firm's revenue expectations. He reckons that the market is ripe for Cordys to take advantage of but, given the current financial turmoil, is the market ready for him right now?
"You need change and you need pain. Turmoil is sometimes beautiful because everyone understands that yesterday's luxury is over." ®