Original URL: https://www.theregister.co.uk/2007/10/02/special_ops_hydrogen_3g_hdtv_strato_droid/
US Special Ops buys hydrogen droid strato-comms tech
Super-troopers offer 3G coverage, HD propaganda
Posted in Science, 2nd October 2007 13:57 GMT
The US Special Operations Command (SOCOM) has decided to buy a hydrogen-fuelled robot plane which can cruise at 60,000 feet or more for five days at a time.
The cost-plus deal allocates $57m for an initial "Global Observer" drone, with options for an additional two aircraft which could take the total value to $108m.
SOCOM commands most of the USA's well-known-yet-frightfully-secret elite forces, including Navy SEALs, Army Green Berets, Rangers etc. It also controls a substantial fleet of aircraft, including Spectre gunships, various helicopters, and soon the long-awaited CV-22 "Osprey" tiltrotor, also going into service with the US Marines.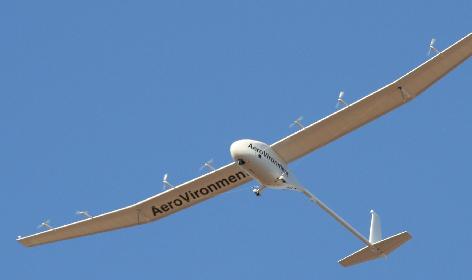 Forget satellites, this is what you want.
Now, however, SOCOM is moving into the High Altitude Long Endurance (HALE) aircraft world with the Global Observer. According to Aerovironment, the maker, a Global Observer will be able to make "five to seven day" flights at "55,000 to 65,000 feet... A system consisting of two or three aircraft will provide continuous [spying] or communications relay over an area of interest."
It has sometimes been assumed in the military/tech press that Global Observer's prime mover is hydrogen fuel cells, but in fact Aerovironment and SOCOM are careful to avoid saying this, merely describing the vehicle as "hydrogen powered". One does note that this federal government notice dated from January says:
AeroVironment designed and built a hydrogen-fueled internal combustion engine and power-plant and successfully demonstrated it in an altitude chamber for a non-stop mission profile of five days at simulated operational environment above 65,000 feet. Hydrogen power is a critical technology to achieve the long duration requirements of the UAS. AeroVironment is currently executing a risk reduction program to develop and demonstrate a full-scale, flight prototype power-plant, propulsive motor, and liquid hydrogen fuel tank under a contract with USSOCOM.
This suggests the Global Observer may get some or all of its power by burning hydrogen in a fairly ordinary internal-combustion engine. It's possible to speculate that this engine will drive a generator feeding electric-drive propellors, rather than using a gearbox.
The aircraft pictures, the very limited capabilities of current fuel-cell aircraft, and the fact that the Observer will need lots of electricity to power its spyeye or comms payload all tend to bear this out.
So does the fact that the Orion drone, also hydrogen-fuelled for high-altitude loitering, is said to be driven by nothing more technically advanced than a supercharged Ford car engine, albeit in this case one coupled directly to the propellor.
Car engines will fairly happily burn hydrogen, but on the ground there are severe problems with the cryogenic liquid fuel boiling off from even very well insulated tanks - it's typically all gone within days. That's probably not so much of an issue up in the freezing heights where the Global Observer will fly, however.
SOCOM doesn't reckon the Orion and its makers Aurora - now owned by Boeing - are ready for prime time, though, contending that Aerovironment are the only ones who can really make HALE aircraft at the moment.
"Only one responsible source and no other supplies or services will satisfy the agency requirements," it says.
Aerovironment, naturally enough, agrees with this. The company reckons it has a lock on various unique technologies.
"AV develops and commercialises entirely new solutions that offer our customers valuable new capabilities," says Tim Conver, Aerovironment's chairman and CEO. "We believe that Global Observer represents a game-changing new capability for defense, homeland security and, ultimately, commercial applications.
"We have developed the unique sub-systems necessary to enable this new category of aircraft. We intend... to deliver a brand new value proposition – affordable persistence in the stratosphere."
Aerovironment reckons (pdf) HALE comms platforms could provide a good alternative to satellites or 3G phone towers. It suggests Global Observer-like craft could orbit at 65,000 feet over countryside and cities, far above weather and air traffic, offering up to 50 Mbit/sec two-way connections to ground stations whose antennae could be "as small as two inches".
The company figures that a single Observer drone in flight (equating to one up and one or two on the ground) could cover an urban area 50 miles in diameter or a rural one five times as wide. Aerovironment says it's already carried out successful trials with airborne 3G cells using off-the-shelf handsets, and HDTV relays too.
Comms relay seems like much the most likely military mission, though it might perhaps be a while until SEALs and Green Berets can get HD sports coverage in Afghanistan. Still, it does seem quite plausible that Afghans will soon be able to get all sorts of American propaganda psyops 'casts from on high.
As if that wasn't enough, the Aerovironment chaps have another trick up their sleeve - a portable tube-launched combination drone/missile called Switchblade. This can be fired off from a soldier's shoulder, popping out its wings and flying about for up to 15 minutes as an eye in the sky. When it finds a target - a sniper, a mortar team, whatever - or is passed a target by another observer, it can plunge down like a miniature mechanoid kamikaze, detonating its explosive warhead on impact.
Never a dull moment in the pork-tech sector, that's for sure. Aerovironment's press release is here. ®