Original URL: http://www.theregister.co.uk/2007/10/02/review_sony_nwdb105/
Sony Walkman NWD-B105 2GB MP3 player
Simple 'n' sweet?
Posted in Personal Tech, 2nd October 2007 11:02 GMT
Review With increasing hard drive sizes, the arrival of touchscreen technology and ever more features and falling prices, it's easy to forget the more humble end of the personal digital music player market. However, Sony's NWD-B105 proves there are still some good value and strongly featured products at the lower price points.
At this end of the market, the look and feel of the product is perhaps even more important than on more expensive items. With fewer features to win over prospective buyers, the product needs to make a good first impression. The NWD-B105 comes in three basic but attractive colours: black, white and violet. At 30g, it's extremely light and has a pleasant, almost soft-to-the-touch coating on the outer shell.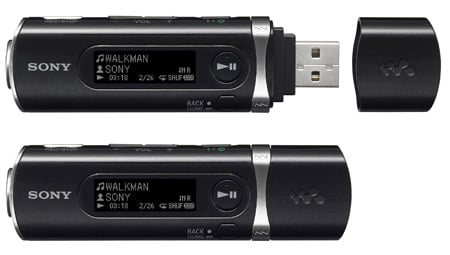 Sony's NWD-B105: available in black...
Aesthetics aside, the product's most noteworthy trick is that there's no software bundled with the product. The normal SonicStage app is missing, presumed lost.
Instead, this player is all about simplicity. A basic-looking folder icon appears a few seconds after connection. With a sub-folder for storing any voice recordings made or transferred onto the player, files are just dragged over from the computer. The no-nonsense approach is continued with a built-on USB jack which plugs straight into the computer, so there are no cables to lose, tread on, lend out and never get back.
Getting the machine up and running is simple as well. From new, a full charge took just under an hour - although the figure quoted in the manual is 120 minutes. File transfer is fast, too. On a player with this kind of memory size - 2GB, to be precise - lots of transfers, often of singles or a couple of albums, are going to be taking place. Happily, one album buzzes over in well under a minute, and a more random selection of seven took just under ten.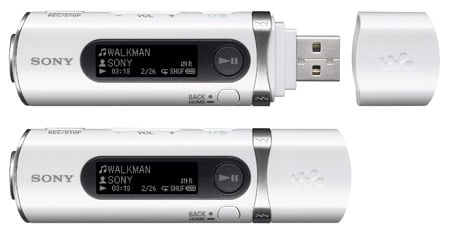 ...and white...
Sony quotes a storage capacity of 999 songs, but that's at 48Kbps. Choose 256Kbps and the number drops to an acceptable 250. A feature we particularly liked was the built-in software which can automatically pick the most recently added tracks to a PC, so the unit carries always the user's most recently downloaded files.
Once files are on the unit, the emphasis is again on simplicity. We reckon even someone with very little experience of using an MP3 player could find their way around the menu system. On the main menu there are only three symbols: Settings, Music and Voice, all indicated by very obvious icons. We also found that using the fast forward and rewind buttons on the collar of the unit and the Back button was an obvious and easy way to get around.
Other settings include Repeat and Shuffle options. A power saving facility offers three separate settings: normal, super save or off - essentially they're how quickly the device automatically powers down. Normal setting is fine, but we thought the super save was actually too quick, sometimes kicking in before you can make up your mind what you want to do.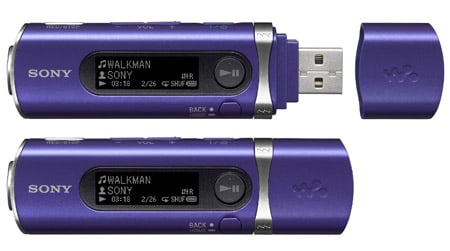 ...and, finally, violet
Playback times are listed as 12 hours for 128Kbps MP3 tracks and nine hours for 128Kbps WMA songs, which we found to be about right.
Music listings themselves come with the expected album, artist or all songs options, but the unit also recognises folders that have been created on a computer and transferred over.
Unusual for a product that's trying to keep things simple, there are several EQ options available. The Heavy setting throws a bit more bass into the mix, but the overall effect is a bit tinny. The Rock setting was better with the extra bass of the Heavy setting given a much warmer delivery. Classic sounds a little flat, but does smooth things out a little and adds detail. Pop pushes all the treble up and gives everything a sugary veneer. However, the unit sounds really good on Normal so we didn't really see the need for the extra options. In general, the sound is well organised, detailed and with less of the lifelessness that some other MP3 players deliver.
However, if you're really caught up with the idea of controlling the sound, there is a custom option where you can adjust the various different bass and treble levels to get the sound exactly how you want it.
Volume is often a problem with these players, but the unit does well here, with enough power to deal with a noisy street or to annoy the hell out of the person next to you on the train.
The voice record also has several different quality settings to choose from - High is 192Kbps, Mid is 128Kbps and Low 96Kbps. We didn't notice too much difference between the two higher settings. Playback is clear, with little distortion or hissing at the end of words or around 's' sounds, which some recorders often struggle with. The low setting had less definition and is only really suitable for recordings of a single voice in a quiet environment.
Verdict
This is a friendly little player that delivers good sound in a simple-to-use package. Features like updating the most recently downloaded tracks add that little extra to the player to place it ahead of some of its rivals, and at under £45 it's just good old fashioned value for money.