Original URL: http://www.theregister.co.uk/2007/10/01/review_lg_kg271_kg275/
LG KG271 and KG275 budget phones
Two not-half-bad cut-price handsets. But when will the UK see them?
Posted in Phones, 1st October 2007 11:02 GMT
Review We at Register Hardware were enthusiastic fans of Motorola's Motofone F3 - reviewed here. The very simplicity and purity of design seemed to us altogether worthy and estimable. Rather like the Mini - Sir Alex Issigonis' 1959 classic, not the BMW ersatz retro foisted on us today - the very lack of frill and fancy seemed possessed of an intellectual purity not often seen.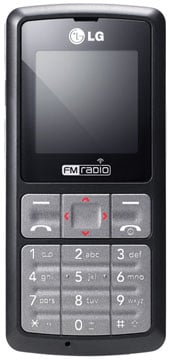 LG's LG271: FM radio on board
In an era of ever more complex handsets with keyboards that slide and swivel in more ways than the Einsteinian universe seems comfortable with, with yet more power-hungry applications shoehorned in even though most users will never need nor use them; with cameras that are not, when all's said and done, very good cameras, and media players that are not a patch on an iPod; the F3 was like a pint of honest bitter in a world of strange drinks with unpronounceable names or the world 'lite' in them.
Alas, longer association with the F3 proved it not to be without its faults, the ClearVision display being the most obvious. Clear and easy to read, and very meagre on the power to be sure, but effectively useless for texting, giving no more than 2 x 6 characters per screen.
A perhaps more satisfying answer to the same question the F3 tried to answer has recently been released into several key Asian markets by LG in the form of the KG271 and KG275 candybar handsets. The 'less is more' logic has perhaps been applied less ruthlessly than with the F3, but the end result is more in tune with most users' day-to-day needs.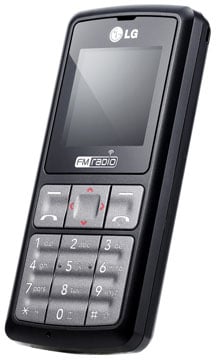 LG's LG271: good to use keys
Both the 271 and 275 share basic dimensions of 9.8 x 4.5 x 1.3cm, though the 271 is the lighter of the two at 59g, compared to the 275's quoted 72g. The only functional differences between the 271 and the 275 are that the former is dual-band (GSM, 900MHz and 1800MHz) and comes with an FM radio while the latter is an FM-less tri-band (GSM, 900MHz, 1800MHz and 1900MHz).
Neither handset comes with much in the way of internal memory, and nothing by way of memory expansion, but each has a 300 entry phone book on board along with room for 100 stored texts and a few pics etc. Each unit also comes with 16 polyphonic ring tones and three wallpapers for greater "personalisation".
Both handsets are handsome enough - though the 'FM Radio' sticker blazoned across the face of the 271 does it no favours - and come with clear, bright 65,536-colour, 128 x 128, 2.7cm-square screens. The keyboard of the 275 is the better looking of the two, being the same colour as the handset body. However, the grey single-piece keyboard of the 271 is better damped than the standalone keys of the 275 and feels better to use. It also lights up with a more uniform and pleasing glow when activated.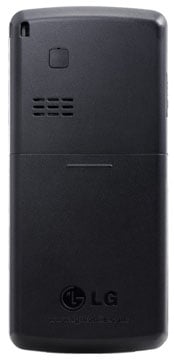 LG's LG271: camera-free but skinny
Ease of use is exemplary. The left hot-key takes the user directly to the first menu title page (Messaging) then lets you scroll down through Contacts, Call History, Settings, Alarm, Organiser (Calender and Memos), the FM radio on the 271 and finally Tools (Calculator, Stopwatch, World Clock, Unit Converter and something called Lost Mobile Track, of which more below). In any of these menus, a left or right scroll allows the user to move to the main access page of the next menu along - a nice touch.
The right-hand hot-key can be set to create a list of ten commonly used favourites that can then be accessed directly. All in all, then, one of the best thought-out menu systems we've seen on a mobile for quite some time. A bonus not expected on a handset of this price is the ability to add words to the T9 predictive text dictionary. Each LG handset comes with a charger and hands-free stereo headset, the latter needed on the 271 to listen to the FM radio.
LG quotes 120 hours' stand-by time and four hours' talk time from a full charge, not a claim we have any reason to query. Charge up time from flat is around the three-hour mark. The FM radio on the 271 is a more than acceptable bit of kit, auto-tuning the ten pre-set stations in a matter of seconds and providing decent enough playback through the supplied headset.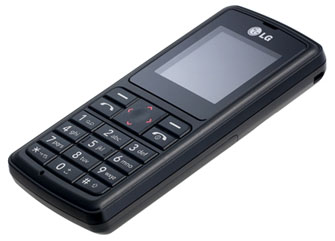 LG's KG275: 'I've been stolen!' messaging built in
Both models come with something called Lost Mobile Track which seems to be some sort of doodad that sends an SMS to a pre-selected number in case of loss or unauthorised usage. If that sounds a bit vague and missing such vital info as how or why, it's because the manual to our 271 is all in Thai, it being purchased in Bangkok after one of our more adventurous hacks lost his Sony Ericsson K610i under as yet unexplained circumstances... You just can't get the staff these days. Still, all in all it sounds a useful feature, if only we could get it to work...
At the time of writing we can find no sign that LG intends to release either of these handsets in the UK, which is a shame as both are decent and desirable phones ideal for anyone who wants a spare handset or just a basic phone without a camera or media player. Based on current MRRP prices in Thailand, the KG275 will set you back about £22 and the KG271 around £27. The Motofone F3 comes inbetween the two at around £24. The fact that one major UK retailer currently has the F3 on offer for a tenner plus £10 of airtime would perhaps suggest a similar price for the LG phones if they ever make it to these shores.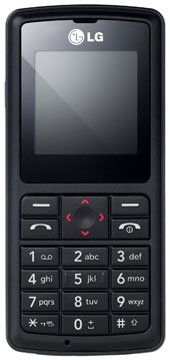 LG's KG275: business-friendly looks
Which does rather lead to the question: Just why is it so hard to buy a modern, cheap, unlocked handset across the counter in the UK?
On a recent trawl of stores in Manchester, the best we found was a £30 Samsung C300 in Asda. Sad to say it was locked to Orange so that involved driving to an independent specialist and getting it unlocked for a further £8, so nearly £40 spent - not including petrol - and the C300 is getting a bit long in the tooth.
Alcatel handsets are often seen advertised at low prices, but supply seems to be a constant problem with retailers large and small, and most seem locked. Entry-level Nokia handsets such as the 1112 are quite simply antediluvian.
Yet in many parts of South-East Asia one can nip into any half-decent electronics emporium, pick up a new, modern, unlocked handset such as either of the LG models above for little more than £20, grab a SIM card from any corner Seven-Eleven or Family Mart along with a pre-paid top up card, and, bingo, you're good to go.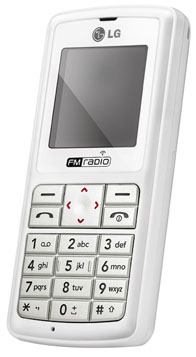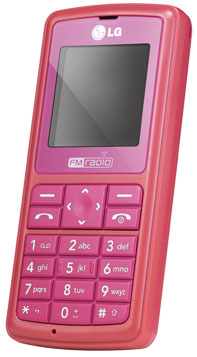 LG's KG275: and not-so-business-friendly looks
It's hard to feel we are not only making things unnecessarily complicated in the UK, but also being forced to buy more complex, more feature-rich phones than many of us actually need.
Verdict
LG has come up with a fine pair of phones. They're well made, small, light, easy to use and with plenty of features for the price. OK, there's no camera, Bluetooth, games or a media player, but for the core content you have to like them.
Looking for a cheap phone to use abroad that you can face losing? Look no further than either of these two...