Original URL: https://www.theregister.co.uk/2007/09/26/toshiba_x205_satellite/
Toshiba ups the game with laptop duo
Gaming on the go
Posted in Personal Tech, 26th September 2007 13:10 GMT
Toshiba has lifted the lid on two laptops, full to bursting with performance and gadgetry. Part of the Satellite range, the X205-SLi1 and X205-SLi3 are pitched at the avid PC gamer - with extra features to ensure mobility and connectivity.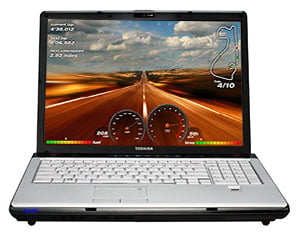 Satellite X205: for gamers and, possibly, film lovers
Both machines are based on an Intel Core 2 Duo CPU, although the SLi1 uses the 2GHz T7250 and the SLi3 has the more powerful 2.2GHz T7500. Each has a maximum 4GB DDR2 memory capacity, although both machines only ship with around half of that capacity used. However, 2GB is sometimes considered a "starting capacity" for gaming-orientated machines and is enough to run Vista – as both machines do.
As the SLi3 model is the more expensive of the two, it would have been nice to see Toshiba up its graphics performance over the SLi1. Unfortunately, it's chosen to ship both with Nvidia GeForce 8600M GT GPUs, each with 512MB GDDR3 memory. Toshiba has also crammed two SATA hard drives into each machine, giving the SLi1 240GB and the SLi3 320GB across two equally split-capacity drives.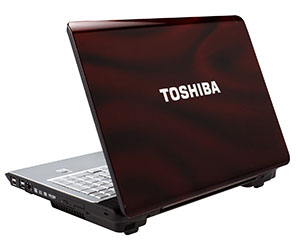 The X205 looks pretty slick too
Each machine has a 17in widescreen display, making them good for watching DVDs. The SLi1 has a lower spec 1440 x 900 resolution, and its counterpart a slightly better 1680 x 1050 resolution. The real bonus of the SLi3 is the Toshiba external USB HDTV tuner, through which users can run games or watch films at either 720p or 1080i, but not "true" HD. Four built-in stereo speakers and a subwoofer are also included in both machines, which may help your games or DVD sound slightly better than average tinny laptop speakers.
Wi-Fi is possible over 802.11 a/g/n and short-range connections over Bluetooth 2.0+EDR with both machines, although Toshiba hasn't opted for version 2.1+EDR, which was recently adopted as the succeeding version by the Bluetooth Special Interest Group. To ensure they have all the bells and whistle required, Toshiba has also thrown in a webcam, microphone, and fingerprint reader.
The Toshiba Satellite X205-SLi1 and X205-SLi3 are available now in the USA for $2,000 (£1,000/€1,350) and $2,500 (£1,250/€1,500) respectively. There's no mention of a UK release yet and neither machines appear on Toshiba's UK website.