Original URL: https://www.theregister.co.uk/2007/09/24/review_apple_iphone/
Apple iPhone
The web in the palm of your hand
Posted in Personal Tech, 24th September 2007 13:50 GMT
2007's Top Products We've already reviewed Apple's iPhone, so why are we taking another look? There are several reasons. First, a different reviewer means a different opinion. That applies to any product, of course, but Apple's claim that the iPhone is "revolutionary" perhaps justifies an alternative appraisal.
Second, the first review was of a device limited by the shackles of AT&T's two-year subscription requirement. With an unlocked model, this reviewer is much less restricted. Thirdly - and this is the killer, really - having used the iPhone as my sole communications device for a time, I think it's bloody marvelous and I'd like to explain why.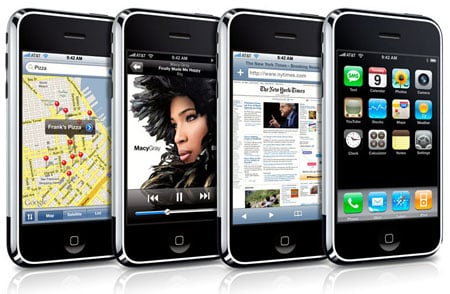 Apple's iPhone: four devices and more... in one
I bought the iPhone to explore the unlocking process, and because I was in the US and flushed with the joy of a 2:1 dollar to sterling exchange rate. More money than sense? Well possibly, but I went ahead, promised the young lass in the AppleStore I would only be using the handset in the States - the pommy accent a bit of a giveaway, clearly - and took it back to my hotel room to unlock.
I've talked about this process already - you can read about it here - so I won't go over it again. Suffice it to say, half an hour later I had a working iPhone with - ironically - an O2 SIM loaded. Ironically - again - I was roaming via the AT&T network.
The first thing to do was load up some content and sync all my calendars, contacts, browser bookmarks and so on. Enter iTunes, which provides the relevant functionality. I use a Mac predominantly, so Mac OS X's iCal, Address Book and Safari apps were already well-stocked with appropriate data, and I'd taken the liberty to prepare iPod-friendly versions of some videos I own, just in case.
Getting all this information, along with some music and photos, was easy, but it could have been easier still. Synchronising PIM data, no problem, but the other material has to be copied using a sync process to. With my iPod Nano, I'm used to grabbing songs and albums and dragging them, within iTunes, over to the iPod icon. That doesn't work with the iPhone - you have to set up a playlist into which you drag the songs you want and then sync. This is very irritating, especially if you like to move your songs and videos around frequently.
I had no Wi-Fi in my hotel room, but San Francisco's Moscone centre did have a WLAN, courtesy of the Intel Developer Forum, the reason for my visit. I popped over and the iPhone quickly popped up a list of networks for me to choose from, which I did and had almost immediate access to a fast internet connection.


Apple's iPhone: skinny
Web connectivity is what the iPhone is really all about. If the unlocking process hadn't worked - or I inadvertently apply an update that reapplies the lock - at least I'd have not only a decent iPod but also a very smart web device.
iPhone comes with a variety of web-centric apps: not only a browser, Safari, but also Mail, Stocks, Weather, YouTube and Maps. With the exception of YouTube and Stocks, I've used all these applications on a daily basis since I got my iPhone. That's right, used - not played with and then forgotten, but used.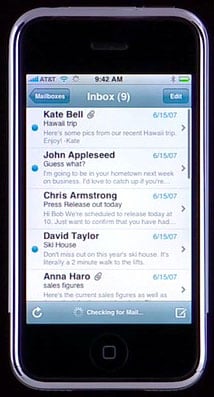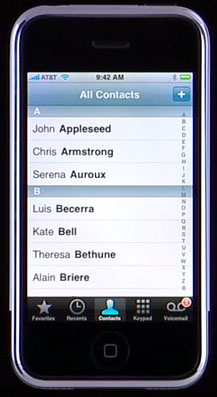 Mail and (right) the Phone app's contact list
Mail's self-explanatory and works as well as any mobile email client does, though Apple makes better use of the bigger screen space than a lot of its rivals do - your inbox can show more than two lines of each email, for instance. I set it up with my Gmail account, and it works just fine. There are no filters, alas, and I've yet to work out how to add new email archiving folders, but I'll get there.
I've already viewed a variety of incoming PDF, Microsoft Word and Microsoft Excel attachments, but there's no editing.
Other handsets allow you to access weather and mapping data, but it's invariably done through either the web browser or, more commonly, the carrier's crude WAP site. iPhone's apps save you the bother, tying into Yahoo! and Google's free-to-all online services for the data that will be displayed in a visually stunning way. I'll discuss iPhone's UI later on, but for now it's enough to say it looks superb. Whatever else Apple may or may not be able to do well, it can do amazing graphic design.
Weather proved a frequently used tool for me. I set it up to show London's climate, but I quickly added San Francisco - because I was there - and later Brisbane, Australia, home of my wife's folks and a city desperately in need of rain. I can now see when they're going to get some. And I can add further locations as and when I visit them. Vacation to Sicily? No problem, just tap the Edit button, type in 'Palermo', hit Search and up it comes. Done. Now I know exactly what kind of clothing to pack.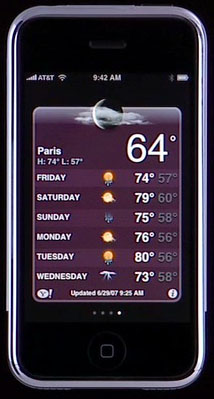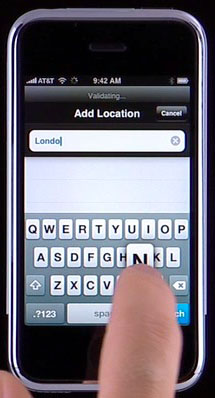 Weather: view a forecast and (right) add a new location
World Clock isn't a true internet application, but again it's one I found myself using very frequently. Setting up clocks for - again - London, Brisbane, San Francisco and - this time - Taipei gives me an instant readout of times in key locations for me and an at-a-glance indication of whether everyone's up or still in bed.
Again, other platforms do this kind of thing, but not as well. I mean, does Windows Mobile 6 even have daylight saving time support yet?
Maps proved useful in pinpointing The Register's San Francisco office. I knew the address, but not its locale. Maps showed me, and allowed me to bookmark the location for the next time I'm in town. It'll even plan routes, but with no GPS facility there's no turn-by-turn guidance. But then the iPhone is a handheld tool, not a device you just stick in your car. I found it good for guiding me around a city, kind of like a virtual tour book. It'll show satellite photographs of your locale too.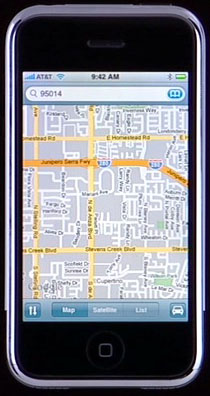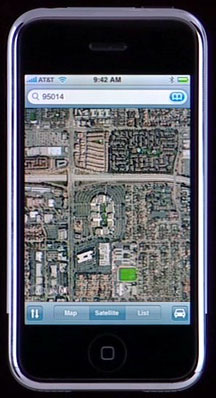 Maps: standard charts and Google Earth satellite pics
There's a bug in Apple's code: enter two bookmarks into your start and end locations, and the iPhone sends off the name of the bookmark, not the stored address. Entering addresses manually works, and showing the location of a bookmarked address works, but not the route-planning bit.
You'll still need to your Lonely Planet guide for restaurant and sight-seeing recommendations, but the iPhone makes a big improvement on the book's tiny maps or fold-out charts that get left on trams.
Or maybe not. The iPhone version of Safari can connect you to online city guides, so perhaps you don't need the paper guidebook after all. Safari is, without doubt, the best-looking mobile browser, by a very long chalk. It's not as fully featured as the desktop version, but then most mobile browsers aren't either. What it does do, however, is make a very good stab at presenting the page as you'd see it on a desktop - so there's none of that misplaced columns and poorly aligned graphics you get with many other mobile browsers.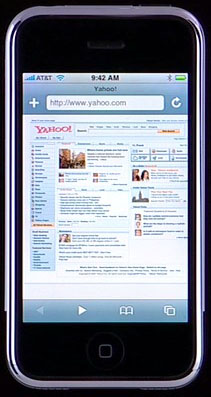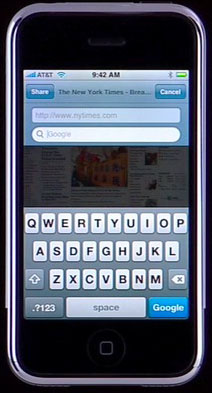 Safari: desktop-like view, fit to screen, or type a URL (right)
Since iPhone synchronises your Safari bookmarks, there's no need to re-enter them on the handset, but keying in fresh ones isn't too much of a chore. No, the virtual keyboard isn't as quick to type on as a physical one, but it's not much less so, and it beats typing or tapping with a stylus on the tiny virtual keyboard Windows Mobile presents.
The iPhone is supposed to learn from your typing style, dynamically calibrating itself as you use it. I certainly found myself starting slowly but gradually picking up a little speed as my (apparent) correct-letter rate improved. Was that me, or the iphone responding with a better forecast of which letter I intended to type? I can't say, but one way or another my iPhone typing got better.
But the iPhone's not just about typing, it's a gesture-reading device too. Safari's initial image of a web page may be too small to read - just put two fingers down on the part of the screen you want to look at more closely, drag them apart, and Safari zooms in - dynamically, in real time. This device is, for a handset, incredibly responsive. There's the tiniest of lags while the Safari redraws the screen when you stop moving your fingers - the scaling's cleverly done at low resolution to keep it moving - but it never spoils the sensation of speed and certainly won't leave you wondering when you're going to get to look at the page.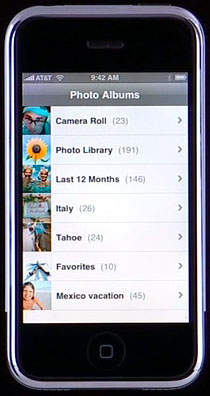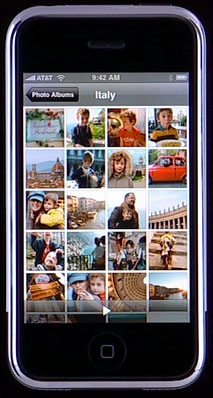 Photos: folders lead on to thumbnails...
Pinching your fingers zooms back out again, and you can press and drag a finger around the screen to move around the page. Use your finger to literally flick through lists and side-by-side panels as though they were printed on a freewheeling dial. Double-tap to zoom up a column to fit the screen. The point is, it's flexible - there are no fixed zoom levels, and you're not limited to either thumbnail or full-size. And you can have multiple pages open at once, allowing you to flip back and forth between them, quickly and at will. The wife and I had no trouble sharing the iPhone to explore the websites of Sony and Toshiba for the new laptop she wants to buy.
Some reviewers have found pages that Safari doesn't render too well, but I found only one that didn't quite follow the desktop layout. But it was still readable, and no worse than it would have been under another device's browser. And Safari will improve over time.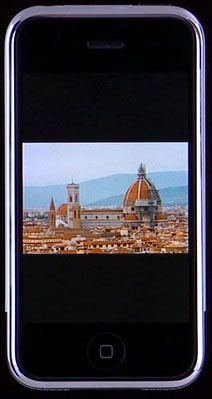 ...to individual shots. Wrong orientation? Just turn the iPhone...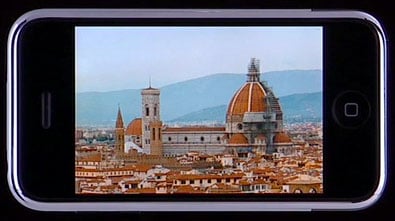 ... to reformat the image, almost instantly
Gestures work in other apps too - you zoom in and out of pictures in the Photos application in just the same way. My iPhone is loaded with a couple of dozen piccies of my missus and our little boy, and it was nice to take a moment to watch them in a smoothly flowing slideshow. Nothing new here, but physically rotate the iPhone sideways through 90° and the landscape picture automatically expands to fit the new display orientation. If the next picture's a portrait, just turn the phone back round again. Just like zooming, this re-orientation is smooth and quick - unlike the Windows Mobile and the Symbian phones that offer this feature - and you don't have to press anything to make it work. It just does.
Well, almost. The iPhone likes to be almost vertical when you turn it - if you're holding the device so it's angled away from you, the sensor sometimes doesn't register the change. A flaw? Yes, but an imperfect rotation sensor is much, much better than no sensor at all.
And, like Nintendo's Wii remote, it's going to make for some very addictive motion games.
Rotating the iPhone when you're running the iPod application flips the album view into Apple's now famous Cover Flow mode. Here, unlike the underpowered iPod Classic, the motion of the album covers is fluid, with almost no sign of jagged edges. There can be a slight lag while the images first load, but not one that interrupts the movement or hinders your ability to select tracks to play.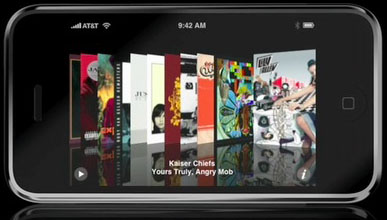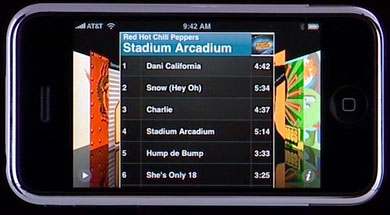 Unlike the iPod Classic, Cover Flow works well here
Turning doesn't work with the list of on-board videos or a movie that's being played - these resolutely remain in portrait and landscape orientation, respectively, no matter what you do. While this loses Apple a few points, it's not exactly a deal-breaker.
Video playback on the iPhone's 3.5in, 480 x 320, 163dpi screen is excellent, by the way. It's no TV, of course, but it beats watching video on a more standard-sized phone display - and, for that matter, the analogue screens in the back of airline seats. I like the way you can play full screen or full ratio with just a couple of taps on the screen. The sound's excellent, though once again the iPhone is a handset that will not take a standard pair of headphones, such as my noise-reducing Shures. Yes, the phone has a 3.5mm socket, but it's recessed - entirely unnecessarily, as far as I can see.
I can only guess Apple did it to ensure folk use the bundled headset, which includes a tiny microphone unit and remote control so you can take calls - whatever's playing fades quickly away and pauses when a call comes in - and pause/play/skip tracks. But it really should have bundled an adaptor.
It's bundled plenty else. After years of shipping iPods without an AC adaptor or a dock, the iPhone comes with both. The wonderfully dinky AC unit has a standard USB port, into which you plug a standard iPod docking cable, also bundled. You can probably use it for other USB-charged devices too.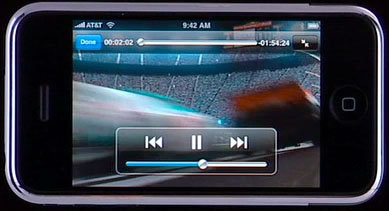 Video playback's good
You also get a cloth for wiping the quickly greasy display. Don't ask me how prone it is to scratches - I didn't try and, frankly, I don't plan to. If you're spending $433/£214 (after California's sales tax has been added), you want to look after your purchase, not shove it in a key- or change-filled pocket. That said, signs are the screen's pretty resilient, though a colleague managed to screen his three-day-old screen. Fortunately, the AppleStore gave him a new iPhone.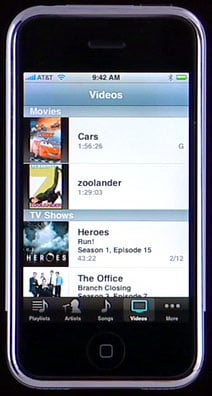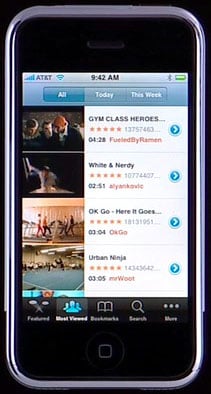 Selecting video on the iPod app and in YouTube (right)
Fingerprint marks are very visible, but the iPhone's glass front makes it easy to clean. Certainly, buffing it up with a hanky or shirt tail cleaned without scratching.
I found the call quality to be pretty good, both on local calls and transatlantic conversations. Since the phone was unlocked, I couldn't access the Visual Voicemail feature, but it's easy enough to dial my regular voicemail number and proceed as usual.
Not you'll know there's a message waiting for you, but the iPhone does list missed calls, and if you get one just call up your voicemail number on the off-chance. The voicemail button can easily be reprogrammed to dial your carrier's voicemail number. iPhone owners who stick with the official carrier won't, of course, face this problem.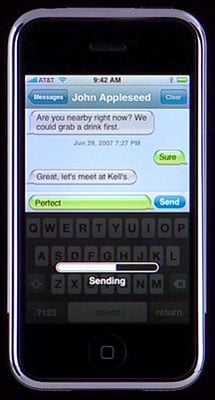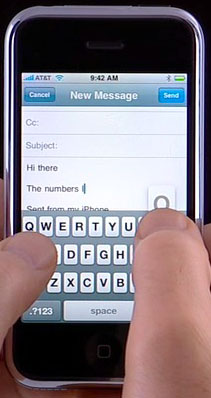 Text: SMS like a Treo... but the virtual keyboard's not like a real one
Nor will the face the connectivity hurdle that I faced when moving beyond the reach of Wi-Fi. It's not an insurmountable obstacle, fortunately - plenty of networks' GPRS settings are available online, and I simply punched in O2's in order to gain access to, when I tried it, T-Mobile USA's Edge network. Edge is just a speed-bump of GPRS, so there's no reason why this should be a hindrance.
Back in the UK, I turned on my iPhone and it connected to the O2 network. Even the tiny E icon appeared to show the presence on an Edge network.
I should just run through the iPhone's other apps, briefly. They're all self explanatory: Notes, Calculator, Settings, Camera and Text. The latter's the SMS facility, which adopts presents messages between the same people as an instant messaging conversation, a trick Palm brought to its Treo smartphone some years back.
Settings is home for all your (limited) customisation opportunities, and it's here you can activate Bluetooth for basic headset connections. I tried the iPhone with a pair of Logitech wireless headphones, but it didn't register their presence, so no A2DP wireless stereo, I'm afraid - a sad omission, though wireless stereo has yet to hit the big time.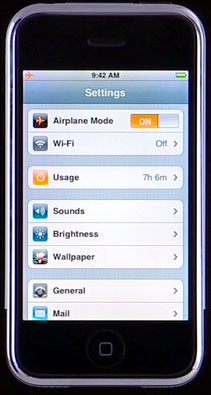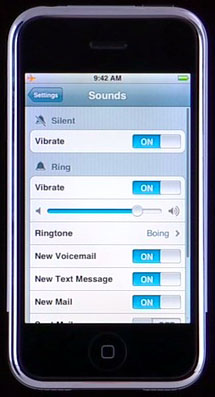 The Settings app and (right) its ringtone section
There's a decent selection of ringtones, but you can add more with third-party apps like Rogue Amoeba's MacOS X-only MakeiPhoneRingtone and Ambrosia Software's iToner. AppTap is a handy tool that provides a way of downloading and installing other applications, including utilities for customising your iPhone beyond the limits Apple applies. Apple won't, but someone else will come up with a VoIP app soon enough.
Now we come to the crunch: is the iPhone any good? Yes, it is. £270 good? Maybe not. It's a good size for viewing information, but isn't so bulky it's uncomfortable to use as a phone up against your ear. In you hand, it's got enough weight to suggest solidity, but not bulk. The lack of a user-replaceable battery is a distinct flaw, but no worse than any iPod.
What swings it for me, is that the iPhone works and works well. It doesn't feel limited in either speed or functionality by its size and portability. After years of trying a wide range of smartphones based on all the major operating systems, it is so good to have a device that doesn't pause for a second or two whenever you change apps, or the screen orientation, or a web page. The iPhone's UI is nothing if not fluid, and that is so welcome and - for me - worth the trade-offs in functionality.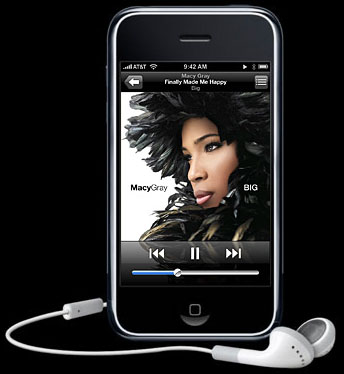 Apple's iPhone: it's a darn fine iPod too
As a phone that also majors in media playback and web access, I'd choose an iPhone over, say, a Nokia N95 any day of the week. Only the much lower price you can get an N95 for might sway me. Actually, no it wouldn't.
The contract is no worse than any other two-year package - 18 months in the UK - from any other carrier, so that leaves us with only the up-front cost of the hardware to consider. Yes, the iPhone is expensive, but you're paying for a device that works so much better than the cheaper ones. And you'd easily more for, say, an HTC handset unlocked than you do for an iPhone. I'd rather have the Apple product than an HTC Touch, for instance. HTC's front-end software is nice, but at heart it's still a Windows Mobile device, with all that operating system's benefits and flaws.
Should the iPhone have had 3G? Yes, and it would have lifted the handset even further above the heads of the competition. I would say that it's worth waiting for the 3G model if you're someone who expects to be loading up a lot of data when you're out and about. Me, I'm happy to check websites, email, the weather forecast when I'm at home or the office, both of which have Wi-Fi networks available. Edge is slow, but it's useable, especially for the apps that just grab a quick bite of data and are done, like Weather or Stocks.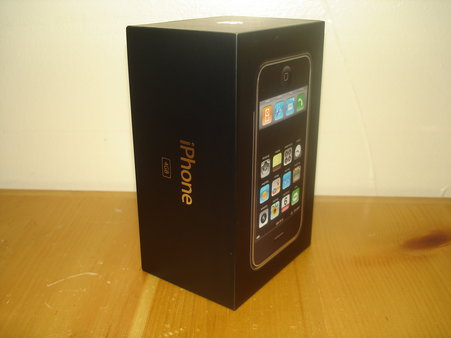 Short of removing the appropriate settings, you can't disable Edge, and the iPhone will attempt to go online any time you run a connected app. Disabling Edge just invokes an irritating 'Edge not available' dialog at these moments, so you're better off taking the data hit. At least the amount of information transferred is very small with the likes of Weather and Stocks.
Verdict
Over-priced, over-hyped and - soon - over here, the iPhone proves yet again what the iPod demonstrated: that great software can beat good hardware. The iPhone succeeds because it takes a stack of useful web services, makes them look pretty and easy to read, and gives them to you almost anywhere.
Crucially, this is not a phone that's accumulated PIM, music and web features over time, it's a fully integrated device from day one that presents all the information you want in a consistent way. The whole is more than the sum of its parts.
Oh, and you talk to people on it too.